milan fashion week: roberto cavalli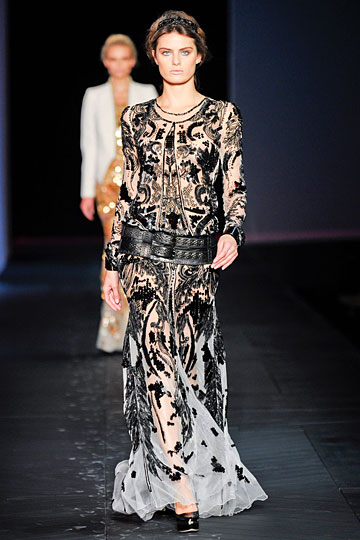 (images via ny mag)
i've been (mostly) a fan of roberto cavalli for some years (see f/w 2010, resort 2011, s/s 2011, f/w 2011), trying to stand behind his work wherever his madcap attempts in recent years to ditch the sexy euro glam rocker clad in animal prints thing have taken him (and it's largely been back to that in the past couple of seasons).  thus, since opt has been on a short break this weekend, it seems like the right thing to do to step out with the designer's s/s 2012 effort, presented at milan fashion week.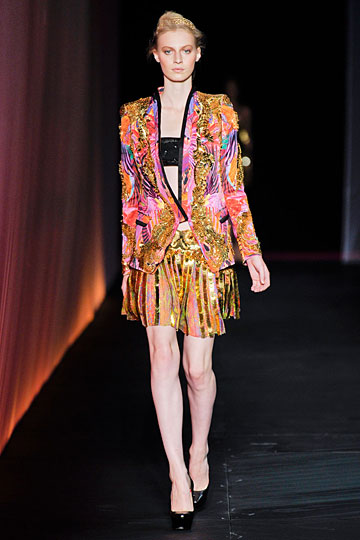 probably the first—reasonable—question on everyone's minds will be: did he succeed in his latest efforts?  after a fall season that was at times charming and at others questionable, it left most skeptical when assessing what mr. cavalli might be up to in the face of a season that has largely encouraged all those brash elements he sometimes has trouble giving up (leopard spots and snakeskin are like heroin to the man, it seems, and indeed, both were featured, of course).  but naturally, the answer was more complicated than a simple one-word solution. 
"I wanted to show what Italian workmanship is," the designer told suzy menkes, writing for the nyt of his latest effort, which was largely hailed as romantic, if the latter did acknowledge that there was a certain "rock-the-baroque" element to the range. as ms. menkes wrote, "Although Mr. Cavalli was in the mood for brightness and lightness, this was a well-thought-out collection, from the tiny tiaras nestling in the models' hair to shoes with elaborately sculpted solid heels. Color was the story — vivid patterns that sang out from blazer jackets and showed up even through the scrim that lined the central runway." 
style was similarly enthusiastic over mr. cavalli's range, early on in their review calling it "sensational" and dancing over the "gold-sequined opening group, where the models in their short, pleated drop-waisted skirts and diadems looked like nothing less than messengers from the gods. The gold gave way to black, sequins outlining pleats that opened to reveal floral print. That same hidden-secret subtext was pursued through the rest of the collection, so that the pleats of a gorgeous, leopard-printed, floor-sweeping mousseline also flashed flowers."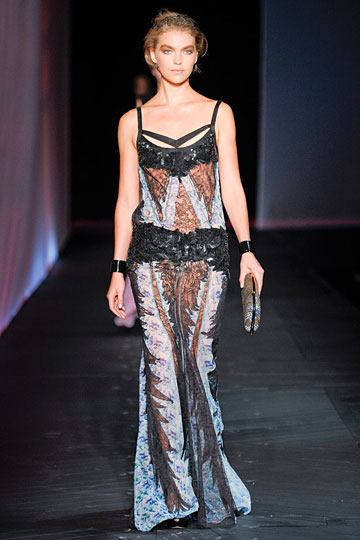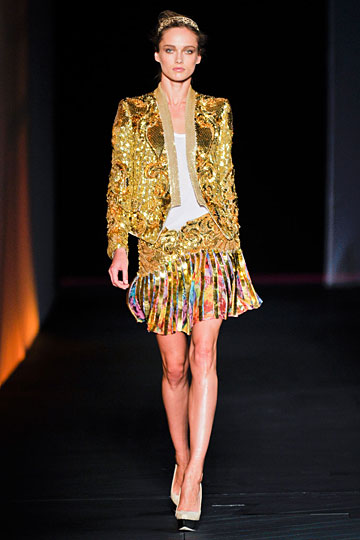 and while ms. menkes was strongly complimentary of the show's pleats (as she writes, shaping up to be a major milan trend), style continued on an enamored streak over the workmanship: "Cavalli's handwork has always nudged couture in its laborious detail. Here, for example, there was an embossed python jacket that embodied the hide-friendly artisanship of Cavalli's hometown. But if heritage can sometimes be overpowering with this designer, today's collection impressed with its lightness, sensuality, and overwhelming confidence in the fact that—double dip be damned—the gold standard will never fail."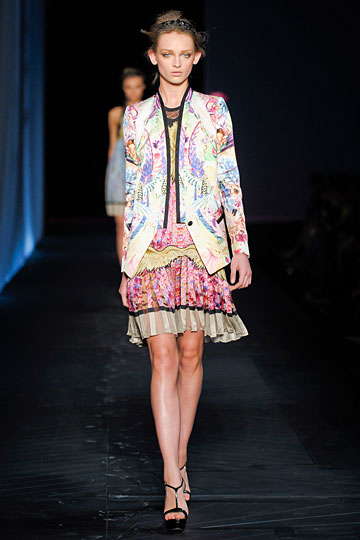 vogue, meanwhile, was a little more cautiously optimistic with the praise, at one point opining that "(h)is parade of romantic floral dresses—if you took away the molto-Cavalli tooled-croc hip belt—were fluid, relatively quiet, and kind of great."  continuing on, they wrote that "(r)endered in solid black or white with gold trim, ornate exotic skins, or opulent beads and sequins, the jackets and vests also worked with the kicky gladiator minis in that same chiffon-and-lace combination."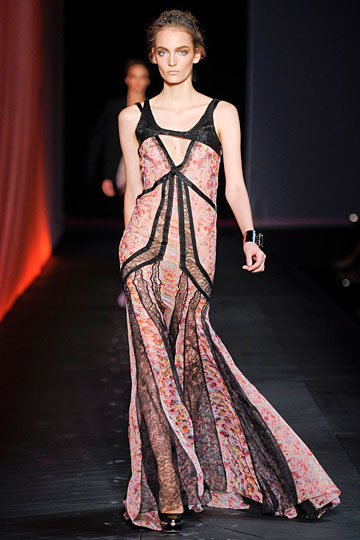 however, they halted at the footwear, commenting that "(w)hat felt like a misstep, literally, were the clunky carved wedge pumps. They were too dark and heavy."  i'm not sure i necessarily agree, finding most shoes to be more like sculptural works of fireplace adornment than pieces i actually want to wear on my feet, thus figuring mr. cavalli's were in keeping with the rest.  however, sweet and pretty as it could be (and perhaps it was the metallics and pop of animal prints), there were times the show was—quite literally—too much. 

wwd came up most strongly on this point, stating that "(d)espite the blitz of decoration, the collection felt rather tired. This look has been around, but here the details were too harsh, as in harness necklines on pretty dresses or black lace on a soft print. Things improved as the show went on, and the influence of recent Givenchy became more pronounced. The lines were nice on slim satin tuxedo pants and an embroidered leather jacket. But the best looks were the simplest — sporty baby dolls in mixed prints with sexy racer backs."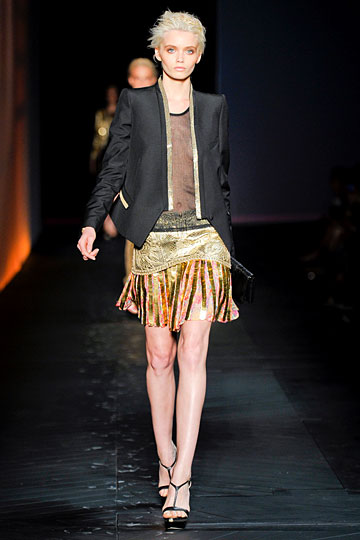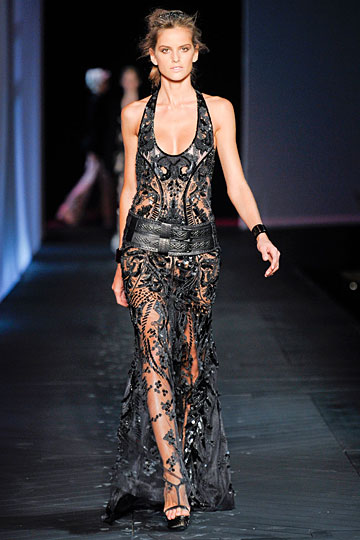 in the end, i think it's probably most fair to assert that there are those who appreciate mr. cavalli's lavish works—and those who don't.  i can certainly see a case for the bling in his colourful, carved, and be-dazzled clothes for those wishing to shimmy their way into memory as strongly as some 17th century carved wall panel, but those reticent (or intellectual fashionie-types) aren't going to find what they're looking for here.  fair enough, but perhaps they shouldn't downgrade mr. cavalli for it, either.  after all, i suppose we all want our sun king moments at some point. 
(watch the full collection video here)