nyfw: rag & bone
(images via ny mag)
i'm going to be honest here and say that rag & bone's work (see s/s 2011, pre-fall 2011, f/w 2011) has never really resonated for me, save for a few looks here and there, and perhaps their awesome s/s 2011 ad campaign.  but the label, headed by by david neville & marcus wainwright, just seems to get hotter with all the kids on the street screaming for their sportswear-infused streetwear.  the s/s 2012 range, presented at new york fashion week, proved much the same.  if you like them, it seems, you love them.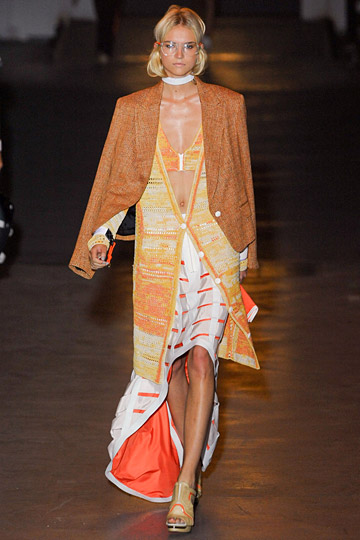 you'll get the point i'm making just by reading style's introductory paragraph: "By the chorus of 'fabulous'-es backstage, you knew that David Neville and Marcus Wainwright had struck a chord. And it wasn't just the music Thom Yorke recorded specifically for the occasion. For the fourth season now, the designers played with a piled-on look, and with references that included seventies surfers, the Glastonbury music festival, and nineties raves, they got the mix mostly right. 'Editorial,' but also street." 
vogue continued the chorus of rhapsodies, writing that "They know their woman, and you'd really like to be her. She has the knack and force of character of someone who's lived long enough to synthesize elements of street-tribe, festival, and surfwear into something purposefully grown-up, urban, and dynamic. Pass her on the street, wearing her layerings of boxy tailored jackets, shrugged over bits and pieces of neoprene, knitwear, flashes of flouro, and fluid pants, and she'd stop you in your tracks. She's cool, an original, speedy, and a bit aloof."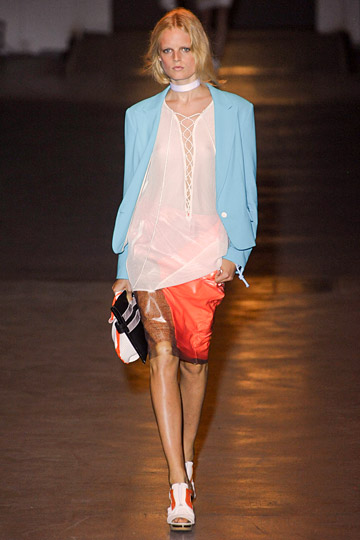 the la times, too, chimed in on that note, writing that the show was " beach bum dressing at its best, with a juicy color palette of turquoise, orange and sunshine yellow, and technical fabrics juxtaposed with soft, craftsy knits," and wwd added that "(t)he lineup was, as always, styled to an It-girl T which simply enhanced the fact that a crepe box coat can look great over a knit surfer poncho, as can a leather T-shirt with a flowing parachute skirt," while the wsj enthused over "(s)wimwear as daywear. A number of looks including bikinis, like an orange bandeau worn with a blue crochet tank, and a white nylon skirt or an orange bikini top, worn with a navy crepe scuba skirt and a turquoise linen shirt."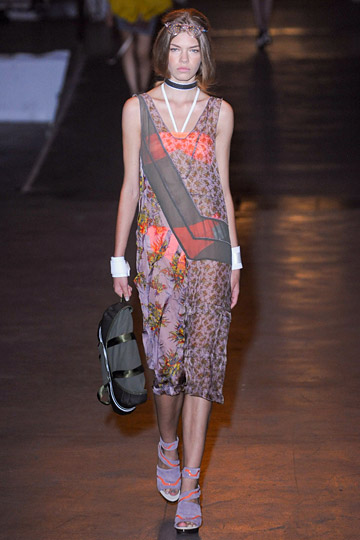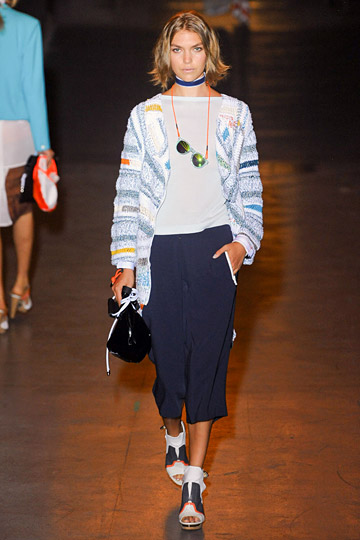 i suppose what appeals to so many is that 'model-off-duty' aesthetic, which seemingly encourages piling it all on together and seeing what fits (hint: if you're a decent stylist, it almost all does, always).  thus, i can't help but feel the house is more about styling than it is design, per se (and though i know you'd argue this could be true for many designers, it especially feels the case chez rag & bone; 'crazy scuba pieces?' 'seventies skiwear?' 'throw it on together!').  yes, it can result in some cool things, and yes, they've had some good ideas both today and in the past.  but i still feel it's more about the competition to be rad & edgy, to look as good and easy as if one isn't trying (though at these prices, we know how they are), and in the end, that comes out too much of a jumble for me.  i'm exhausted before it even began.  and not trying to fight all the models for the hipster-queen crown. 
(watch the collection video here)