nyfw: rag & bone
(images via ny mag)
in an interesting twist, the rag & bone s/s 2011 show had many great pieces, but seemed to take a sort of "fuck styling" attitude with them, piling many a garment on each frame, so the lithe girls seemed to teeter & sway under the weight of all that crushing fabric. 
it would be interesting to see the show stripped to its bare essentials, for with all the flash of shiny blinged-out fabric, loud shoes, and hubub, taking in the individual pieces as they came seemed an not-without-difficulties affair.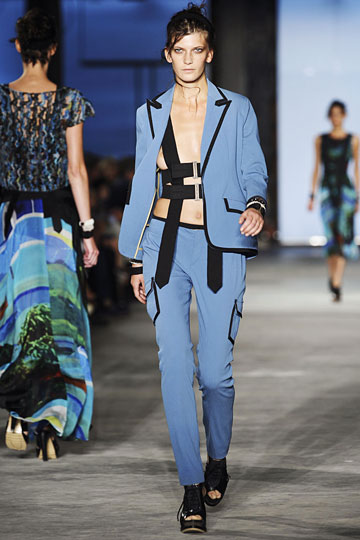 sheer fabrics and harnesses were a major factor at the show, as was the aforementioned bling and (the trend is looking to hold over from fall) beige-y/neutral shades. 
that said, i couldn't really tell you what this show was "about".  to be sure, there were intriguing pieces that would work nicely individually, but loaded together it seemed a lot of chaos, a lot of "we plunked together things we liked & saw what came of it"-esque. and it likely means a lot of cool kids will be wearing lingerie as clothes come spring.
(update: see a short video & a close-up to make you realize just how flat-chested freja beha erichsen is here.)