nyfw: marc jacobs
(images via ny mag)
i'll be frank & admit i was tempted to skip this bitch altogether, but as opt is meant to be a chronicle of what is going on in the fashion world, it would be a mistake journalistically (scantily as i might actually be called that) to forgo marc jacobs altogether.  and with that, his s/s 2011 show…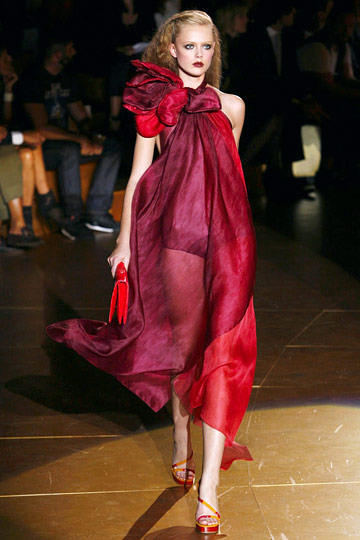 it's not so much of a surprise, given the current atmosphere of fashion and his predilections for lavish acoutrements and bold colours that he revisited the seventies, complete with pantsuits, disco shorts, and grace coddington hair on all his girls. 
doubtless this will be (or has already) proclaimed a masterpiece (as is every rough sketch the man draws, or slice of food he severs), but unlike some of his more inspired miasmas, drawing from a multitude of places and choosing to converge them all in the unlikely place of together, this was more of an homage show, finding direct roots in history, costumes drawn straight from the sweltering pavement of a new york saturday night. 
it read like a greatest hits of that decade, from the shine, high-waisted trousers, long and wide-legged pants, and many a blouse dipping down to expose the perfect amount of chest—the cleavage caught centered in that triangle.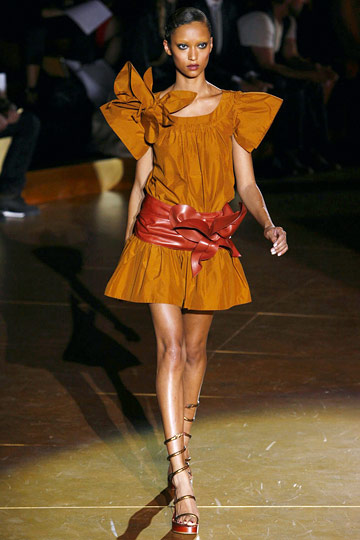 of course, some moments were his, such as the giant floral bow-type adornments to many a piece and his liberal use of plum and magenta shades, as well as the harvest gold which he so favors, yet also encapsulates that decade so well.  it would have been nice to see more avocado, orange, as those toll of the seventies for me, but marc isn't partial, so there you go.  
were the pieces a success?  that is a difficult question to answer.  commercially, critically, yes.  without a doubt.  and that's all, isn't it?  what else could there be?  yet it feels there is so much more, that the question of the show hasn't even begun, not yet.  the designer has found himself in a class so high above the rest (balenciaga, chanel, and lanvin may reside here also) that to really critique a marc jacobs show almost doesn't exist.  nearly everything he does is professed to be a miracle!  but is it?  how do we judge from one collection to the next?
one method may be to judge in the context of his other work; when seen alongside the others, how does this compare?  if he truly is peerless, then all must be considered superior, but does this make for better or worse work at the house of mj?  for that, turning to his other shows, i am sorry to say i see this as a resounding fail.  while, yes the show is bright, lively, fun, the soul of creativity seems curiously lacking.  it feels as though he might have watched a selection of greatest hits from the seventies, put on some soul & dashed his way through the archives of life magazine, ripping ideas straight from the pages with an embellishment or two to spell his own name.  there is no real character, no real innovation.  we might have seen many of the same watching network, taxi driver, saturday night fever.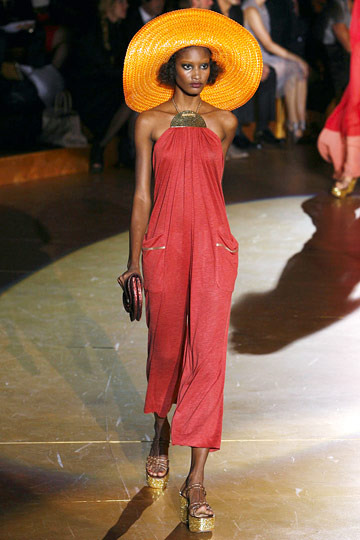 then, there is the trouble of how mr. jacobs compares to his peers.  frankly, it seems that when he delivers an editorial collection, he's hailed for his vision, even if commercially it seems a bit weak.  however, if he delivers a collection mainly for the masses, he's still celebrated for giving the people what they want.  it's a shame all others aren't treated to some of the same.  at any rate, this certainly is a show to fall into the latter category, and while that's not wrong per se, it still, as i often say, fails to give a compelling reason to buy.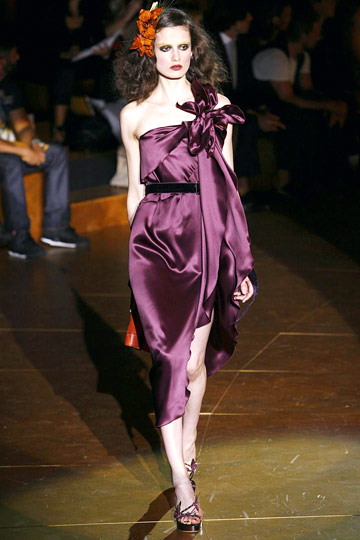 on a few recent excursions to second hand stores, i've come across a number of pieces straight from that very decade, complete with large collars (and the polyester to prove it), prints, and what-all.  and priced very reasonably, considering the days of disco are about to be hot as they were circa 1995.  however, faced with that, (and sometimes even a pure cotton option), i'm not clear why i'd want to spend in the neighborhood of four figures on a dress i can find quickly in more exciting vintage condition. 
yes, he's given leavings of his signature on many a piece, but they're not strong enough, exciting enough, even in this recovering economy to entice me to buy.  and honestly, i'm getting a little tired of this heavy pushing on the lola bottle palette in many a show of late.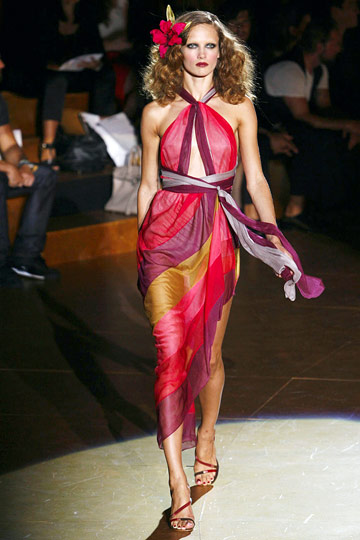 he's not without his talents.  but perhaps it hinders more than the glowing press, his raving pals all know, permits him to rest on his laurels rather than bring us something truly shocking, inspiring.  i know it doesn't matter, because the whole fashionie universe is going to buy through the season, just as always.  but it's not always about the money, in the end, is it?  as an artist, doesn't he owe it to that very artistic sense to push himself beyond…this?
(update: see the full show video here)