nyfw: rodarte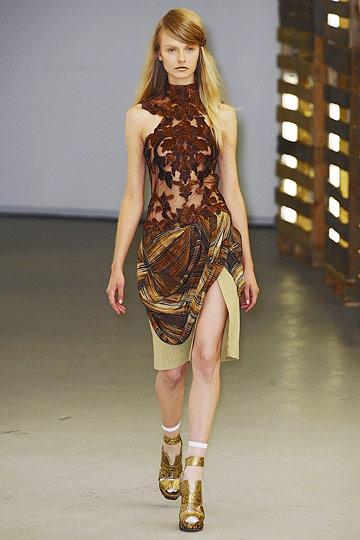 (images via ny mag)
a rodarte review is an almost futile attempt at journalism, as readership of anything but the glowing is doubtful at best, and many a fashionie has a mind made up already about the outcome of the s/s 2011 show, even prior to viewing it, if comments in other blogs are at all representative of the masses on the issue. 
taking their inspiration from northern california forests & the redwoods found within was the launching point for this show, which found itself a little more relaxed on all the signature loops and droopy knits scores of dresses have worked in shows past.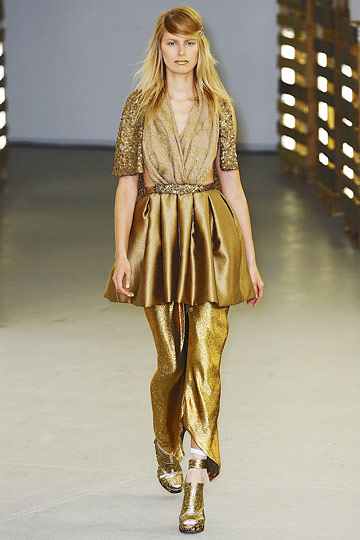 it seems doubtless at this point the designers are positioning themselves to be little marcs for the upcoming generation (and, true to point, lvmh loves them.  i hear a creative director role for a storied house in their imminent future), with their pronounced flourish over each theme, no matter how varied that might have begun.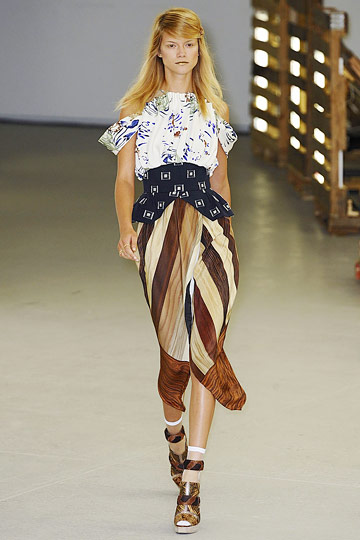 and, for me, therein lies the problem.  to be sure, this was a departure from some of the heavy-heavy knits of their signature, but still, the show wasn't variegated enough (along the lines of a miuccia prada, say) to really make me feel we'd moved on since last season.  yeah, we're getting different materials here, but does it feel to anyone else the silhouettes rarely change?
then there is the difficulty in wear-ability.  i'm certainly a loudmouthed proponent of artistic creations, but frankly a lot of these looks…felt too literal.  take aline weber's dress (above), which seemed to be a coffee table hacked into bits & reassembled as a dress on her form.  for a label largely centered around the ethereal, floaty bits of pretty dress, much here simply wasn't that pretty. 
does this mean anything?  no, i will tell you what, it does not.  the legions of fans speak & their loud banter voices over the few critiques of the label.  perhaps that is for the best…they're getting what they want of it, and everyone wins.  but it does become a little noisome when, season in & again, certain labels are beholden to their own sets of rules to touch no one else.  would they be saying the same, i wonder, if this were the product of some unknown designer's studio?
(see it in motion here)