nyfw: marc jacobs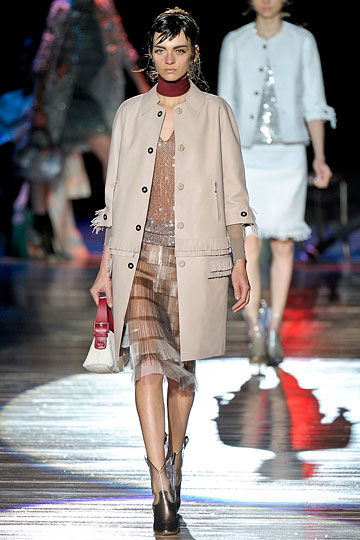 (images via ny mag)
oh, relax, children.  it has taken opt a while to slog through this edition of new york fashion week, but you didn't really think i'd leave out marc jacobs, did you?  okay, true, i'm not as beholden to the label as some, and during the site's history, there have been both sides of the wave in the way we view his work (see s/s 2009, a/w 2010, resort 2011, s/s 2011, a/w 2011), but keeping a skeptical eye on things is best in a world where most people take the names first and stop to look at the clothes second third, after prying their eyes off the celebrities ringside.  so strap something on, because once again, we're descending into a murky land…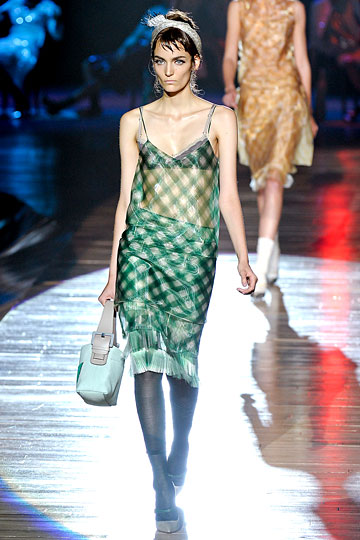 anyway, the s/s 2012 show was presented the last day of new york fashion week (something about a hurricane, but probably more likely just to avoid a similar make-everyone-wait fate that the s/s 2008 affair was darkened by), leaving everyone discussing this as much as the possibility that mr. jacobs would be appointed the next cd at dior.  yes, that's right, he's the latest named in this rendition of 'duck, duck, goose'.  and we're not going into it.  you can read about it here if you really need to know.  so let's to the clothes!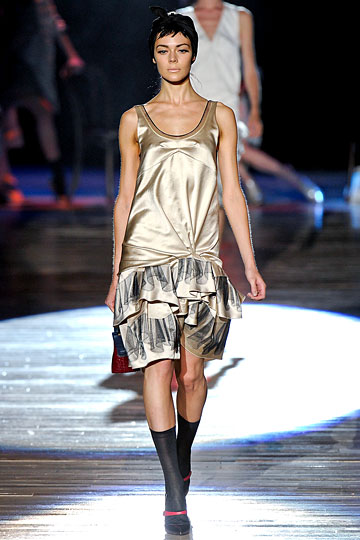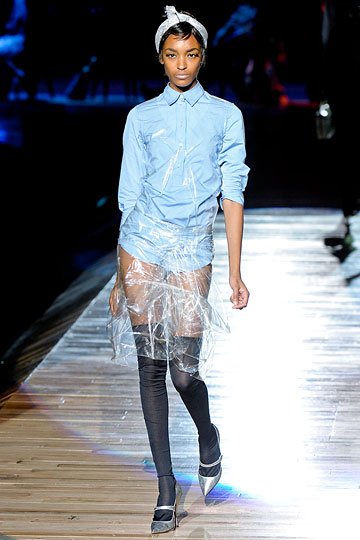 it wasn't the easiest concept to begin with, so we'll let uk vogue, who probably did the best job summing it all up lead us in: "Upon entering the New York State Armory, his usual space, the audience was greeted with a large proscenium stage shrouded in gold lamé curtains that gave way to a catwalk divided by a wood beamed divider. As the show began, the drapes parted to reveal a tableau of every model posed and backlit in silhouette, much like the dime-a-dance girls in Bob Fosse's Sweet Charity. If each Marc Jacobs show is a cocktail of divergent elements to create one strangely cohesive whole, this tasty drink was one part showgirl courtesy of Fosse, the legendary Broadway director and choreographer, one part cowgirl, and a splash of wholesome Americana."
"Look one featured a razzle-dazzle sequin and tulle sweater worn with a fringed skirt of shimmering synthetic fibers…under a leather coat with subtle Western fringe and clear plastic cowboy boots. The rancher tassels would show up at the hems of iridescent skirts or edging leather jackets, eventually developing into lustrous paillettes on sleeveless shifts. Textural experimentation was strong in this collection, seen in the luminous and opaque draped silicone skirts, high-low nylon and cashmere sweatshirts and the eyelet lace made of plastic studding. Hokey ginghams, á la Judy Garland as Dorothy, were tamed and incorporated as a polished nod to farmers (think of a soignee version of the musical Oklahoma! and jingoistic Americana. There was a certain cocktail hour femininity to the (literally), flashy pieces, but Jacobs is far too shrewd to ever let them become simply pretty or girly."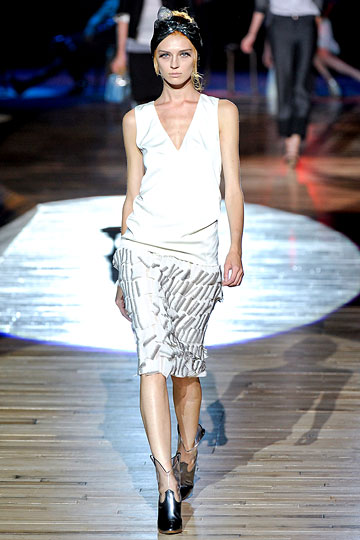 most reviewers centered around the twenties themes that were laced throughout the range, and though i was certainly struck by notes of the decade, in latter viewings, it didn't come across as strongly as i'd previously thought.  but the wsj commented that "(t)his is what might happen if you put Salvador Dali, Pierre Cardin, and F. Scott Fitzgerald together at a design table and challenged them to collaborate. It's a sure bet you don't have this in your closet: a cellophane shrink-wrap flapper dress of translucent plastic. What's more, a pretty one. Or how about a dress fringed with plastic shards. You can't miss the S&M connotations, but there was nothing dirty there, just wink-wink fun." 
cathy horyn of the nyt seemed largely baffled by the whole thing, at one point promising that she'd be clearer in a longer review—which never manifested.  instead, she came up with "The clothes were a mixture of synthetics and natural fabrics, though it was hard to tell a crinkly satin dress from a crinkly polyester one. Most of the skirts were knee-length and straight, draped in a careless manner or coated with rows of glassy film fringe. There were also stiff fake crocodile skirts. A number of dresses were a layered confection of super-fine fabrics with a shimmer, and among the tops were sequined cashmere sweatshirts. There was a bit of everything in the collection, but somehow it was all pretty controlled and even rather somber. I couldn't make out if the reference was the 1920s, or the '30s, or the '70s. And I suppose that was Mr. Jacobs's intention." 
wwd, was of course, taken in, raving that "(t)he clothes were stellar, from the obviously chic — the supple leather coats with fringed touches, the boxy jackets in hip-length and cropped versions, the cashmere sweaters and tony sweatshirts — to some joyfully risky business," and us vogue, as ever, took the scenic route to saying really very little: "The gleam of that curtain was echoed in the shimmering effect of sequins and tinsel and reflective fabrics galore—from thick, shining taffetas to something that looked like the colored translucent plastic in which florists wrap their blooms. Tiers of cellophane organza were shredded like raffia for the shimmy flounces of skirts (a device echoed in the trim of paper-thin leather coats and cardigan jackets with a Coco Chanel flavor) and leafy sequins were embroidered so thickly they resembled windswept fur."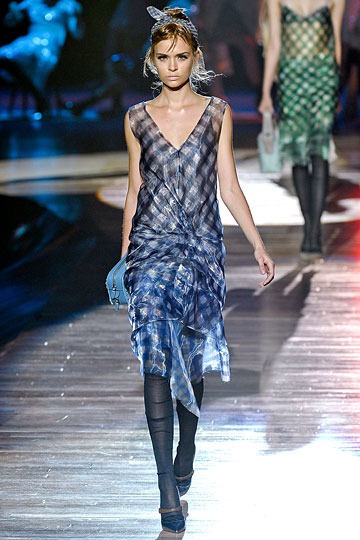 and suzy menkes of the iht, whom i'd lately agreed so often with, didn't really give us any of her usual insight, re-stating pretty much the same as what everyone else has said: "(t)his was a vision of the 1920s, including the Coco Chanel-style jackets, drop-waist dresses and skirts layered in tiers or with that fringe particular to satin lampshades."  on the other hand, though, style showed a rare bit of nerve, writing that "(b)ackstage, Jacobs said, 'I didn't want it to feel real.' The show, in other words, was the thing. This definitely wasn't one of those Marc collections that sends his fans into a tizzy about all there is to wear in their real lives, nor was it as thought-provoking as his bravura performances have been in the past."  i'm not sure i quite agreed, but unsure i didn't, either.  i'm beginning to wonder, though, if mr. jacobs' reputation is beginning to precede him, and taking such a fierce stand as we're all required to do leaves none of us able to render an unbiased opinion.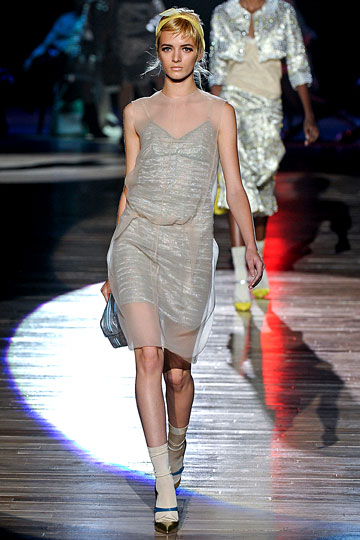 in the end, while i think there were some singularly beautiful pieces and i think we can all agree mr. jacobs is a designer of some talent (who is unafraid to take risks, a rare thing in the industry), i was left with that gnawing feeling i sometimes am when people write off something as a success from a star designer they might not have otherwise.  suzy menkes commenting that these were clothes for the real world?  are you kidding me?  take another look at lindsey wixson's black skirt (above) and tell me that if it were issued from any young london up-and-comer's house it wouldn't have received razor-lipped comparisons to trash bags (and a lot of snarky comments in blogs about the film zoolander).  to be sure, he lit an interesting path and was feeling a lot of the movement others were for spring, but i'm not sure he articulated it as well as—say calvin klein or etro, both of whom produced spectacular twenties-esque shows.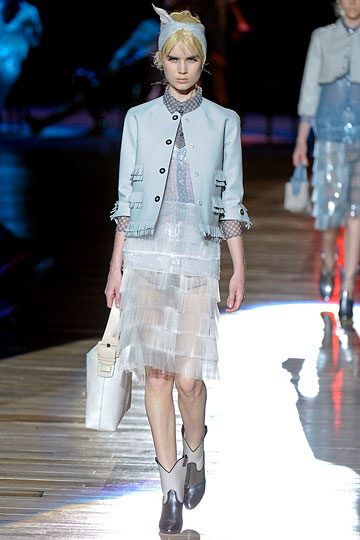 mr. jacobs often gets credited for being well ahead of the pack, but the spring show felt more a piece of evidence that he's mortal as the rest—and absorbing the same notes they are.  he did, of course, try to do it in his own way and can and should get a nod for that point, but too often the show sagged under the weight of its own variegated inspiration, as if he was trying to proved just how many threads he can pull together from the air, eventually tying it up all together in the end.  the masterful s/s 2009 show was an example of this, but for this spring, he unfortunately didn't seem up to the task, whatever the individual charming pieces he still managed to produce (especially ginta lapina's shimmering number & the look below).  i'm not going so far as to say this was a loss, exactly, but perhaps he might be well-served to remember he need not always show such a grab bag (some might say like pulling items from a thrift shop rack) of concepts to be inherently marc.  that might prove the real challenge for him in the seasons to come. 
(watch the complete show video here)