london fashion week: giles
(images via ny mag)
back during the a/w 2010 season, when opt first encountered giles, i wrote, "giles deacon's shows are usually a melange of straightforward looks that, while well-constructed aren't particularly entertaining, and his fun & kicky artistry moments.  they're displayed on models of varying degrees of importance in the fashion world, and people always leaving gasping."  i don't know that i'm quite that cynical anymore, and find that the designer does contribute looks of a greater depth than that to the art of fashion, but i will admit that there tends to be something theatrical about his shows that feel a little stagey. 
take the s/s 2012 collection, which was presented on the last day of london fashion week.  practically as soon as it hit the catwalk, we were also surrounding by reports of people complaining that stylist katie grand had slapped the show's models with a not one- or two-, but five-hour call time, ensuring that they'd be virtually inaccessible to other designers the rest of the day (or so the charges went).  that's not the designer's fault, but upon entering into the arena, the first look to hit the catwalk was a model in a white suit with one of the most elaborate swan headpieces to be seen outside of a production of swan lake.  and we'd gotten nowhere near the finale yet.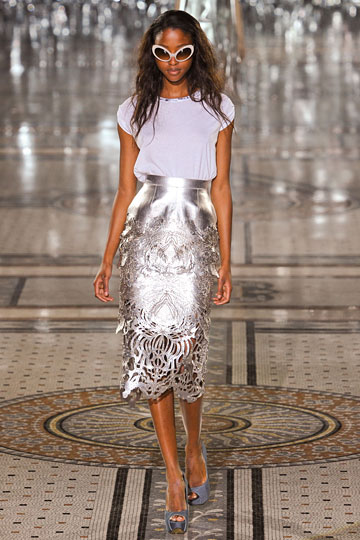 but, but!  "This is so not a collection about Black Swan," style quoted the designer as saying.  and, to be sure, that was right and fair enough.  but surely he knew what he was doing in picking up a theme that has been sticking about in the air some months now?  but instead, the site continues, " it was a panoply of interlocking, stream-of-consciousness references. The Silver Swan, the automaton from the Bowes Museum near Deacon's hometown in County Durham, led to society swans photographed by Cecil Beaton, whom the designer dubbed 'the Andy Warhol of his day.' Deacon was also influenced by Beaton's Symphony in Silver portrait of his sister Baba; that led him to Warhol's Factory and Silver Clouds, which cued the runway backdrop." 
still with me?  not quite?  i told you, stagey!  anyway, wwd wrote that there were "red and black cygnet prints on everything from T-shirts to floor-sweeping, bias-cut evening dresses. The birds even fluttered in subtle silver jacquard over cream silk satin day dresses. The elegant collection took a tougher turn with a group of silver leather laser-cut skirts that looked as if they were edged in lace. Deacon also showed a host of evening gowns — he's been selling increasing numbers of couture pieces — that ranged from the ethereal, including a lacy tiered number trimmed with ostrich feathers, to the theatrical in the form of a flowing white gown cinched with a blood-red bow at the back."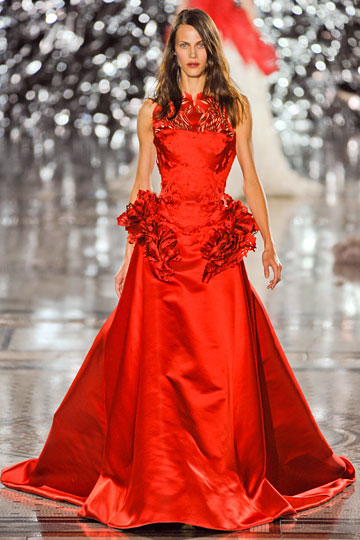 interestingly, the wsj first proclaimed that " a just-so tailored white suit topped with a swan hat and feather mask that was not unlike a certain Björk dress. What followed was, well, beautiful. Not an ugly duckling in sight," but proceeded to have to correct their post, which apparently originally contained the wrong image(s).  they got the first part of their assessment right, at least, but who knows where they wandered off to later.  but, on the other hand…
elle was in heavy-breathing ecstasies: "swans aren't just Golden Age socialites or creatures that move smoothly over the Serpentine. They're also fierce fighters, and the shredded silver leather dresses had a gladiatorial yet polished air. That potential for menace came through still more clearly in the flashes of red on the graphic swan tees and the aggressively corseted dresses (fact: the new gorilla t-shirt is Giles's swan-printed version). Filmy, low-backed Lady Godiva gowns were the kind of garments a Giles girl might wear to answer the door during a California orgy. A black swan in a chiffon blouse and narrow trousers could have walked out of Eyes Wide Shut. "  (although they did admit that "The show and its theme contended with cultural events that cast long shadow.") 
and style, too, bit down hard, stating that "(t)here was undeniably a couturier's spirit in Deacon's collection, from those brocade Mad Men-ish cocktail dresses and gowns with ostrich plumes and tiered cutwork lace, to the stiff silver laser-cut leather that gave models their own automated elegance. You could see that as a playing out of Beaton's beauties, but perhaps another way to view it is as an au revoir to the ateliers of Ungaro, which the designer diplomatically said he'd treasured his time in. But Deacon also fast-forwarded to sharper, more modern times with tailored pieces in a 3-D swan-printed satin, and filmy yet slightly sporty looks in red and black animal-print lace layered with bandeaus and briefs."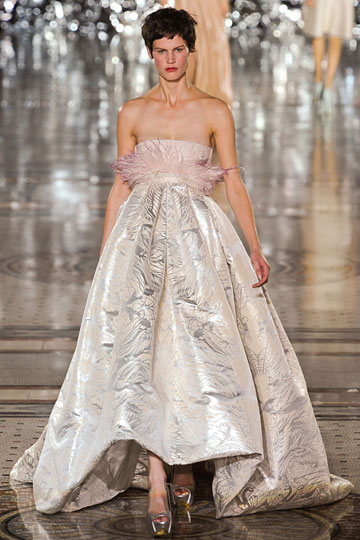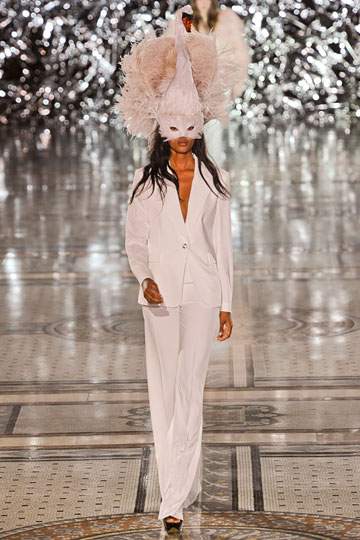 "As Deacon pointed out," they continued, "the swan may be supremely elegant, but it's also fierce and savage. (Hmm… Is there a parallel to be made with some women who love fashion?) Perhaps a pair of crimson gowns weren't meant to be anything as macabre as bloody brides, but once the idea got into your head, it was dark and hard to shake. Certainly the look that closed the show had something ominous about it, with its red swan headdress looking poised to pluck out someone's eye: beauty with bite, exactly as it should be here."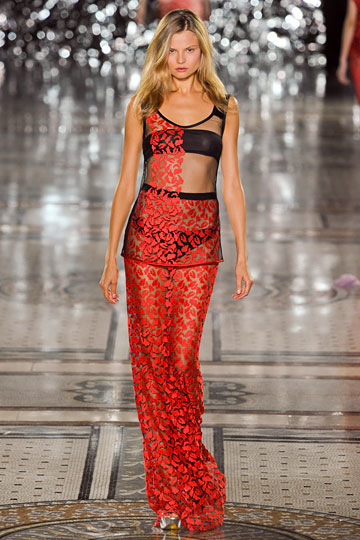 and vogue opined "(a) meeting of heaven and hell seemed to pursue as angelic looks of feathers, silver dresses and laser cuts combined with vivid red detailing to offset them – the red the beak of the swan which was to become the overriding theme, featuring as it did as a print on everything from couture-esque gowns to trousers and tunics," later writing "(f)eathers and lace combined to make the most angelic of designs with pink lilac feathers, fixed with glistening jewels wafting from empire lines to incarnate the models as graceful swans gliding down the catwalk. Cloaks and robes of billowing sizes were perfectly suitable for the judicial surround and further trophy gowns and swan headdresses – one in red and one in black – compacted the designer's Silver Swan theme."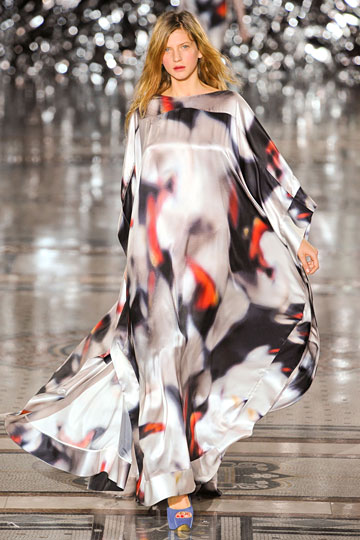 and i will admit that there were plenty of looks to be admired, but, contrary to the stance i once took, i found myself searching for the more severe styles, stripped of the foil-y fringe, bird motifs, and feathers, instead finding something more pleasurable in hana soukupova's shiny-but-straightforward blazer (top).  or anja rubik's glimmering platinum shantung tank dress.  or bruna tenorio's flippy-peplum-ed flesh-toned skirt suit.  i could see that the skill was there in many of the pieces, particularly the fifties-sixties wide-skirted, nipped-waist dresses (as the three at bottom).  so what was the problem?  but suzy menkes of the iht is there, as lately always, to hammer it out for us!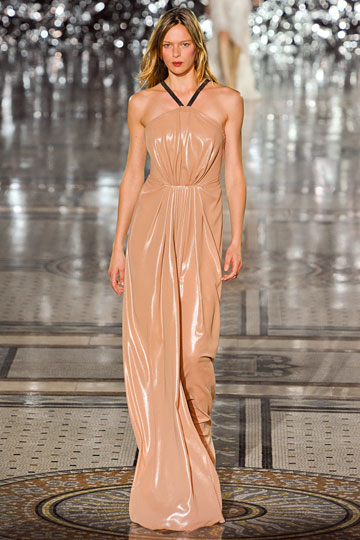 "This is a season for fabrics with shine and reflective effects. It was a full-on silver moment at the Giles show," she began, eventually wrapping up with the thoughtful commentary that "The metallics appeared everywhere, from the crushed foil backdrop to the silver lace skirt, laser-cut to look like leather. Swan prints suggested the birds' darker side, with enlarged computerized prints and blood red colors invading the black and white palette. The result was dramatic to a fault, with a finale that looked more like costume than clothing." 
and there you have it. everything—from the dramatic casting methods, to the winking runway, and frivolous headdresses—spoke of theatrics, of a production we could expect to grow wings in flight of dance, or perhaps just burst into song, anything showlike that didn't ultimately result in the actual wearing of many of these pieces.  to be sure, some were quite compatible with reality, but just as many were not, but felt less like that couture sense of outlandishness than they did as serving to underscore a point stating 'fashion people are different from regular people'.  so they are.  but how far do they really want to push it before they've only got the staff of vogue buying their clothes?  mr. deacon has the talent to make some marvelous things.  he ought stick with that and leave the theatrics best to andy warhol.  it'll serve us all best in the end. 
(watch the complete show video here)