paris fashion week: emanuel ungaro
(images via ny mag)
if i wasn't exactly a fan of giles deacon's new guiding vision for the now-in-shambles house of emanuel ungaro last season (and there were quite a few with me on that one), i'm not sure it was the right step, either, to part ways with a designer (one who has, in his namesake collections—see a/w 2010 & s/s 2012—gotten plenty of love from the critics) who could have been set to bring the label back to solid ground.  but the once-beautiful-and-beloved brand has, in recent years, been through so many unfortunate situations and incarnations that today, in reviewing the s/s 2012 range, it seems it is not only big news, but increasingly fewer are even taking the time out to cover it.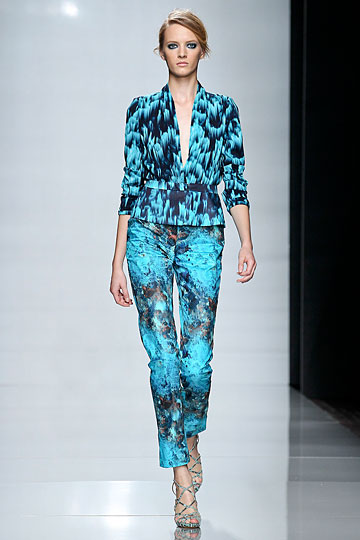 interestingly—or not, as perhaps i should have expected it—most reviews took more time describing what's been happening in the glass of ungaro's revolving-doors than they did the actual spring collection, but perhaps that's fair.  still, as wwd optimistically wrote, the show "was a smart step in the right direction. While shy of a knockout, it was faithful to the house codes — with mostly measured doses of print and draping — and an attitude that was fresher and subtly sexy. Before the show, Ungaro's new chief executive Jeffry Aronsson named Jeanne Labib-Lamour chief designer, letting her take the bow less than a month after the house parted ways with British designer Giles Deacon after a two-season collaboration."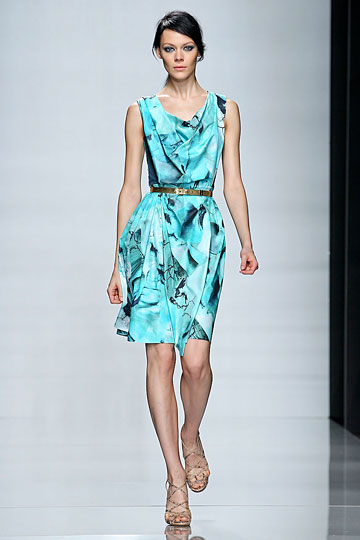 "A Central Saint Martins graduate with work experience at Giambattista Valli and Balenciaga, the 29-year-old Labib-Lamour was among young talents the American executive discovered inside Ungaro's walls. 'She rose to the top, she took charge,' he enthused. 'She's a team player and a natural team leader. She's the 21st-century Ungaro girl.' Leading a legendary couture name is a task Labib-Lamour approached in a straightforward way, opening the show with a languid wrap blouse and tapered trousers in vivid teal watermark smudges. Most of the prints are based on aerial photographs taken by NASA, and were at times overwhelming. One, with loud splashes of red, worked best sparingly, as in a one-shouldered swimsuit.  Standout looks included a navy and white halter dress with a pleated peplum and a sleeveless red jersey jumpsuit gathered at the shoulders." 
and fab sugar, too (though admittedly not a journalistic heavyweight) was pleasantly pleased: "At the forefront of our minds are the bold abstract prints in fresh poppy-red and turquoise that ran throughout, dotting shifts, pants, blouses, and even swimwear. The pattern is actually inspired by aerial shots from NASA, proving that Labib-Lamour may just have the wit and talent to see the couture house through. Even while the print makes a bold impression, you never seem to tire of its statement quality; but when the evening wear surfaces in the form of a gray column gown or a gold-sequin dotted strapless, and the chic peplum-trimmed halter dress makes an appearance, the change illustrates Labib-Lamour's perfect grasp of modern femininity and the new direction she can offer Ungaro."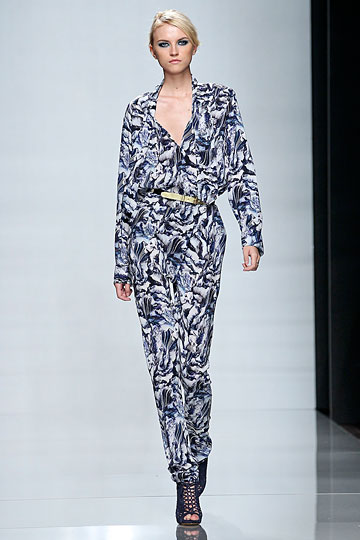 elsewhere, the ap viewed the presentation through a rather skeptical lens, first laying out the recent house history in less-than-flattering language before wondering "how much of the collection was Deacon's work."  and if they—for a moment, at least—chose to swing up in their perceptions, the end note, if fair, was still quite bleak: "Weakened by the constant changes in the personnel and the collections—whose style and tone have fluctuated wildly from season to season—the label can only hope the new strategy proves the right one. With its fetching cocktail dresses and hip-looking pants in teal silk, Monday's collection was a good step in that direction. Still, it must be said that there was little to distinguish the collection from the chic, urban fares that flood other runways worldwide, meaning that the label's the main challenge—rebuilding an instantly recognizable Ungaro look— has yet to be accomplished."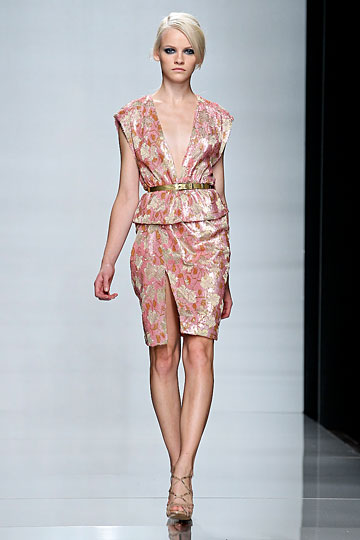 vogue quoted the show notes as saying "(s)eductive yet elusive, the Ungaro woman excites all the senses.  Without any regret, she leaves ways and artifices to the others, adopting – day or night – a definitely current and Parisian dress code."  to which they—also quite skeptically, i might add—rejoined, "Right. So sartorially speaking, that means a bright turquoise abstract print that made up silky all-in-ones, skirt suits with short sleeved jackets, cowl-necked cocktail dresses belted in gold and pinch-waisted jackets worn over flowing chiffon skirts." 
"It was sexy – ruched navy blue silk asymmetrical mini dresses ; eye catching – red V-neck chiffon evening dresses belted in gold with matching red shoes; grown-up – white silk halter neck tops with a stiff navy peplum over a navy pencil skirt; and at times it even looked a little fun, when the turquoise print reappeared on a long sleeved jersey T tucked into a matching chiffon full length skirt. It's hard to ascertain exactly what the Ungaro woman wants to be, but for now we'll settle for this – not wholly underwhelming and not overly inspiring, it was attractive enough to keep us interested in what might happen next, both on the catwalk and for the company as a whole."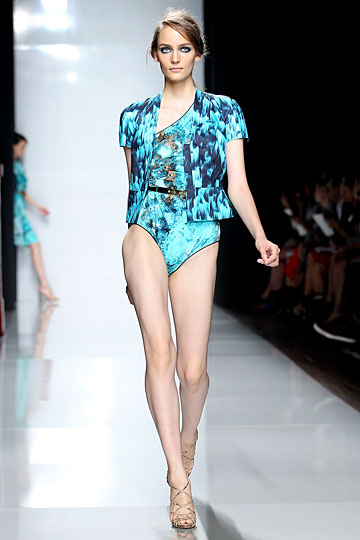 and style, the only other one willing to jump into the pond, was pretty much on the same wavelength: "The collection ably touched on all the house's codes of sexy, cowled, and ruched jersey dresses, and soft tapered silk pants and jumpsuits in splashy prints, these inspired by NASA aerial images that looked like abstract florals. There were ruffles on peplumed jackets and tiered skirts. Certainly, for a house that has in recent seasons seen the extremes of star-shaped pasties (ed note: they were hearts!) and a stuffed sheep, it was markedly restrained. Many looks, including unembellished jersey dresses, were cinched with a simple, slim gold belt, and aside from a few sequined evening pieces and the plissé appliqué snaking around necklines, a light hand was taken with excess flourishes. What happens next at Ungaro remains to be seen, as does the question of whether Labib-Lamour will be another designer exiting the house's rather active revolving door."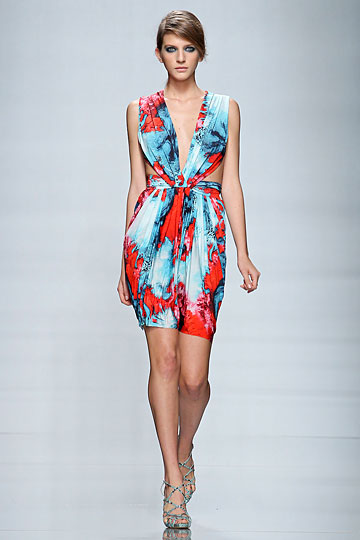 like wwd, i'd actually like to point out the positives first: there were plenty of covet-able, on-trend spring clothes here, and i found the patterns and the colour palette quite lovely (particularly that watery shade of teal; the peplum-ed jacket siri tollerod wore in this hue was especially impressive), and, like them, i found anna selezneva's one-shouldered swimsuit a highlight, along with the simpler pieces.  on the downside, and i think this is what a lot of the writers are saying, is that we're simply afraid to start believing in the house, wondering if, just as we begin to like her, there's another shakeup, another aesthetic brought in, a new direction and ms. labib-lamour escorted out the back.  many brands have had this problem, and i think part of it is that they expect a designer to resurrect their good name in a single season—-maaaybe two—when we all know how unlikely this is to happen.  sure, it's not good to keep dead weight around forever, but give the cd a few minutes to settle in and begin to build a new archive, to gain customers' trust once again, before assuming that it is, once again, time for a complete strategy change.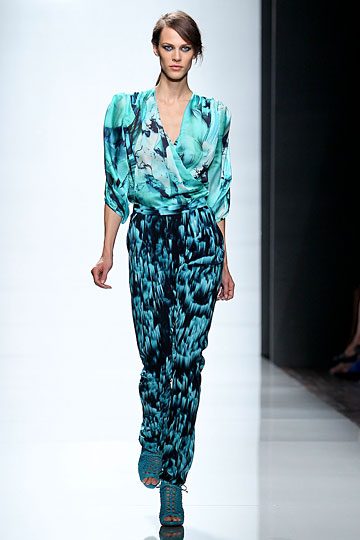 (view the complete, edited show video here)