paris fashion week: loewe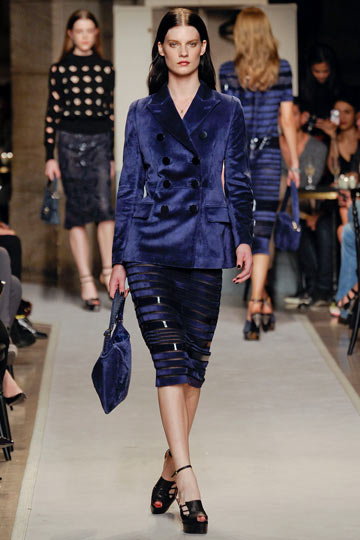 (images via ny mag)
like the houses of louis vuitton or salvatore ferragamo, the spanish label loewe, which was founded in 1846, is a leather goods proprietor, and, whatever pretenses they might like to drop on their commitment to ready to wear, accessories will always be at the forefront.  this doesn't always have to be a bad thing—in fact, perhaps because they're not depending on the sales of clothes as heavily as other labels based around that concept, one could argue this permits them to experiment more.  true, the current house creative director, stuart vevers, will always be beholden to the archives, but, all the same, he was able to create a s/s 2012 range, presented at paris fashion week, that didn't push the same agendas we've been seeing all-but-everywhere.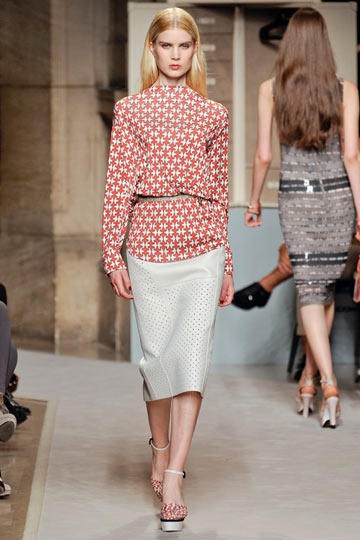 so, for spring, said wwd, one of the more skeptical of the critics, the brand "offered a neo-Bourgeois lineup, featuring some new takes on silk scarf dresses and shirts, using geometric prints inspired by Spanish tiles. A terra-cotta dress patterned with small lizards and bold white chevron stripes at the neckline was particularly nice. The geometric theme carried over to pencil skirts, jackets and dresses with graphic seam construction and geometric perforations. But the collection, particularly the metallic leather skirts and suede dresses and suits — looked very hard." 
but vogue was more impressed, writing that the designer "took southern Spain as the starting point…so the clothes this time had a more relaxed zeal than sometimes previously: silk jersey dresses carried prints of scurrying lizards or lovely red, black and white tile prints (inspired by Dutch mathematician M.C. Escher's visit to the Alhambra in Granada, where his sketches of architectural tiled patterns informed his greatest work, we were told), that brought lazy Spanish sun-filled days into modern, everyday life. The clothes always come across as accessories to the incredibly luxurious bags – this time in the classic Loewe shapes but in what Vevers calls 'the noblest materials': suede, calf, crocodile and lizard – and fabulous shoes that were two-toned to match the dresses above them with block platforms and subtly curved block heels." 

"The heritage of this house," they continued, and much the same as i'd just opined above, "is always in the forefront of these collections – its zig-zag striped scarf prints were repeated on punctured leather dresses, while button-down pencil skirts, oversized tailored jackets and dresses featuring splits in the leather to show off horizontal slices of contrasting chiffon beneath made up the wardrobe of today's moneyed Loewe woman. Sleeveless, zip-front dresses had a younger feel - some with metallic rivet fastenings that were repeated on their matching accessories – while soft gold brocade dresses and wide knit cable knits with skin peeping between each knot were summery translations of the Loewe look."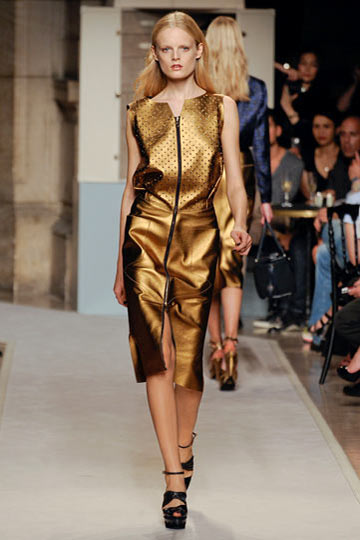 and style, too, was a little skeptical about the range: "Escher's maths-influenced motifs were reproduced in engineered prints on silk skirts and tops or cut out of leather pieces. Lizards, another of the artist's visual signatures, also appeared as prints or beaded in black on gray suede. They didn't really say Loewe-style luxury. But with the core of Loewe's business being leather goods, Vevers' challenge with a Spring collection is always going to be how to make skins lighter. He was proud of the fact that the Loewe workshops had come up with a reversible nappa that was the lightest yet. He cut it into a shorts suit or a button-through shirtdress. He also laced leather with tiny perforations, as in a skirt and matching sleeveless top. But something about the long lean silhouette conspired against the lightness Vevers sought. Paired with the vintage-looking platform sandals, there was a vampish, film noir-ish edge to the Loewe woman this season, especially when she zipped herself into a gold leather pencil skirt with a substantial kick pleat. Un peu old-fashioned."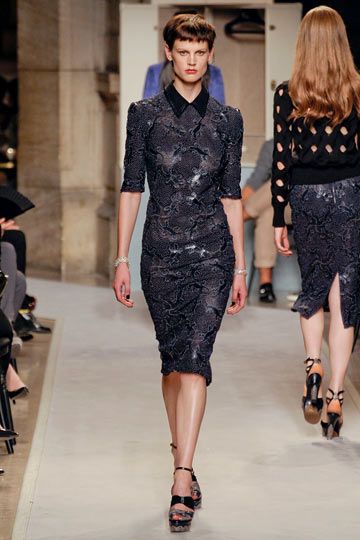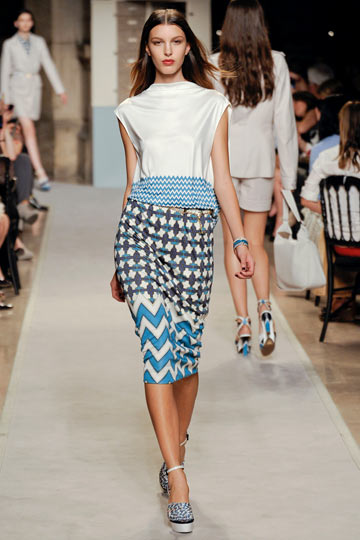 however, jessica michault of the nyt was also suitably wooed, asking a decent question in the process: "How do you sell leather goods in the hot summer months? The designer Stuart Vevers came up with a few astute tricks, stripping leather down to the bare essentials — like jackets without linings and reversible coats — and then cutting them back to let even more air in. A leather top came perforated with microholes; one ensemble was crafted out of an open-weave knit of leather and suede; and a few pieces showed up with graphic cookie-cutter-shaped chunks missing from their edgings. "
"Patent leather bands," she continued, "stacked with strips in cool black chiffon and suede or lace was another airy option. When Mr. Vevers stepped away from leather, he embraced the brand's Spanish roots. Graphic prints that echoed the architectural features of the Alhambra in southern Spain came out on slinky jersey dresses in colors of red earth and blue sky, and the inclusion of a new lizard mascot was a fun way to give the ladylike looks a touch of youthful vigor."
and as far as beauty was concerned, there was a classic strength to the looks, with, as fashion gone rogue points out, the "dark red lip" forming the centerpiece.  lead hairstylist guido told the site beautylish, "(t)his is a very wearable, natural look. It has a center part so it's quite clean looking but not severe.  This season it felt like down hair has been more relevant- it seems quite startling to see hair down because the clothing is more controlled. It's a very modern look."  there was a slight seventies appeal to the long hair tucked behind the ears that bounced with its own natural movement and texture as the models walked.
the brand, says forbes, has now packed up the entire team and decamped for hong kong, repeating the runway show and lavishing other attentions on chinese buyers in the hopes of carving out some profit in this post-apocalyptic wasteland of scrimping-and-saving.  harsh criticisms aside, i don't know how they wouldn't do well there.  i sincerely enjoyed the loewe approach to ladylike feminism this season, seeing their woman for spring as an utterly sophisticated business woman (or occupying in some other high-powered position)—the type who wears little kid gloves while driving.  and, okay, we may not all be that, but it's nice to have a bit of her ideals, especially with all the schoolyard bells and loud, clashing, child-experimenting-with-colour ideas most of the rest of the designers have.  i can understand that to some, this completely refined approach would seem a little old school or odd, as style suggested, but it feels that now is as good a time as any to resurrect it. 
(watch the full collection video here)