nyfw: marc jacobs
(images via ny mag)
and now the time has come for us to leave new york fashion week.  i don't think we did too badly this time around, do you?  anyway, i tried very hard not to drag things out to the length i usually do.  and as i always like to end on a high note, i though i'd make a gesture and close with that designer whom i often call overrated, but who can surprise me with a collection as brilliant as was his a/w 2012 range and almost, almost convince me into taking it all back.  but not quite.  i think his archives (see s/s 2009, a/w 2010, resort 2011, s/s 2011, a/w 2011, s/s 2012) speak for themselves, both the good and bad.  and yes, we're talking about marc jacobs.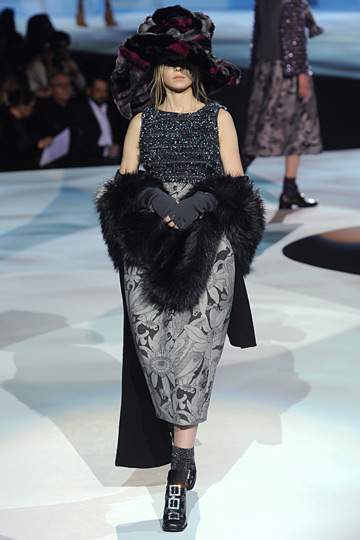 but before we get into all the praise you know is about to unfold, i have to confess that inevitably the man manages to peeve me somehow.  this time around, the nyt reported that mr. jacobs had flouted the cfda's guidelines of using models age 16 or over, by casting at least two 14-year-old girls.  "I do the show the way I think it should be, and not the way somebody tells me it should be.  If their parents are willing to let them do a show, I don't see any reason that it should be me who tells them that they can't," he snapped in response, because that's how homeboy reacts to criticism.  to which i'd like to rejoin my couple of thoughts.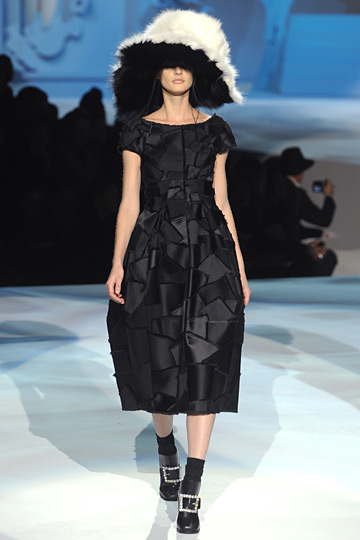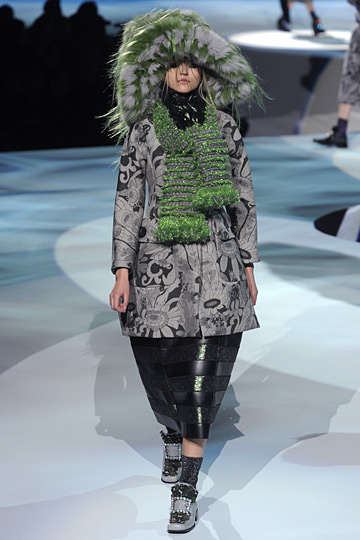 first, we know that young teenage girls would never, ever want to do anything they might later realize wasn't a smart decision, or come to regret.  and of course, we know there exits nothing like showbiz moms who allow their children to make these bad decisions *cough*dina lohan*cough.  but besides all that, if this was a case of any kind of creative censorship, i'd stand behind the designer.  but…like really?  this is a cause he feels is so important he needs to tackle?  casting veritable children in his very expensive womenswear shows?  yeah, that seems like an important point to take up the arms and do battle on, mr. jacobs.  i understand that indeed.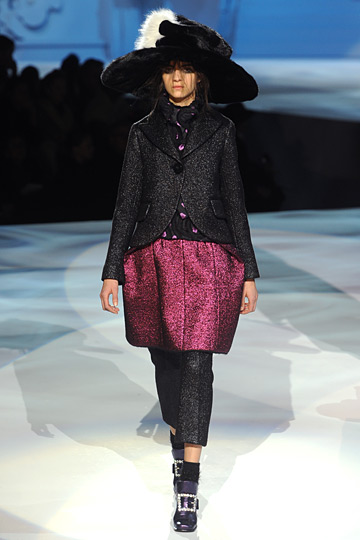 but okay, i know you've been waiting for it, so here comes the lavish parade of critical acclaim.  "Marc Jacobs, always the showman, turned his New York show into a mystical forest," said the ap, "presenting his fall collection amid an old-school fairy tale, complete with characters wearing oversized fur hats and embellished big-buckle shoes. There were hints of Victoriana, with bustles tacked on to some of the dresses, and a sequined faux-fur coat that appeared to be covered in snowflakes…The palette had rich tones of purple and bottle green, with a good dose of celebratory silver sparkle. Jacobs continued to push fashion forward with fabrics that included sequin holograms and tinsel tweed. And his Shetland wool stoles turned into a trend for fall before the audience walked out the door."
rather thoughtfully, uk vogue commented that "(k)ey pieces were hard to discern, as there was a more-is-more approach to the styling…Chunky crocheted stoles and fuzzy fur shrugs were draped around shoulders or secured with oversized safety pins to many looks. There were plenty of dresses, often shown over cropped pants and Lurex socks peeking from heeled Pilgrim oxfords or embellished flats. Appliqués and embroideries -alternating between matte and shiny, or sometimes both - were pressed upon skirts and dresses giving them a holographic, ghostly effect at times, and a psychedelic effect at others. An overblown paisley-print frock with an hourglass silhouette over a button-down with a peter pan collar was one of many stellar looks. His shapes were bulkier and looser, with cutaway jackets and dresses that nipped in the waist and flared at the hip thanks to some expert box pleating."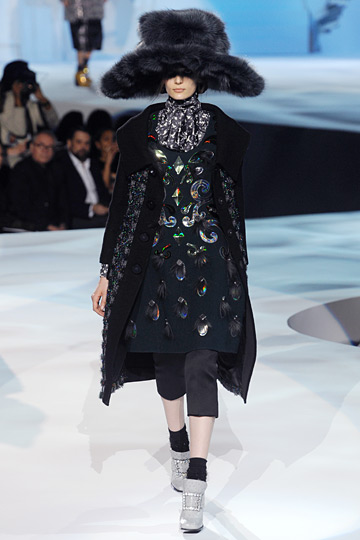 and style remarked that "we weren't in eighteenth-century France. Seventeenth-century Plymouth Rock meets the twenty-first-century street-style scene is more like it. Jacobs' models wore pilgrim shoes, of both the flat and stacked heel variety, affixed with giant rhinestone buckles…Jacobs had some dooz[y hats] on the runway. Made of multicolored mink, they tilted this way and dipped that, like something out of Dr. Seuss. The getups were just as off-kilter: Wool stoles were buttoned over wool coats worn on top of patchwork skirts above cropped pants. Colors were all over the map; prints ranged from oversize paisleys to floral pencil doodles, and holographic appliqués dripped off dresses. Tinsel turned up everywhere. And volumes, in marked contrast to his strict, severe collection of a year ago, were turned up, too."
meanwhile, wwd described "a spur-of-the-moment conversation between Jacobs and Rachel Feinstein barely two weeks ago that resulted in the intriguing set she designed. 'I'm thinking about broken things and Puritans and Pilgrims and kind of fake winter melancholy,' Jacobs told her…The result was a series of decaying grottoes made of paper-thin wood, their decrepit arches encompassing several staircases from which the girls would descend. They wore stoles over coats over skirts over pants, squarish sweaters over egg-shaped dresses, fitted brocade jumpers over crisp shirts. Most looks demonstrated a shushed-up Edwardian undercurrent in their curvature of silhouette, the structure achieved through cut and construction rather than cumbersome crinolines…Throughout, shots of color, both bold and gentle, interrupted the dominant blacks and grays."
but we wouldn't be complete without at least one dissenter, the irreplaceable cathy horyn of the nyt: "'Who Will Buy?' is a beautiful song, by Lionel Bart for the musical 'Oliver!,' and Mr. Jacobs played three versions of it, including one by the Mormon Tabernacle Choir for the finale. There were also beautiful aspects to his imagery: the white filigree set, the optimistic blue backdrop, the sober coats. And among the inspiring fashion looks was a short red brocade mini-dress over a white shirt and cropped black satin pants. But the visual snowstorm made it hard to see things that were actually new. And it was unclear what Mr. Jacobs meant by pairing fairly lavish clothes with that song."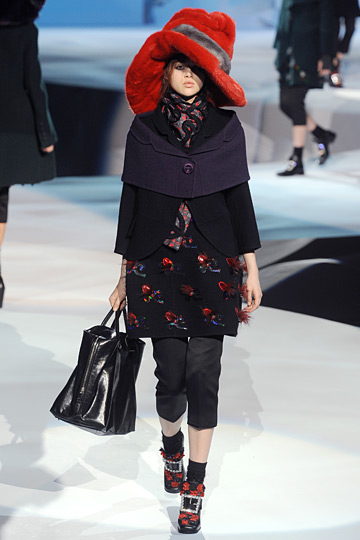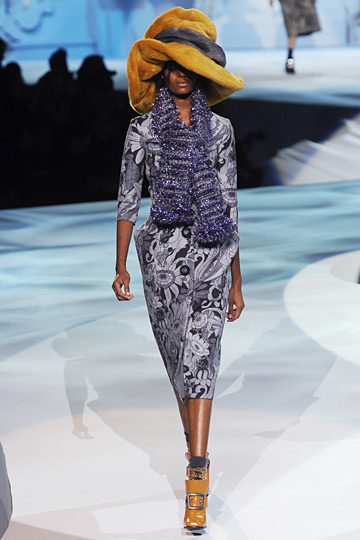 but to return to the pleased, showstudio trilled that "(a) third into a procession of giant squashed hats, feathery and furry, a peculiar sartorial menagerie and Prince Charming giant-buckled shoes I glanced down at my notebook and realised I'd made no notes. Describing the clothes, each look, seemed beside the point of it all. Yes, there were Princess coats and waffle knit stoles secured with a - what else? - giant safety pin, and dresses from swirly lurex paisley and tinsel and appliqué skirts with billowy sequinned tops and black silk satin trousers cropped to the ankle with sparkly little socks and those sequin buckles on the shoes. And yes, each look was generally pieced together in three: a short jacket or mid-length coat over a tunic or dress over the slim trousers. But there was more. Showmanship and creativity, intelligence and fun."
and us vogue yammered that "(i)f one wanted to squeeze a fashion trend out of the performance, it might be possible to say that the clothes added to the current conversation about the up-sizing of garments. The many coats came with exaggerated bell-shaped skirts and another layer of felted and embellished skirt beneath them, often with knitted or crocheted stoles wrapped around the shoulders and pinned with a giant safety pin. Often the girls took on the look of dolls whose owners had dressed them up in clothes too big for them. At other moments, they seemed to be Victorian urchins, but playfully, theatrically so. And there was nothing at all downbeat about the richness and embellishment going on in the clothes…Stripped down to its individual pieces, there's no doubt there will be a wealth of things for girls to wear in their own combinations. But that pragmatic fact wasn't the main lesson here: It was that Jacobs put the fun back into fashion, and that was elating to see."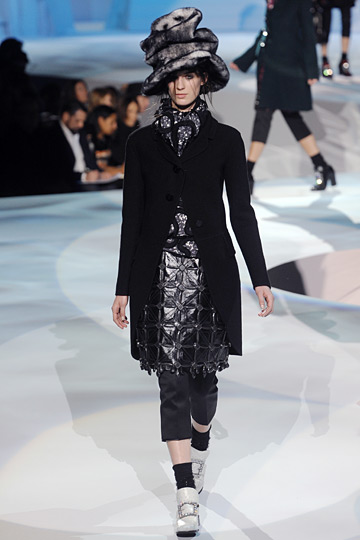 finally, the telegraph reported that "'(i)t was hysterical yet historical, and a little bit twisted,' said Marc Jacobs…Analysing whether anyone fancies wearing some diamante-buckled high heeled pilgrim shoes or a tiger print Jamiroquai-ish hat is not really the point here: this was an exercise in considered craziness, 'Cat in The Hat' meets Kurt Cobain (said Jacobs), a lavishly produced spectacle for the sheer what-the-hell sake of it. 'It's just in your head,' he said. 'It's just the way you wish things were: isn't that what it's all about? This is what I do for a living, it's not a fantasy. It's a real show.'"  and so it was.  it does remain to be seen, however, how it was translate onto the bodies of all the oft-scantily-clad fashionie crowd, of course.
(see the complete show video here)