paris fashion week: balmain
(images via ny mag)
this season for me has largely been about trying to be more open, and considering the collections from the perspective of the intended customer if i'm not immediately receptive, as per the recent blumarine show—or at least trying to.  and given my tendency to want to dismiss all things balmain (see f/w 2010, s/s 2011, f/w 2011, resort 2012, s/s 2012) so long as the new designer, olivier rousteing, sticks to the tried-and-true formula etched out by his predecessor who was unceremoniously ushered out (after doing so much for the brand), christophe decarnin.  but, surprise, surprise, as it turns out, i needn't have steeled myself: i was actually quite impressed with the figures mr. rousteing cut for his f/w 2012 effort with the label, and if they're not scrapping the glam (which, let's face it, we need with these prices), the distressed factors have all but vanished, as well as new silhouettes taking the places of the labia-flashing skirts and structured-shoulder skinny blazers.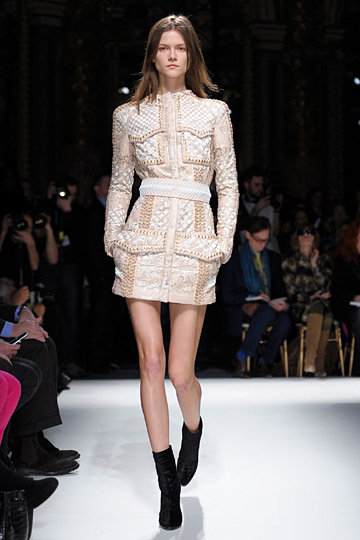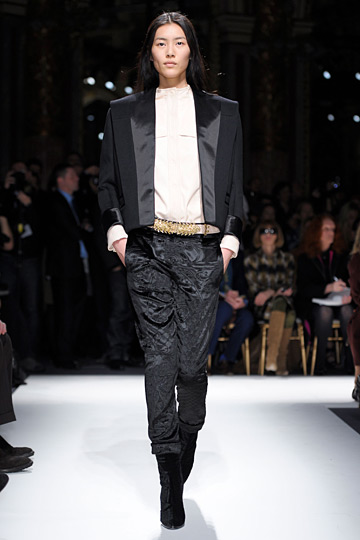 as wwd explained, mr. rousteing "amped up the flash with a bold lineup that explored surface ornamentation, taking it to the nth degree. He piled on the embroidery and embellishment — pearls, crystals, studs, upholsterylike quilting and needlepoint florals, often in the same piece — for jackets, tops and formfitting dresses. The overall effect had a touch of Baroque and resembled jeweled Fabergé eggs, which was intentional: The designer was inspired by one such czarist gem that Richard Burton gave Elizabeth Taylor. 'I went to New York and saw the Christie's exhibit, and it was so beautiful,' Rousteing said before the show. 'I loved the opulence.' The approach could have made for a heady mix, but the excessive ornamentation worked mostly because it was exquisitely executed and looked sexy and ultrarich — even La Liz would have thought of them as jewels for the body."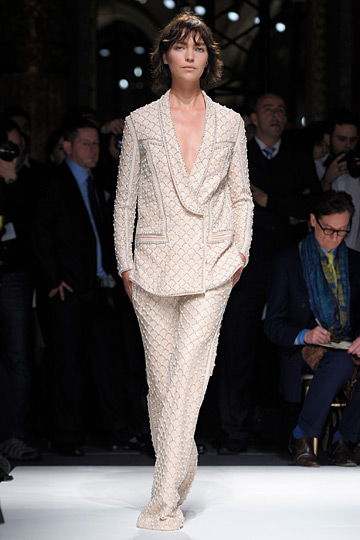 and the nyt's eric wilson trilled that "Mr. Rousteing carried on the house's popular rocking minidresses, but added so much embellishment in the form of lattice-worked crystals and pearls, not to forget the needlepoint flowers, that you cannot imagine anyone possibly sitting down in one of his looks. Oh, but it was a look. There was a great square shape to Mr. Rousteing's blazers and vests that drew a sharp line across the clavicles and shoulders. And the all-over Fabergé-inspired embroidery was echoed as a laser-cut pattern on emerald green velvet, such as on a floor-length skirt…With all the pearls and ornamentation, there's a chance these pieces might actually merit five-figure prices. At least Balmain appears to be optimistic about the economy. 'It's Balmain,' Mr. Rousteing said. 'We like to have fun.'"
similarly to what i said above, vogue reflected that "(r)efined nd more thoughtful is the direction Olivier Rousteing decided to take for his second season at the helm of a label whose aesthetic became a cult in its own right under Christophe Decarnin's guidance: Balmain. Those are big boots to fill - because it was Balmain that had us suddenly wanting and adding trophy jackets to our wardrobe when we never had before, and wanting to work a rock 'n' roll edge, pretending we were with the band. Last season he successfully managed to take the DNA of the brand to make a fine first outing. Today his second collection showed that that DNA can be moved forward and something new can be done with it, to luxe and regal effect."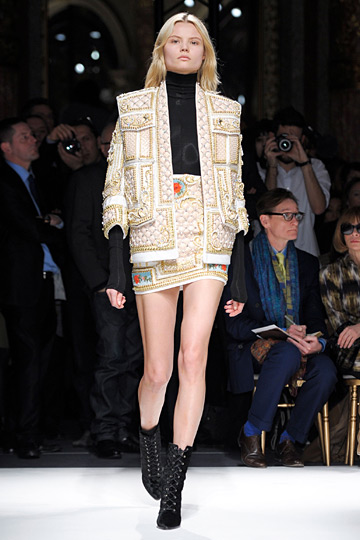 "Pearls, jewels, green velvet and gold all worked together," they carried on, "as wider-in-the shoulder and boxier jackets - where in the past they had been inverted triangles - took to the catwalk. It was out, not up, in silhouette - a trick that brought a real freshness. The colour palette, too, proved this new fresh luxe direction - no longer muddied by the Balmain girl's night out before. Think medieval green, pinks and silver, glistening brocades, pearlescent shades and opulent gold with cream and white. This collection conveyed layers of cultural references - in the ornately embroidered biker jackets not dissimilar to tapestries, and the first series of pearl studded looks which looked like extravagant sets of armour (well, even with her new direction, the Balmain girl is always ready to go into battle). It was still sexy, it was still Balmain, but it had moved on and was new."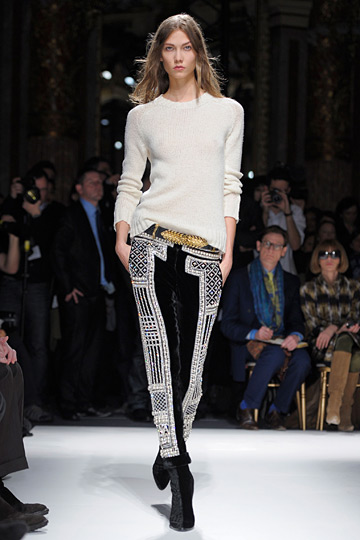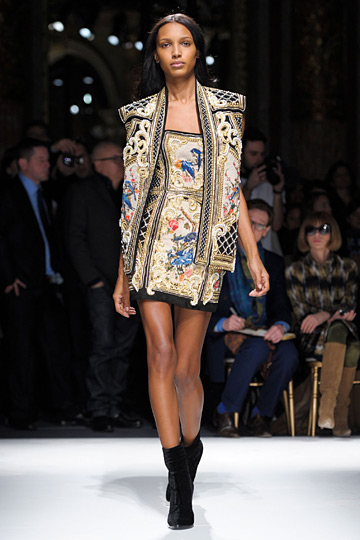 meanwhile, the telegraph opined that "Rousteing is very young, and perhaps not particularly well travelled, so he maybe could not have known that his second New York-acquired reference - Elizabeth Taylor's pearls - are not an entirely new form of sartorial ornament when used as here. One particular black-backround mini dress was so evocatively, stone-studdedly reminiscent of the Pearly Kings and Queens - and just perfect attire any hot, Pearly Princess looking for a new season showstopper…Really, though, it was the less adorned Rousteing designs that should do well next winter: those newly forgiving Balmain trousers were a move forward for a company for so long so dogmatically faithful to thrombosis-inducingly tight jeans, and the beautiful green velvet was used with real sophistication. The mega-boxy jackets - sometimes biker and quilted, sometimes gold-buttoned and military - were less successful than the long, deep-V'd tuxedo jackets with that delicate gold meshwork. This, collection number two, was definitely a step forward for Rousteing."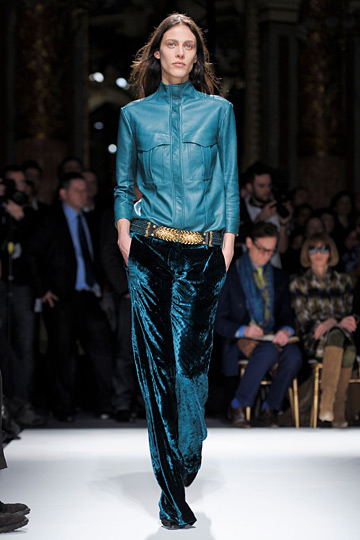 similarly, style proclaimed that "he's on his way to establishing a promising new direction for the house—one that retains the elaborately hand-worked pieces the label is known for but is imbued with a fresher, easier spirit. The first look out, a leather sweatshirt embellished with a needlepoint cameo that was worn over a snap-front top and simple black pants, captured the new vibe, as did a bottle green leather camp shirt worn with matching embossed velvet flares. The Balmain jacket has been redesigned by Rousteing. It's as boxy and oversize now as it was shrunken then; from the back, it's almost a perfect square. To cut their masculine look, he paired the jackets with fluid velvet pants, either dévoré or stamped in the Fabergé patterns. That's not to say there isn't room for improvement here. The least thrilling part of the collection was a series of stretchy dresses embroidered all over in pearls and crystals. They were predictable compared to those high-low mixes."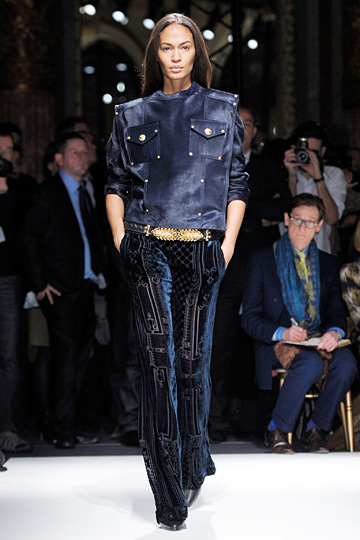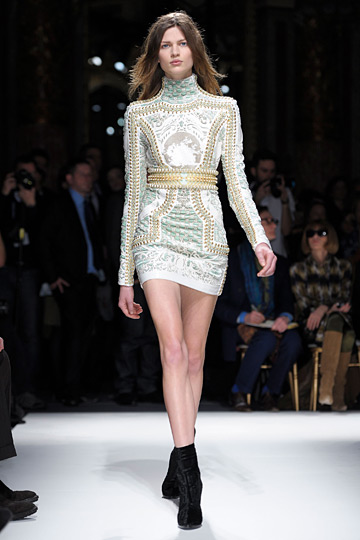 elsewhere, the washington post offered that "Olivier Rousteing, on his tremendous sophomore outing at Balmain's fall-winter ready-to-wear show on Thursday, took the label back to its couture roots with a dash of Russian imperial glamour. The collection's muse, the blue and gold Faberge egg that Richard Burton gave to Elizabeth Taylor, set the tone of the highly structured clothes that dripped with jewels. Gems and pearls adorned hourglass silhouettes, harking back to a time of imperial wealth. Long orthodox vestments in black and sumptuous velvets consolidated a fall trend for the covered-up and ecclesiastical. Le Grand Hotel Paris venue further transported spectators back in time to the glittering days of 18th century salons."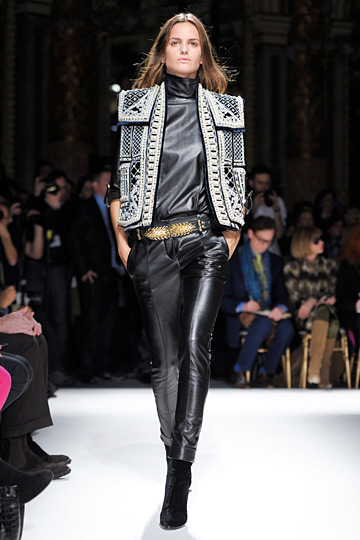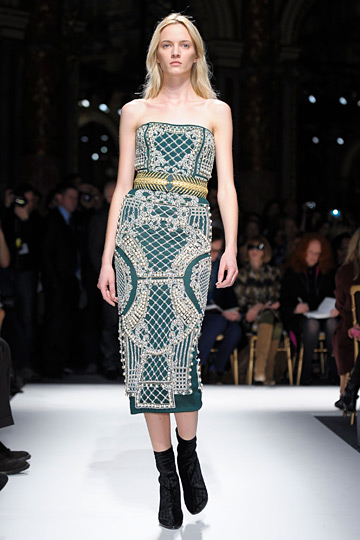 "But," they continued, "Rousteing was not just about gemstones, and looked forward not back. Since he was catapulted to the label's head a year ago, he's been trying to turn the page on what some have described as the house's 'trash factor.' Thursday's show managed to achieve this, without losing any of the red-carpet glamour that re-popularized the house under Christophe Decarnin. Rousteing revisited the house's signature jacket, making it oversized and sharpening it into an ornament. Pants were relaxed to give the silhouette a more fluid look, and boyish cropped pants were paired with a perfecto jacket and vest. The lion's share of the bejeweled pieces might not have been made in spirit of ready to wear, but they provide a strong direction for the iconic house's future."
finally, suzy menkes of the iht opined that "(n)ot since Gianni Versace rocked the baroque has there been so much sex-charged glitter and grandeur under a the gilded curlicue of a hotel ballroom…His vision was seeded with pearls. They glimmered from wide-shoulder tunics that were worked in dense embroidery, perhaps inset, Russian-style, with a cross-stitch panel of a rose. A more masculine vision had velvet pants and jackets embossed as if on leather. Those tight pants, brief hemlines and a…split skirt meant that Balmain kept its body-conscious image, but moved it from club to palace. Toughening up this view of imperial Russia and Hollywood royalty…was a military theme, with gilt buttons on tailored outfits. Mr. Rousteing, finishing his first year at the house, is making a good job of keeping up Balmain's maximal look. And his subject should be a big hit with the oligarch wife clientele."
(watch a short collection video here)