paris fashion week: cacharel
(images via ny mag)
i know i've mentioned quite a few times before how it vexes me that if a label or designer doesn't have the exact right pedigree (cool enough back story, right celebrities sitting frontrow and modeling for the house) or combination of models on the catwalk (it amazes me how these days the cache of a brand goes up simply by having karlie kloss on the runway—i guess we now understand why she took nyfw, london, and milan off this season; her 'brand' is hotter than ever), they're subject either to the kind of harsh scrutiny others not much different wouldn't get (that is to say, expecting them to reinvent the entire fashion wheel, or it's a wash) or simply the cold freeze—and not covered at all.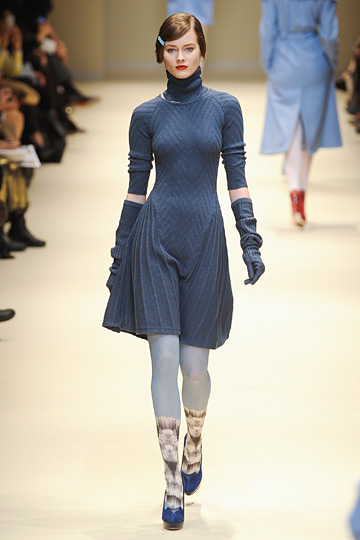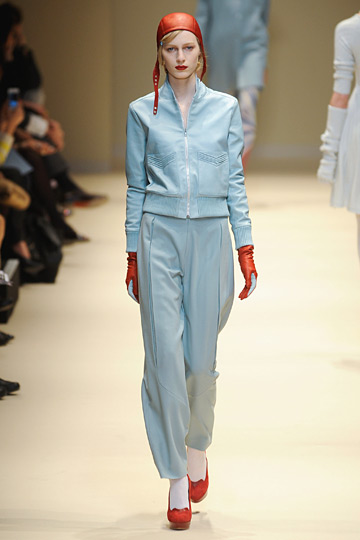 and it sucks when these labels present the kind of collections that may not completely reinvent everything we know about fashion, but are the nevertheless sweet, cute, and quite appealing to wear.  this was the way i felt about cacharel's (see resort 2011, an image of a/w 2011) a/w 2012 range presented at paris fashion week.  true, a lot of people are 'over' the twenties themes for fall, but i wasn't yet ready to see them go and creative directors ling liu and dawei sun revisiting the idea with a charming modernity and the kinds of swingy bright colours that i've been missing this season.  i found it impossible not to be quickly pulled in by their light easter-y pastels and adorable little cloches in popping shades of tomato, magenta, and sky (or the coordinateing barrettes, as on hanne gaby odiele, below).
but…surprise, surprise.  hardly anyone actually took the time to review it.  maybe that's because the label has lately been in flux—the previous designer, cédric charlier was fired about a year ago and is lately showing his own collection at pfw, and the past decade or so at the house seems to have represented a query about where they stand (like vionnet, perhaps, and maybe a less severe case of halston or emanuel ungaro).  so i suppose in some ways i understand the trepidation at welcoming the new cds with open arms; after all, why get attached if they too will be gone in a season or two?  but oh, how i hope not!  the range was feminine, eminently wearable, and filled with plenty of lovely prints—just like cacharel ought to be.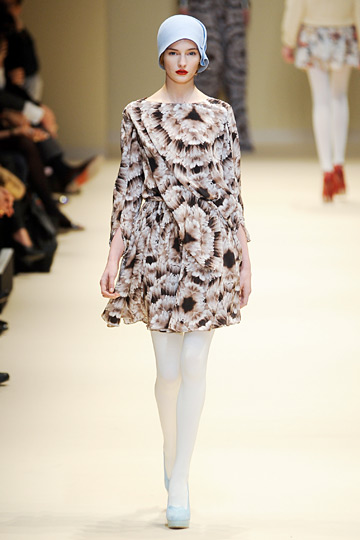 as style explained, the designers found their muse for the autumn in "Amelia Earhart, a woman who by their estimation wasn't afraid of anything. (These two might be just as ready for a Republican debate as a Paris runway.) [ed note: i'm not sure what that's supposed to mean] You can see where Liu and Sun find that confidence. As evidenced by last season's debut and today's showing, the pair has serious technical savvy. Their tailoring here of twenties-tinged coats and tapered trousers was full of all sorts of look-Ma-no-hands details. The knitwear was even stronger, with its zigzagging herringbone textures, a motif used, the designers explained, to inject masculinity into Cacharel's girlish DNA. See also the sweetly sexy skater dresses with sun-ray pleats flaring out from either side."
anyway, as they continued on, "(t)he seed of Liu and Sun's inspiration was ice crystals glimpsed through an airplane window, which led to the prismatic print and chilly blue palette, an unfortunate choice of hue that flatters few. You hoped for other color ways back at the showroom. The print that stood out, however, was the zigzag, quite cute in a pair of blocked palazzo pants that tricked the eye into seeing a slimmer silhouette within the wide. Liu and Sun may be fearless, and quite capably so, but the element that's still missing is excitement. You have to wonder if the right consultant or stylist—preferably one that shies away from red and white tights—couldn't help maximize their obvious talent."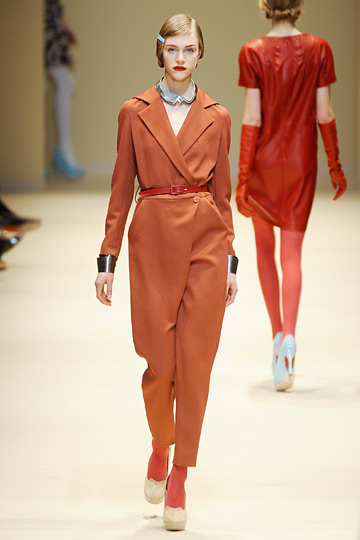 fortunately, on the other hand, fab sugar was a little more cheerful on the subject, writing that the collection "felt like a feminine ode to the idea of flight, complete with chic flight suits, aviator caps, necklaces that looked like they had been cut from a plane's wing, and a color palette that reminded one of blue skies and clouds. The contemporary line is beloved for its effortless take on feminine dressing, and this season proved no exception, with plenty of soft dresses and skirts, knit sweaters, and belted coats."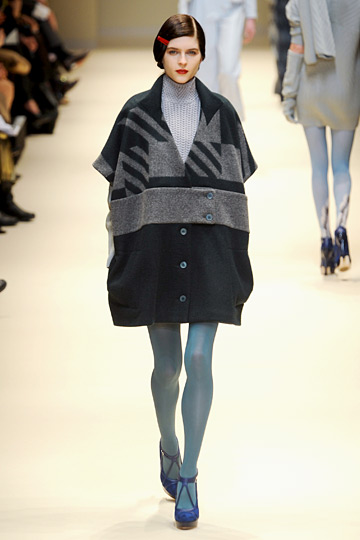 similarly, fashionologie declared that the range "was a literal flight of fancy — aviator references came via bomber jackets, aviator caps, metal collar necklaces, and one very chic 'flight' jumpsuit. However, Cacharel's signature femininity still ruled thanks to sweet knit dresses, flowy maxi skirts, and a baby-hued color palette shot through with red."  for my part, i thought it was just the right balance between youthful and grown-up, with some exceptionally wonderful outerwear (as at top).  and i liked the whimsical prints on stockings, which rather reminded me of details on a lollipop, or playful stickers—an intriguing way to indulge in one's girlish side without ever going over into too juvenile territory.  and i can't wait to see what the designer do next.  isn't that right where cacharel wants us?
(see the collection video here)