paris fashion week: costume national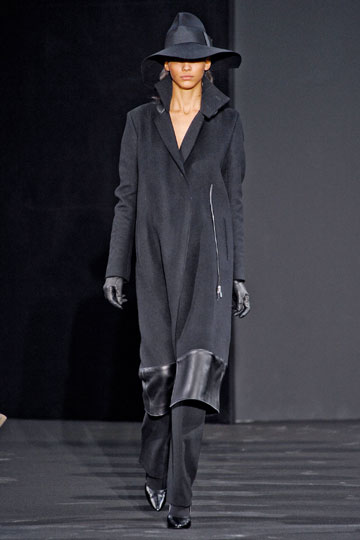 (images via ny mag)
costume national has long been one of those labels i dip in and out of following, paying close attention when something in particular strikes me (like, say, the f/w 2007, resort 2011, or s/s 2012 collections), and the rest of the time fading out into those others that demand more of our focus (whether we like them or not).  but all the same, while taking in designer ennio capasa's f/w 2012 range for the house, i wondered that i don't look harder in general at what costume national has to offer.  true, the dark and edgy/avant-y clothes aren't exactly the types that scream loudly enough to attract our glances, especially when other simply carve away dramatic slits, employ sheer panels, or cast some of the most interesting models of the moment to pull us in. 
but really, that shouldn't be all it takes, and after examining these clothes from the first time 'round to the fourth or fifth, an interesting transformation overcame me—i began to really, really like them, thinking there was something subtly sexy going on here, something that takes more than a casual, cursory glance to detect. of course, as you can probably anticipate, the fall garments aren't going to be for everyone, and with that in mind, there were at least a couple of critics who wanted to reprimand mr. capasa for his futuristic take on the retro-urban punk scene (awash in black, of course), but i liked his complexly layered-and-asymmetrical silhouettes, and i think from the tailored jackets, low-slung slouchy trousers, and occasional crisp white shirts, there was plenty that would flatter and challenge his customers, as well.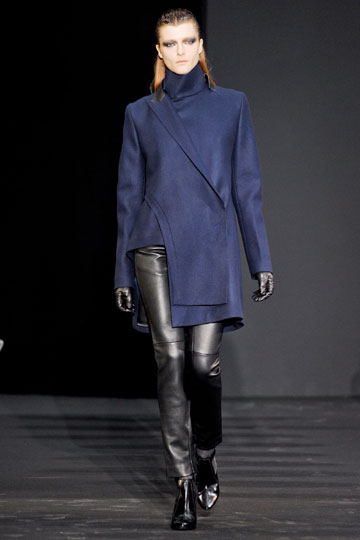 maybe i need to hear this as much as anyone, but sometimes i want to scream at the mainstream critics, 'just because you don't like it, doesn't mean the collection is unsuccessful!' not that anyone was that severe this time around.  but, well, you know what i mean.  one might think that the answers to all the world's sartorial questions would be wrapped up by one writer's pithy remarks in a major fashion review the way they take themselves so seriously.  yet i don't care what any of them say, the look modeled by cora emmanuel (top) was classic and sharply modern all at once, and i liked the way the long lines streamlined her form, making her appear taller and slimmer; however, unlike many a designer, i think this look would actually work on most women, instead of serving to magnify their problem areas.  this idea cropped up plenty of times throughout the presentation, to boot.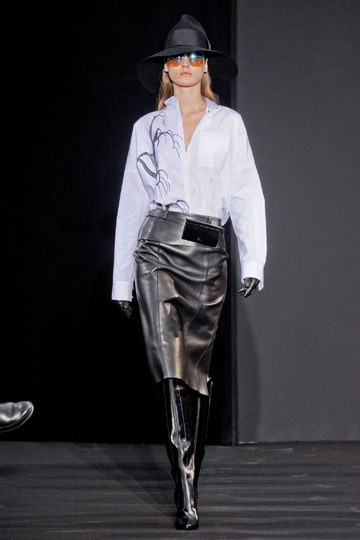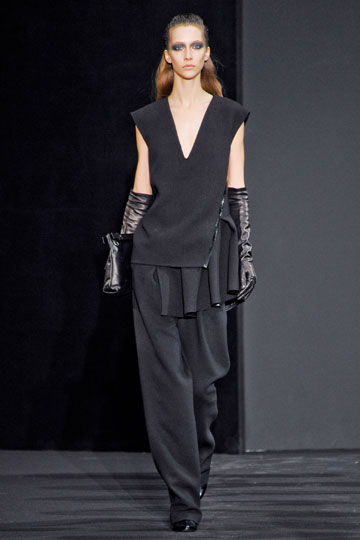 so, okay, we'll get to what the critics have to say.  on the skeptical side was the nyt's jessica michault, writing that "the designer turned to powerful women in rock, like Debbie Harry and Siouxsie Sioux, and how they look in real life. This led to a punky collection that experimented with asymmetrical layering cut away at unexpected angles and heights to leave underpinnings or skin exposed. It was an audacious idea but one that didn't always work. But Mr. Capasa loves to challenge his customers. Why else would he create mutant pieces, like a jacket that blended a fur coat with a bomber or a lacy transparent top with a modesty strip of blackout ribbon across the breasts. There were wearable pieces in the show, most notably the well-tailored trousers and coats. But over all, it was a collection that somehow got lost in the dark."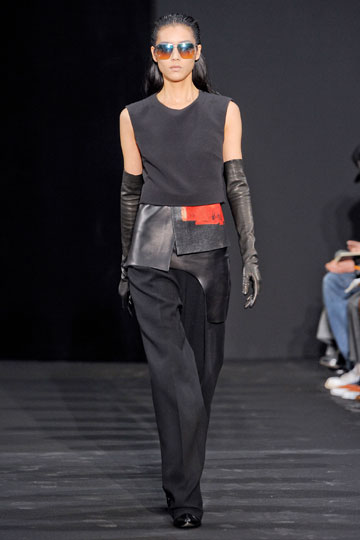 let's note that she didn't really explain how or why it didn't work for her.  but vogue was more thoughtful on the subject, reporting that "'(m)y women have a metropolitan and post-punk attitude, they combine androgynous and feminine silhouettes,' said Capasa in his notes. 'They face the future without fear, dressing up in the evening in cobweb T-shirts or a tuxedo combined with ankle boots.'…They came onto the catwalk as though they had just stepped out of the Matrix - all black and directional leathers, tunics with sides missing or overly-extended fronts, big high collars and belts that riffed on bumbags. There were modesty-protecting moments (though only just) in lace tops with strips across their front to hide nipples - these felt a bit dated it had to be said, and not especially sophisticated."
they continued on to say that "(l)ines were kept minimal, stark and straight, skirts folding around the thighs in a stiff manner. On a white mac came a crescendo of collars to go with ruched leather gloves worn with almost every look. Glossy patent patches on more outerwear (we really are spoilt for choice next season), sat side by side with fur to great impactful looks. That was the thing with this collection - it made an impact, but depending on whether or not you are the Costume customer - and 'want to face the future without fear'- they'll either be for you or they won't."  and that was a much better analysis; i pretty much agreed with everything they had to say, not excepting the criticisms.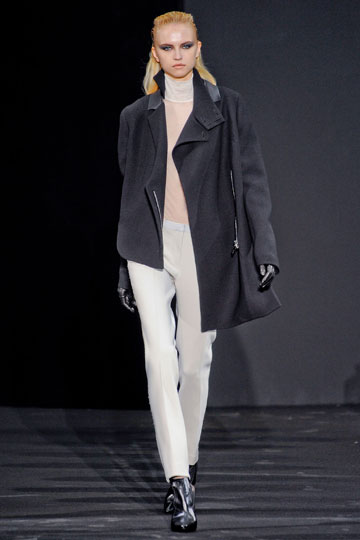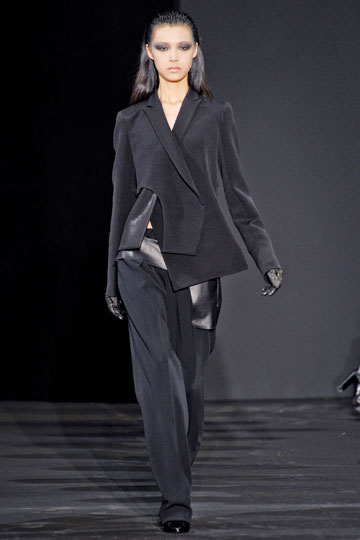 meanwhile, according to wwd, this was "an almost-all-black Costume National lineup that played out against a black runway. Not surprisingly, the collection was heavy on leather, but not of the biker chic variety. Instead, Capasa shaped it into a slouchy suit and a draped sleeveless dress, as well as some pieces that mixed materials, including an appealing black wool coat with a leather panel hem. Capasa also experimented with asymmetric paneling techniques, mapping blocks of fabrics (cloth, patent and smooth leather) onto one another. It resulted in uneven lengths on jackets and dresses or unexpected folds on tops, which at times looked too complicated."
finally, style reflected that "(t)he major story was asymmetry and cutaway silhouettes, occasionally layered and crisscrossing in flaps. The effect was elegant in gently curving arcs sliced out of the sides of leather and wool coats and jackets, and a bit more jarring in sharper angular chops. But credit Capasa's skill for making the conceit wearable more often than not. He called the collection New Wave-No Wave-Dark Wave…A white shirt with a barren-tree motif tucked into a great, lush black leather skirt and worn with killer just-over-the-knee boots struck the balance….The label's other fans will be similarly pleased with this collection, not only for its fab outerwear—that eventually blossomed into other moody hues like bottle green—but also the selection of great big baggy trousers, some with dipped and curved leather waistbands that echoed those cutaways. One pair came all in leather, right on track with a few we've seen this season. If it wasn't already, a trend is born."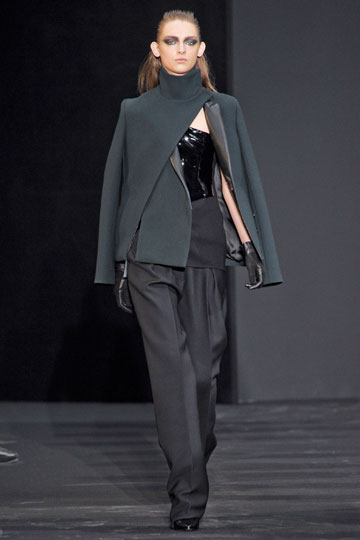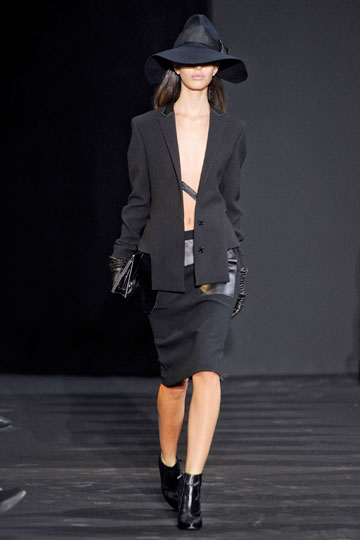 (watch the collection video here)