paris fashion week: manish arora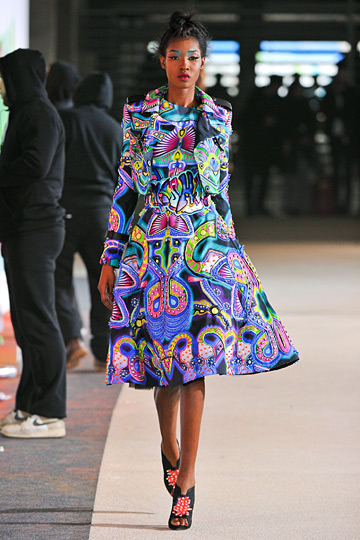 (images via ny mag)
as ever, i don't think manish arora got the love he deserved for his superb f/w 2012 collection exhibited at paris fashion week.  although of course there will be plenty of people to claim his street art-inspired outing was wacky, in many respects, i found it pared back for the designer (compare it with his f/w 2010, f/w 2011, & s/s 2012 shows to get some sense of what i mean), with scores of colourful and impish—but nonetheless quite pretty—numbers that evoked a day-glo 1950's party for the artsy rockabilly set.  with so much unrelenting darkness this season—not to mention a number of houses playing it safe with old favourites for their customers—his eclectic and vibrant collection made for one of my highlights of the week.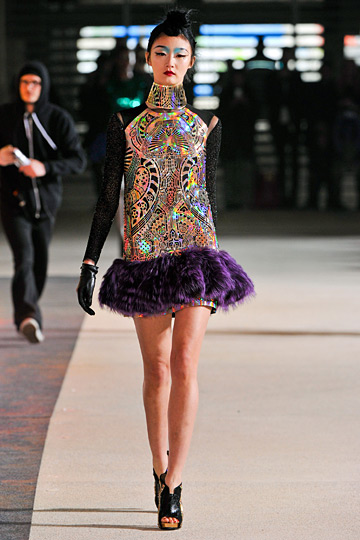 interestingly enough, in some respects, i suppose one could argue that even mr. arora was taking a laid-back and reserved approach for the coming fall.  to be sure, his aesthetic will forever have more verve than plenty of others, and never be as refined as, say, jil sander (though that's not meant as a slur to either house).  but in lieu of his often fantastical styling—as we saw for the autumn range two years ago, for example, during which the models sported candy-hued wigs cut rather like flapper bobs—he gave his girls this time around sweet little ballerina-esque top-knots, and what i'd argue was simpler makeup for the designer.  true, models had what appeared to be tears dripping from their eyes (perhaps he doesn't know what that's supposed to stand for) and lots of aqua shadow, but their berry-shaded lips were very lovely and quite classic indeed. 
and that's just the styling portion of things.  as to the actual clothes, though they were often awash in the designer's characteristically kooky prints, most of the silhouettes were fairly straightforward and traditional.  many evoked the classic fifties party dress style, nipped in at the waist and sporting a full, flared or a-line skirt.  elsewhere, there were smart little pencil skirts and tightly cinched waists that rather reminded one of neat secretary garb, and there were nice tailored jackets and separates—though not many pairs of trousers—some of which featured classic sixties touches (as the wide neckline on the graffiti-printed dress, above).
so i found it a shame that very few reporters even took the time to review the collection—while still less gave it the praise i thought it so strongly deserved.  ah, well, mr. arora isn't in the same class with the fashionies' beloved balenciaga, say, or prada.  one can just imagine what they'd say if either of those designers came up with this idea.  but at any rate, the hindustan times reported that "Brooklyn-based Judith Supine, spray-painted the words "Life is beautiful" on the backdrop of his ramp. 'I'm very attracted to street art,' said Manish. On the catwalk, motifs ranged from urban landscapes, to fragmented figures or faces, or bright red kissing lips dotted all over a black knee-length dress under a little black bolero. 'For my world the colours were subdued…But it's not just about the clothes. I fell in love with this venue. For me a show has to be a" show"…Otherwise you can just go to a showroom.'"
meanwhile, little able to contain their disdain, wwd opined that "(t)he odorous emissions from the graffiti sprayers painting the show's backdrop at Manish Arora made several in the crowd feel queasy and even a little trippy — a deliberate move, perhaps, as the designer's surreal lineup could probably only be enjoyed in an altered state. Sober, the textured and embellished black velvet looks, some featuring lip-shaped adornments with cigarettes dangling from them, were just this side of ugly."  apparently, they were either unwilling or unable to actually back up their harsh positions on the subject.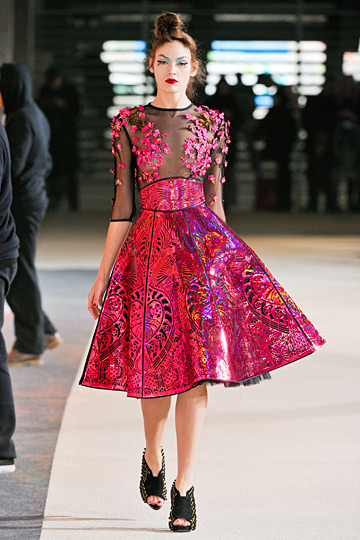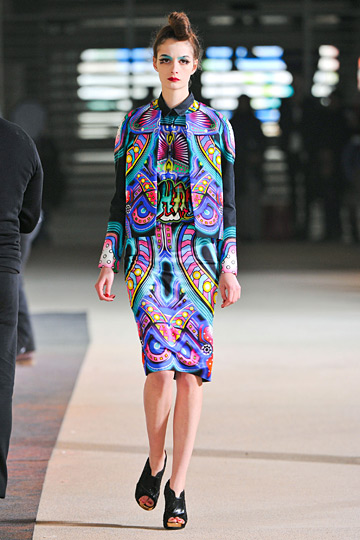 and here i'd like to take a moment to say that there's nothing wrong with not liking a collection—hating it, even.  but of late it has rather vexed me when critics so airily and cruelly dismiss a designer (especially since they tend to be those for who reviews actually do matter), asserting it like the fact that they must breathe, but without actually showing us why they feel so strongly against what they've just seen.  in fact, while i know it's fun to rave on about something you love, it's rather perplexing that they seem to think if they don't like something, well, simply slam it and job done.  in fact, i think it's actually at these times just as important to give us explanation, take us to a place of understanding.  that's their role as much as to convince us why something is good. 
but back to the point at hand.  according to the washington post, "(t)he Indian designer explored a Brooklyn cityscape in which tiny floral brocades teeming with color peeped through cracks in brick-colored pencil skirts. hort coats and stiff Aline skirts gleamed with a metallic finish, reminding us of the railroad tracks of Paris' Austerlitz train station a stone's throw away from the show. Models in loose, flared graffiti dresses with sporty straps amused the crowd as they stopped mid-catwalk to camouflage with the painted backdrop, like urban chameleons. A rich mix of materials were on display, including dyed Scandinavian Saga fur, crepe and silk satin. But it was a shame that in many of the pieces the fabrics were colored and embroidered to near-death, diminishing their visual quality."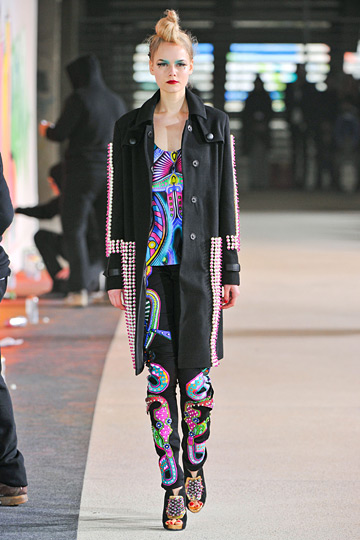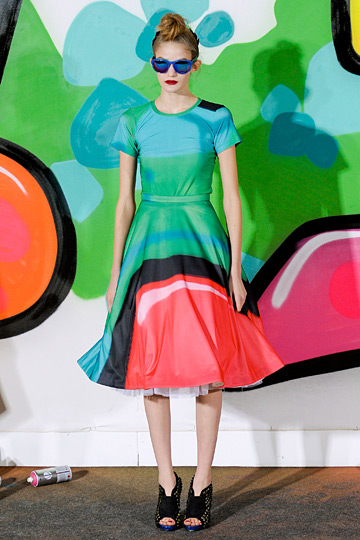 yet on the other hand, style was more optimistic, reporting that the designer " did street style. Not the kind you're used to, but the scrappy pop visuals of graffiti and street art, merged with his own OTT sensibility, highly detailed workmanship, and the classic couture silhouettes he tapped into last season….this new injection of relative reality…can make his ideas and meticulous execution shine. Take the polished little satin skirtsuit or cocoon coat printed all over with surreal highlighter-hued faces and appliquéd with cherry blossoms (the motif was the work of Brooklyn street artist Judith Supine, whose images Arora found while researching, and which were used throughout). Or a New Look-ish skirt in iridescent laser-cut leather paired with a tulle blouse dotted with flowers, with not a golden ribcage in sight….For his typically grand finale, a parade of ten models in crinoline-puffed graffiti-print dresses marched out to pose in front of the freshly sprayed-on handiwork, which ended up reading 'Life Is Beautiful.' In Arora's world, it's fun too."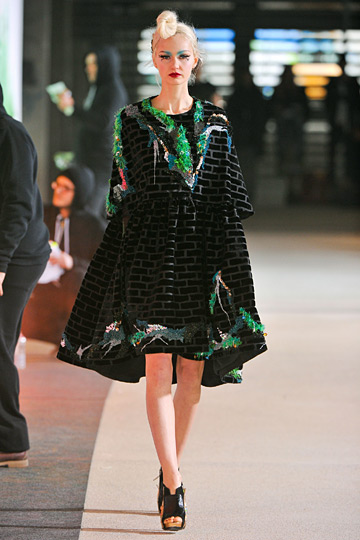 and finally, so too was the nyt's jessica michault, in describing how "DayGlo graffiti prints transformed full-skirted dresses into a retro/street style hybrid while jackets of laser-cut leather pieces with a feather-motif fringe had a decidedly 1980s vibe. The surreal features included red lips smoking 3-D cigarettes embroidered onto shirts and coats, fluttering flower appliqués adorned with wings trembled on oversized tops, and holographic body harnesses made of tape measures encased maxi dresses. The results of all of these inventive designs was a vibrant collection that played to Mr. Arora's strengths."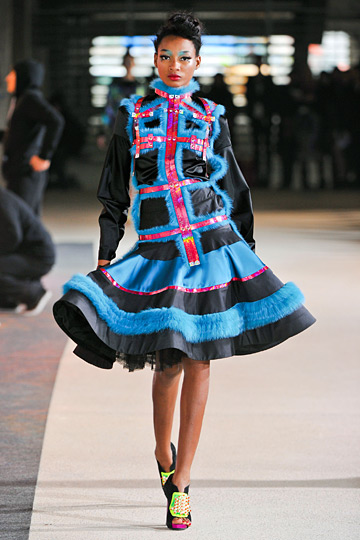 (see the show video here)