paris fashion week: balenciaga
(images via ny mag)
being frank (is there any other way to be?), it's a rare day that balenciaga designer nicolas ghesquière's work strikes my fancy.  it doesn't mean he doesn't now and again—i can be almost as starstruck as the hordes that fashion idols to worship in his name—but overall, there are times i can't help but wonder if his work is a bit overrated—specifically as it applies to wearability.  over the seasons that opt has covered his retro-futurist aesthetic (see a/w 2010, resort 2011, s/s 2011, pre-fall 2011, a/w 2011, s/s 2012), i've tended to find his bags and shoes consistently rather phenomenal, and his clothes a bit iffy—but definitely pandering towards the fashionie/editorial crowd that likes the idea of 'so ugly it's chic.'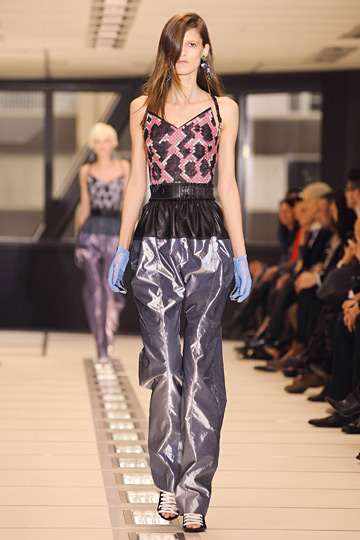 this has specifically been the case for pieces like mr. ghesquière's alsatian sweatshirt slapped on aymeline valade for pre-fall 2011, and again, i would consider it true for his unsightly pre-teen boy science fiction/video game-y sweatshirts circa 1977-1983 he plastered on his models (as on poor little julia nobis, above) for his a/w 2012 range presented at paris fashion week.  though the show was alleged to be about sophisticated futuristic (is there ever any other way?) workwear—and, to be fair, there were indeed some very smart exits, as josephine skriver's superb plastic-y gray-and-black coat, tenth from below—between these and the tracksuit (and sweatsuit)-looking pants, i wondered what company these girls were supposed to be heading out for.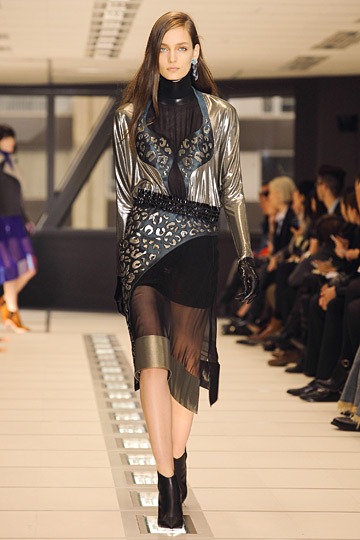 again, i want to stress that the designer did have some sharp ideas on display, and quite a few pretty dresses (i like that sleeveless black, white, and zebra-striped summery cocktail frock, second from below).  however, in the past i've been struck with the notion that he's toying with us, seeing how fantastically kitsch and unattractive he can get, while still convincing the fashionies that it's fabulous—sort of like a nouveau version of the emperor's new clothes, but this time with the kind of tacky stuff these girls would have teased their little brothers mercilessly for donning at the time they were new, socially acceptable (for eight-year-olds) and relatively stylish (again, for eight-year-olds). worse still, in cases like these sweatshirts, i'm not even sure that any actual design in necessary—this feels more like a case of (bad) styling work. 
there is no doubt, however, that mr. ghesquière can be a skilled designer when he wants to be.  but i wish people were better at separating that all out, praising him for a good and innovative show (as the s/s 2005), and calling him out for his stylistic, prestige-design nonsense (as s/s 2011)—when he repackages ideas that are unattractive and budget and manages to charge some of the highest prices in the game for them.  yes, at those moment i wish there was a small child on the ball to shout out, 'the models borrowed my sweatshirts, mum!'—or something of the sort.  but instead, season in and out, the designer's profile rises ever higher.  now, as i like to point out when i'm at odds with the rest of the fashion universe (which happens rather often of late, it seems), there is no absolute truth.  i may be correct, in a fashion, but so might the critics. 
fortunately enough this time around, there were a couple who appeared to get some measure of the points i've been trying to make, so let's listen to what they all have to say.  uk vogue reported that "'(w)e imagined this Balenciaga Inc. company and then we started to identify the functions the staff have and the clothes they would wear - the space-age sweatshirt girls were the spies infiltrating the company,' [the designer] said…The sweatshirts of the girls he was talking about cleverly took that Eighties staple transfer-front jumper and transformed it into something shoulder heavy, tough and cool with little frilled collars poking out from the top and worn with leather-waisted tapered trousers beneath. The look was anchored by pointy little leather booties with cone heels - everything was very precise, which is rather what you would imagine it to be working at Balenciaga."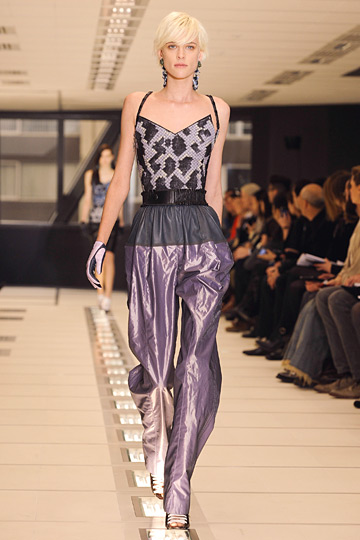 a slightly more perplexed style wrote that "(t)he designer moved the fashion conversation along today in a few different ways: by proposing new silhouettes with exaggerated, even challenging proportions (bonded leather coats with shoulders out to there, sculptural padded sweaters over stiff A-line skirts with doubled front panels); by deliberately trafficking in items of questionable taste (those black satin sweatshirts with spacey slogans like 'JOIN A WEIRD TRIP' and 'OUT OF THE BLUE' are instant collector's items); and by continuing to emphasize fabric research. The IT girls wore jumpsuits made from a hi-tech parachute material, and his animal prints came two ways—as a jacquard snake on the wool bodices of the office rebels' strapless dresses and as leopard spots that looked like liquid mercury on the executives' jackets…Not all of it was as pleasing. As in any office, there are people you love and others who leave you cold. All in all, though, a remarkable company."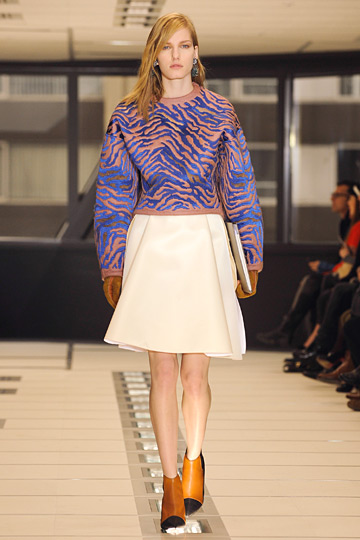 meanwhile, the guardian thought "the look was rigid and exquisitely tailored. Ghesquière's so-called legal department was not easy to spot – but it was more likely the portfolio-carrying woman in the spongy tailoring than the worker clad in a metallic, zebra-striped biker jacket. Elsewhere strict, white A-line skirts had something of the clerical about them, while shiny elasticated trousers recalled the unflattering uniforms of cleaning staff. That is, until the sight of Balenciaga-faithful actor Charlotte Gainsbourg wearing them backstage raised them into impossibly cool territory [ed note: another emperor case]….This show emphasised the fact that the Balenciaga brand now stands alone – intentionally so — and it plays to a home crowd who will doubtless lap up the sweatshirts and the multi-laced ankle boots. The unspoken rule is that you already know whether you are the right applicant to work at Balenciaga Incorporated, or not."
surprisingly, the wsj saw through some of it, though i'm unhappy to say i'm not quite sure it was for the right reasons: "Beautiful? Not at all. Balenciaga's Nicolas Ghesquiere has been doing stiff scuba fabric for many seasons. He's been blocking together disparate textiles in space-age shapes as well. He is one of the most influential fashion designers in the world So where did the leader of haute fashion take us for fall 2012? No where that we haven't already been. Yet the…brand…seems to view itself as perennially so far in front that everyone must follow. Why else insist that hundreds of guests print out an emailed invitation rather than flashing the inkjet email at the door? A note from the brand beforehand explained that guests who failed to print out the invitations would be turned away. How inconvenient to hundreds of attendees staying at temporary lodgings without easy access to printers. We were supposed to be carried away by the idea of an imaginary corporation whose offices are 27 floors up in a real office building in Paris…according to Balenciaga's press release."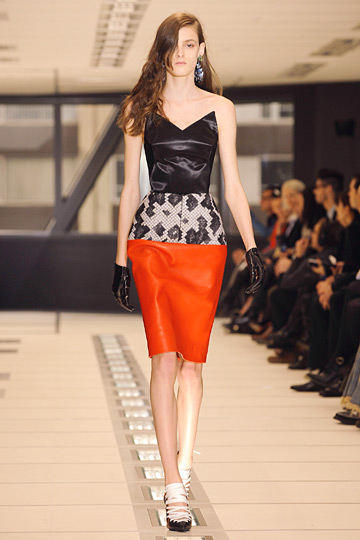 but on the other hand, even the iht's suzy menkes was oddly sycophantic, opining that "(t)he clothes were so practical and effective (give or take a sci-fi print, as if from a retro video game), that it was easy to overlook the fact that each item, from A-line skirt to high-waist pants, had been refreshed. That meant a use of shiny fabric for the loose trousers or rounded jackets crafted in what looked like a bonded weave. Mr. Ghesquière said that he had, in fact, divided the working woman categories into lawyer, banker and even spy for those sci-fi tops. That seemed a brave move in a world where such lofty professions are currently despised. But perhaps the designer's message was not just to send out stylish, vigorous and streamlined clothes that could genuinely be worn by females at the top — but to suggest that if women ruled the world, it might be a better place."
as, of course, was us vogue: "technical innovation puts Balenciaga in the forefront of experimentation, placing Ghesquière in a leadership position amongst many younger designers—who consciously or unconsciously assimilate what he does season after season. What none can ape, though, is the authenticity of the complete worldview which informs Ghesquière's creativity: the autobiographical synthesis of early eighties French post-punk (Jacno, to be exact), the sci-fi imagery in the back of his brain…and his interest in applying himself to what women around him might want to wear next. (The answer to the last: definitely the lower-heeled, pointed 'business boots' in patchwork combinations of, say, violet jersey or crocodile and leather, and the pannier shoulder bags on abstracted guitar straps, as soon as possible.) To see it all, complete and in situ, took his thinking to another level."
fortunately, the nyt's cathy horyn, too, took it upon herself to view the proceedings with a critical eye, finally commenting that "(a)t one point Mr. Ghesquiere sent out what looked like jumpsuits; the upper half was a conventional blazer, and the bottom might have been track pants in parachute silk, finished off with a belt so that your rear end was guaranteed to look enormous. In New York, we've all seen that mishmash of styles on the subway: the thick leather jacket, the '80s trousers and two-tone elf boots, the touch of metallic animal print. And the attitude is admirable because it really isn't about Fashion. But on another level, you don't need this point of view from Balenciaga. It's a bit pedestrian. Although the collection had a number of strong pieces, like the skirts and many of the tops, there is just not enough merit to the idea to keep you interested."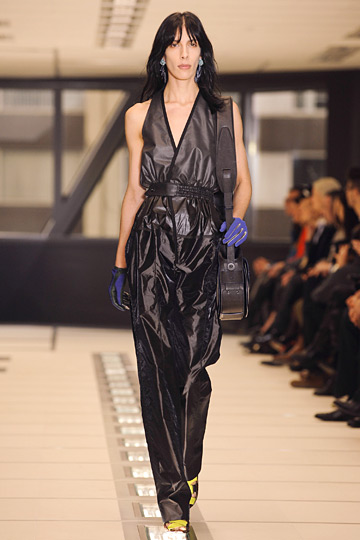 (watch the catwalk video here)