stockholm fashion week: the local firm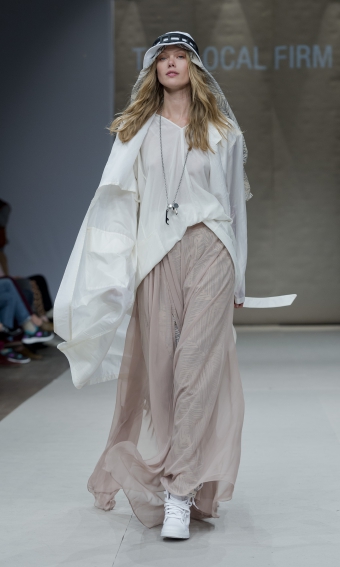 (images via damernas)
there are a couple of swedish labels i like to fancy i'm getting to know pretty well by now, and one of these is the local firm, a house that designs for both girls and boys in a manner that tends to embrace plenty of layers and often a grunge or military-esque slant, and which has, over the seasons (see s/s 2011, a/w 2011, s/s 2012, a/w 2012), i believe, been constantly growing in popularity and getting to be (again, i fancy) one of the bigger tickets on the stockholm fashion week circuit.  and although their s/s 2013 seemed quite abbreviated from the feminine perspective, concentrating more on the men (or at least it seemed to me), i feel it won't be long before we see them graduating to a bigger stage, like london, or even nyfw. 
alors.  this time around, according to the mbfws site, the range, titled 'tlf tribe' seemed to tap into a feeling that has been floating around these past couple of seasons: "It draws inspiration from urban club-kids of the European early 90s. Large geometric shapes are in focus, worn with body-hugging Lycra garments in layers. The theme of the prints is telephone doodles and scribbles. A new TLF symbol is present on numerous pieces creating a 'tribe' feeling." really, haven't we seen raver subculture everywhere from the nyfw runways of rag & bone (s/s 2012) and jeremy scott (a/w 2011) to sydney's ginger & smart (s/s 2012), topshop unique in london (a/w 2009) and toronto's juma (a/w 2011) to stockhom's own cheap monday (a/w 2012). 
but i guess the nineties are just in the air these days, and really, no one can lay a claim to it (though i will argue some of the layers on display at the local firm did evoke a lot of what we saw a season ago at cheap monday).  but anyway, the swedish site expressen made a lot of to do about how bomber jackets were an important part of the spring wardrobe according to stockholm's designers, and the local firm showed some very good ones here.  they also played up again on their favourite boy-meets-girl theme, while damernas reflected that (trans.) "(t)hey gave us clothes in bright hues, something they spoiled us with over the years. Layers and bomber jackets were a common thread throughout the collection."  aha!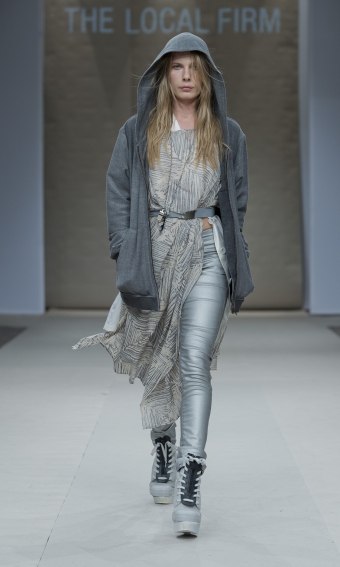 "Inspiration comes from the 1990s club culture - with geometric silhouttes, volume and Lycra material in focus. With the subdued colour scheme, they defied summer's otherwise colourful trend. The garments themselves invite no sunbathing and are often comprehensive and consist of multiple layers of fabric. The collection's smartest move is undoubtedly the short bomber jackets and oversized sweaters in gray and turquoise," (trans.) was the commentary of radar magazine, and while i'd tend to agree that the jackets would be the most commercial elements of the collection, i wondered that no one made more of a fuss about the fact that this show had nothing summer-leaning in it at all (true, they mentioned it here, but not necessarily in a way that suggests anything lacking).  after all, the summers are rather short, so wouldn't one want to enjoy them?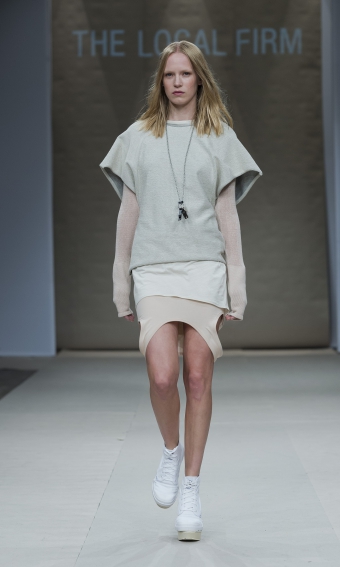 and finally, plaza kvinna sang out that (trans.) "(i)nspired urban rave kids, The Local Firm showed a collection full of attributes that can be traced straight back to the nineties. Bomber jackets, sweatshirts, layer upon layer of surface-dress pants and t-shirts on top of long sleeves. Closest to the body were tightened lycra pieces and then layers of sweeping mesh fabrics and whistles around their necks."  (the last bit rather reminds me of missoni's ibiza rave affair for s/s 2010—really, what happened to all the day-glo snap beads and the mini pacifiers?  why do design houses insist on cribbing from each other instead of the actual source of the inspiration itself?  i wish some of them would see groove and start from there. ha.)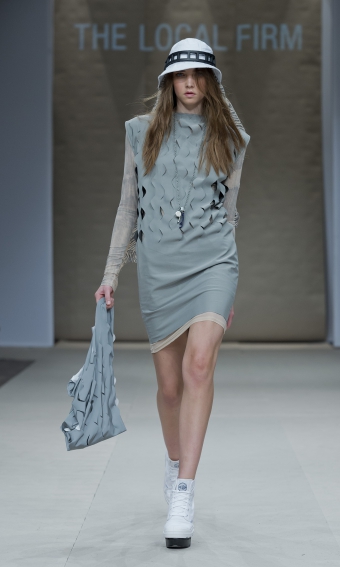 but any, pk went on to conclude that (again, trans.) "(t)he show began with six dancers, in The Local Firm's signature color gray, dancing around three main characters: TLF. The music pumped vigorously and it was hard not to love this tribute to the 90's…But fish caps with some sort of black rubber decoration? No, we're probably not quite ready yet!" so i suppose there will be plenty of former nineties kids (and the new crowd) eager to get their hands on these pieces, but i'm not sure i found the range to have as much soul as some of the house's other collections (to say nothing of the dearth of colour—and for such a subject!), but whatever.  don't drugs and parties get fashionies buying like nothing else?  i guess we shall see, but if all of the aformentioned have scored on this topic…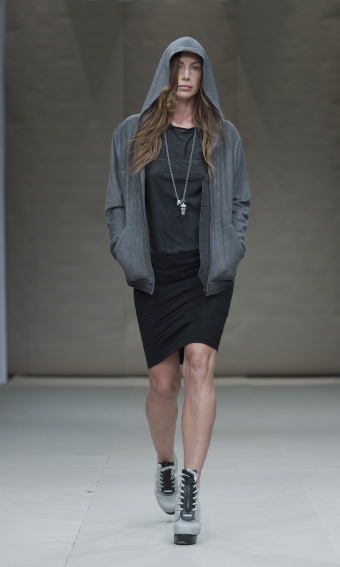 (check out a video interview with the label's ceo, axel nyhage, here)