couture week: iris van herpen
(images via ny mag)
so, as you've no doubt learned over the cascade of seasons that past few years opt has been at work, i've fluctuated from intense love for dutch designer iris van herpen (a/w 2010 and s/s 2011) to a bit of positive-ambivalence (s/s 2011 hc) to something like, 'okay, already, we've seen this before, let's go, because it's time to evolve!' (a/w 2011 & s/s 2012).  frankly, i suppose one could pretty easily argue that a lot of that evolved around about the time she packed up her things from amsterdam fashion week and brought it on the road to paris' couture week (that, and, yannow, the continual affiliations with lady g). 
anyway, homegirl was back at work on the haute couture runway, with her latest collection for the a/w 2012 season, which was called, according to her website, 'hybrid holism haute couture,' though i really wasn't able to find anything online that gave it a decent backstory.  instead, one can pretty much assess what the reviewers were going to write before they came rolling in, with wwd remarking that "(t)he designer's spooky, alien creations looked as though they were about to swallow their wearer whole," and the rest of them pretty much filing in from there.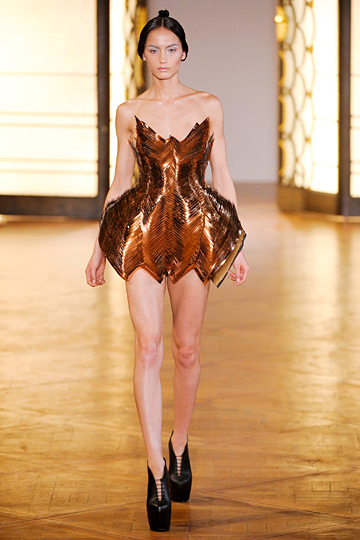 however, as they pretty much predictably turned out like the huffington post spotlighting the footwear, the site art info did get a little more specific in writing that ms. van herpen "traveled into the outer space for her fall 2012 couture collection, and the result was a little 'Star Wars' meets 'Alien.' The bulging curves on this sculptural gold mini dress look as if they're about to come to life and engulf the model." and, of course, i actually really liked the blog the stranger opining that "(s)ome looks reminded me Kafka's Metamorphosis, and the human transformation into a gigantic cockroach."  that's a nice way to look at the collection, non?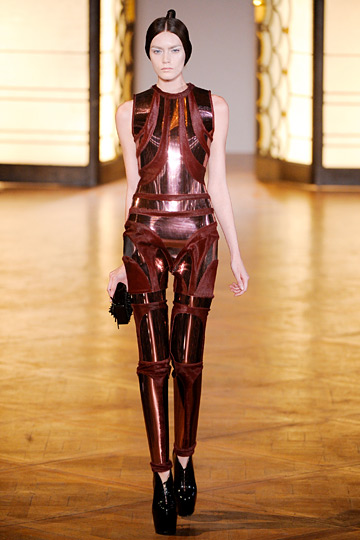 but actually, as ever (especially considering that they're the ones who do afw's official photography), it was team peter stigter who had the best insights and background, writing that "(i)t's divers [sic] and complex in terms of form, structure and material. With this collection Van Herpen introduces a new technique called  'Mammoth Stereo Lithograph'. Its 3D printing process is build part by part in a layer of polymer. The polymer gets hard when in contact with a laserbeam, the result is a layered and complex form.  For this 3D print Iris van Herpen collaborated with Materialise and architect Julia Koerner. Innovation always plays a major part in Van Herpens [sic] work. In this collections she used Swarovski crystals, lace made of silicone, copper,  Ecco leer and acrylic transparent skin. Colors like black. dark red and dark blue are mixed with metallic purple and transparent amber."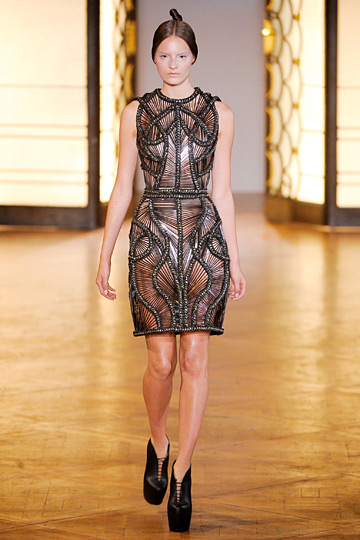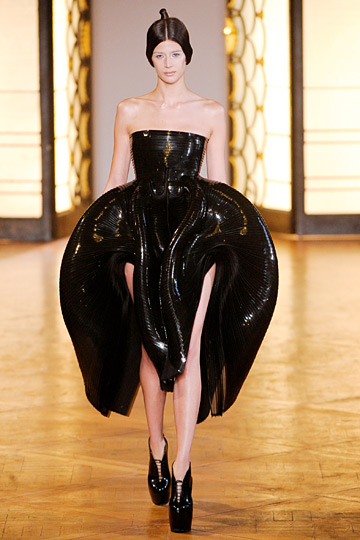 (check out some video action here)