nyfw: rag & bone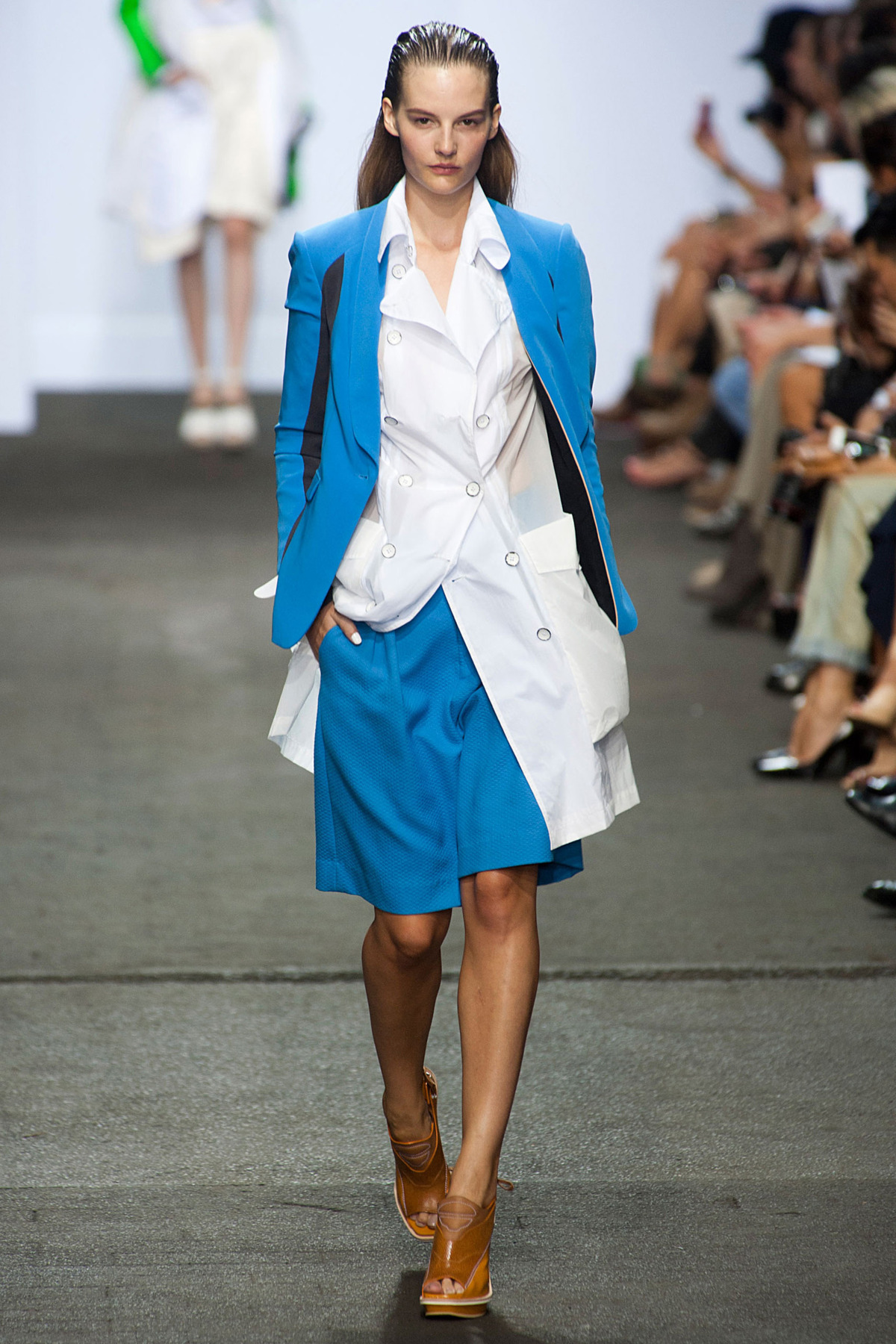 (images via ny mag)
now, i believe i've said this in the past, and maybe it means i'll get burned in effigy, given how many ardent rag & bone enthusiasts are circling out there, but i tend to think the brand's strength is in the marketing rather than any actual real feats of design.  that doesn't mean, of course, that designers david neville and marcus wainwright haven't had some great ideas and tripped a few quite clever design wires in their moments onstage at new york fashion week (see s/s 2011, pre-fall 2011, a/w 2011, s/s 2012, a/w 2012), but on the other hand, sometimes reminding me rather strongly of the german label mongrels in common, which we've just recently discussed, i believe they're more about perplexing us with some odd juxtapositions than they are, you know, feats of engineering and sculptural draping.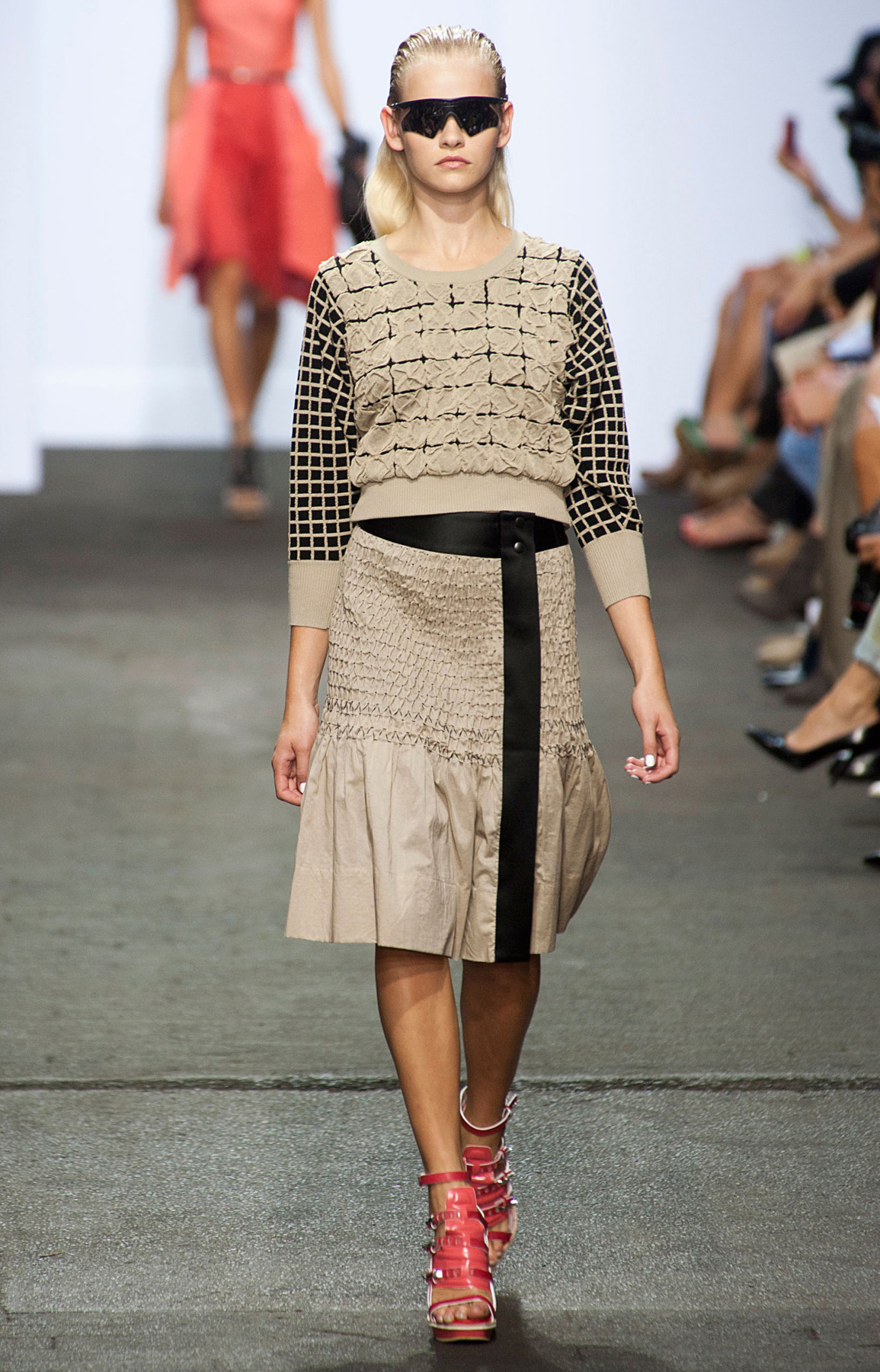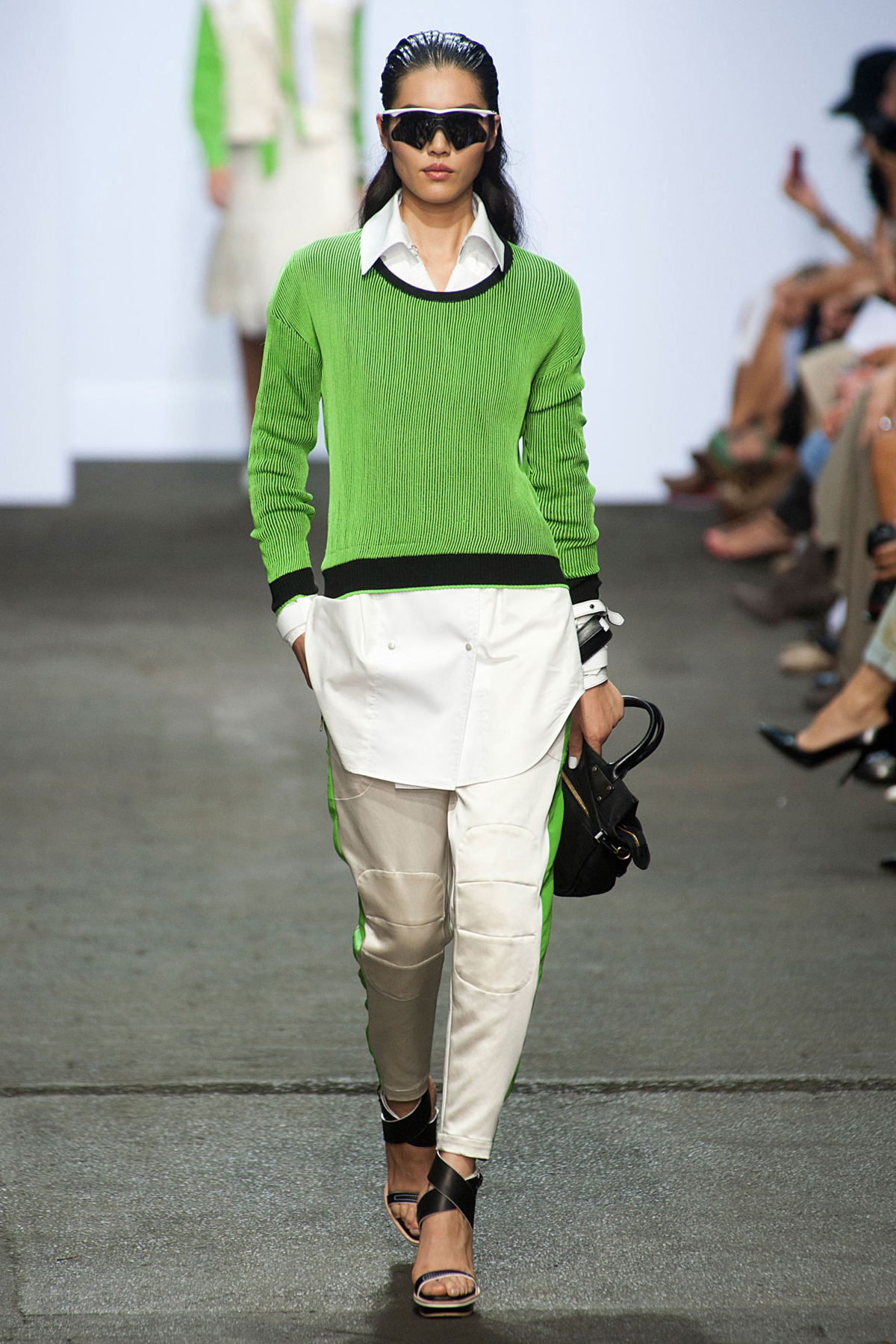 but i think we're all aware that the s/s 2013 range, as ever, was to be lapped up by the critics.  "'We were thinking of the Dakar rally,' Wainwright said about spring's extra element, referring to the off-road race that, when it first started in the Seventies, began in Paris before speeding south towards Africa," uk vogue reported.  "This idea materialised via floaty lightweight jackets, motor cross-inspired quilted outerwear, and their signature slouchy, tapered pants - this time with geometric inserts. The duo was also thinking of Bedouin dress, and its Arabic influences could be seen in a dusty, sand-toned palette, wispy head wraps, and draping, voluminous tops, some of which resembled tunics of the Middle East, while others called to mind oversize men's dress shirts, a play on label's fondness for a play on the masculine-feminine."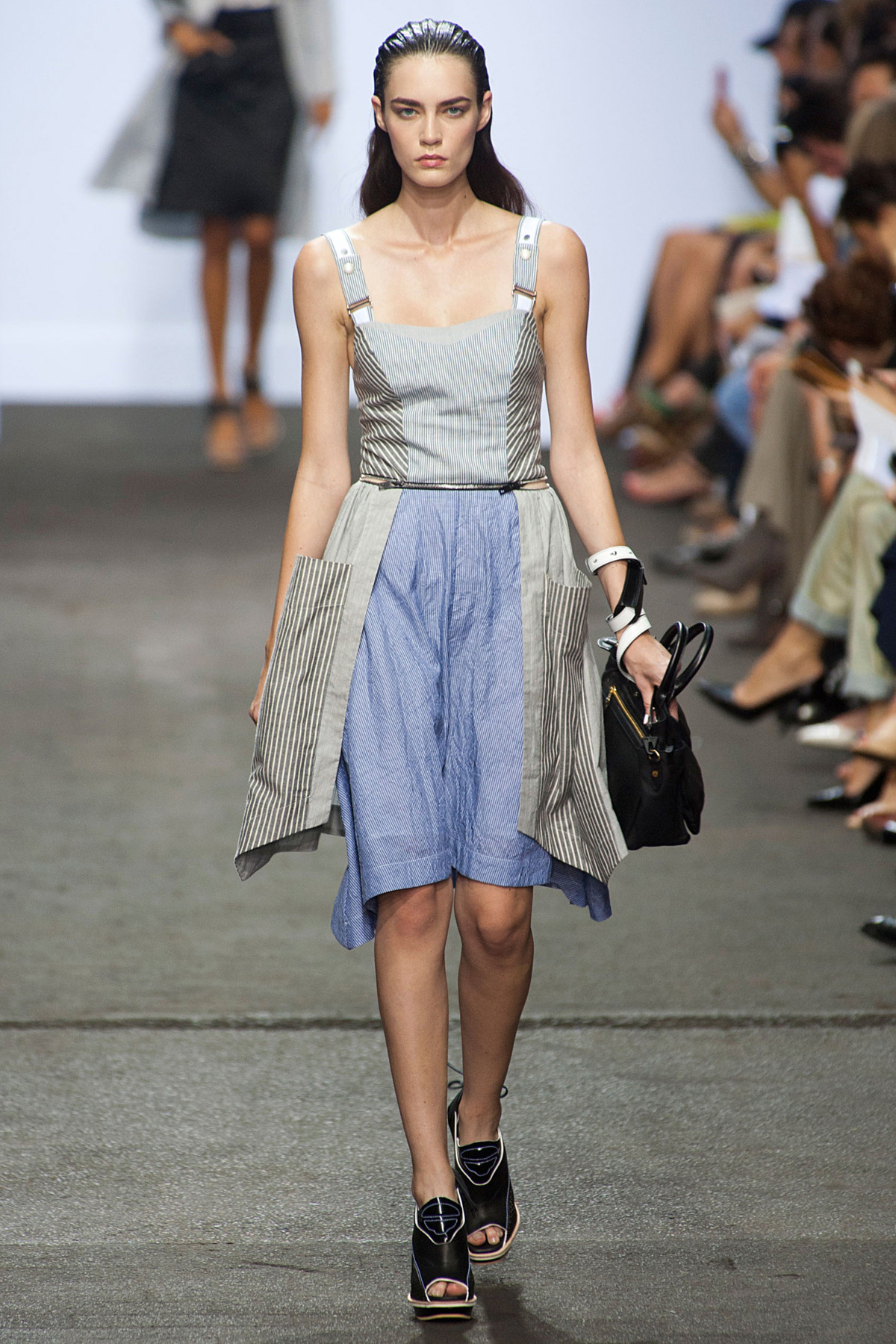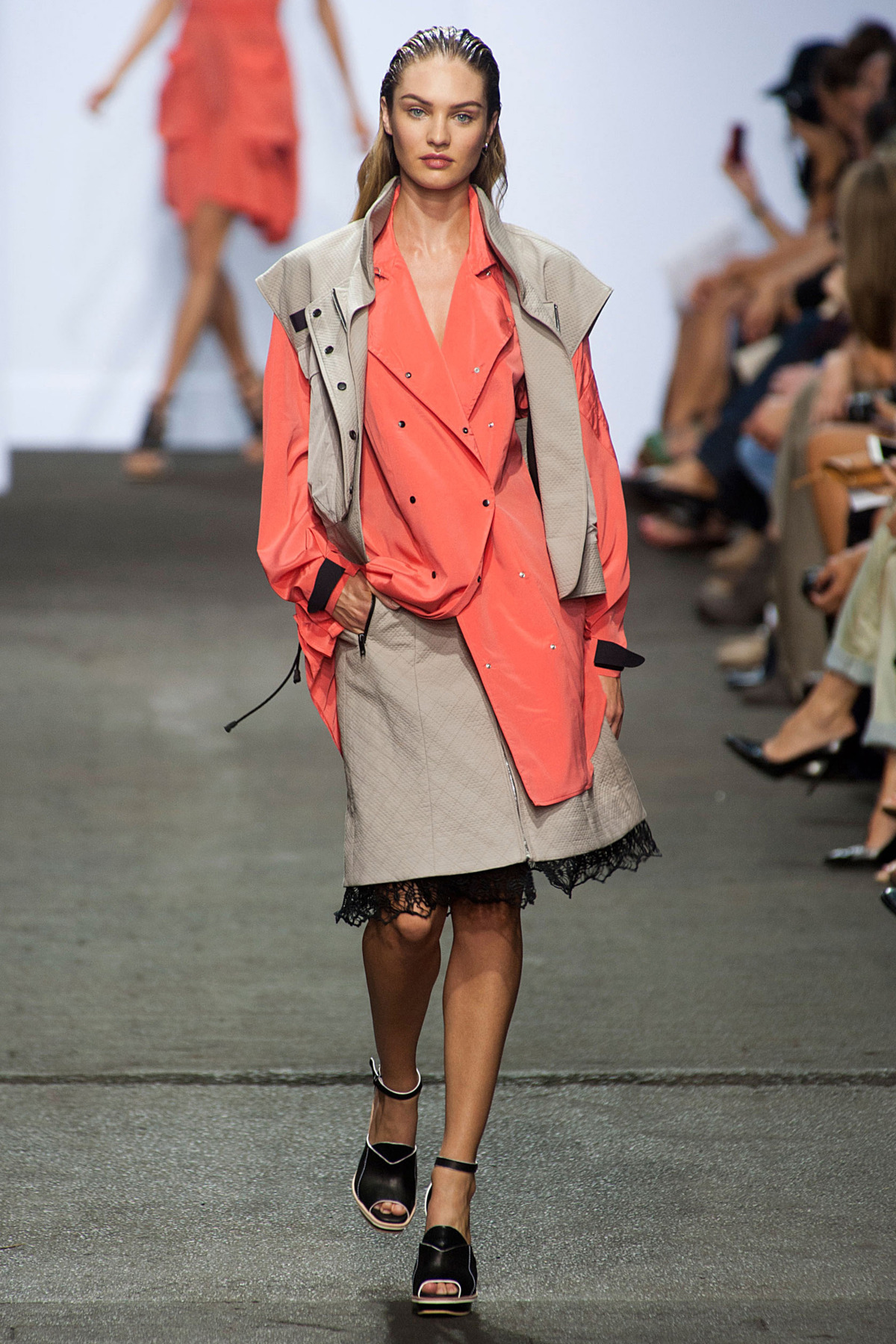 and fashionologie panted that "there is something about a Rag & Bone show that always feels intrinsically New York, despite designers Marcus Wainwright's and David Neville's deep British roots. That spirit was in full effect for Spring 2013, with a hodgepodge of influences — off-road racing, motocross, prep, sport, and military — expertly layered in the very embodiment of downtown cool. Silhouettes were ample: moto jackets came oversized, miniskirts flared, vests boxy. And while there was nary a print to be found, fabrics were textural in the form of striped seersucker, crackled leather, and crocheted lace — the latter of which peeked out from beneath several hems."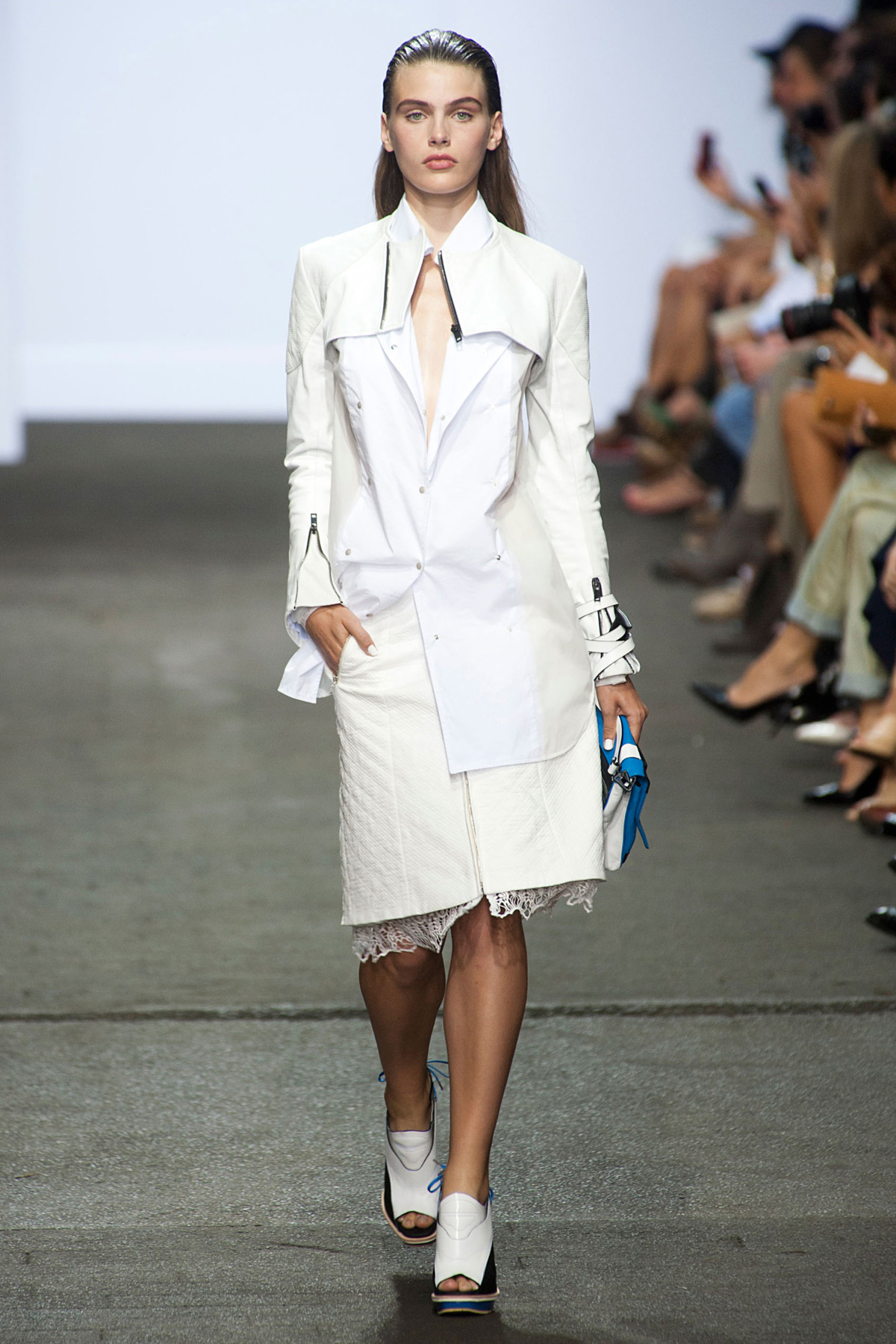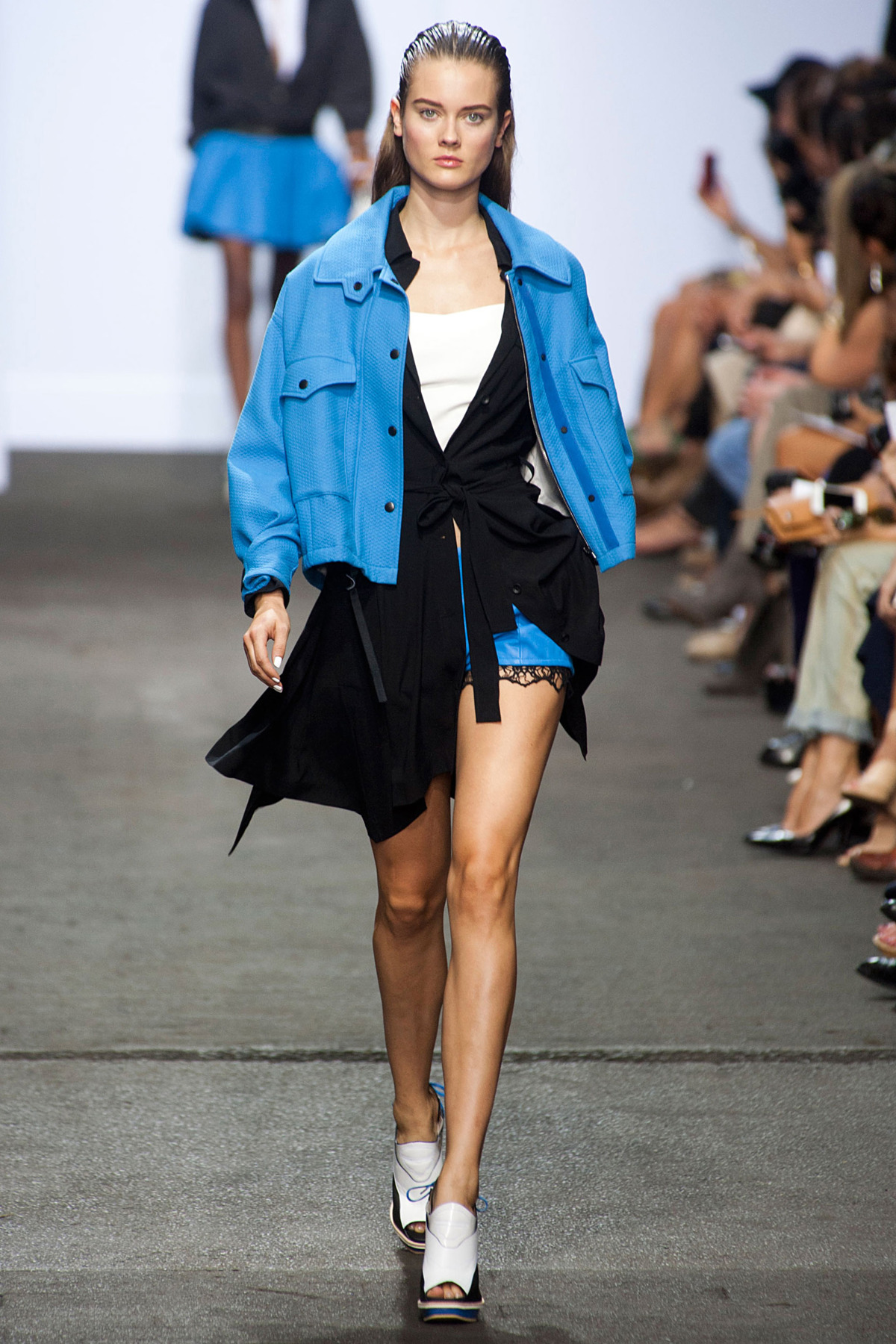 the los angeles times was similarly agog, writing that what we saw was a manifestation of "(u)rban Bedouin. Sporty and at times sweet. In mixed stripes or solids, the billowy shirt dress was the big news. It was the foundation for a cool, layered look — worn with high-waisted shorts and an weightless nylon poncho for example, or with tapered pants and a cropped sweater. Pleated skirts trimmed in eyelet, and knit dresses with flared hems added a feminine sweetness. And the new shoe is a chunky-heel shoe-bootie with lacing over the heel. Colors included black, white and khaki with flashes of acid green and coral."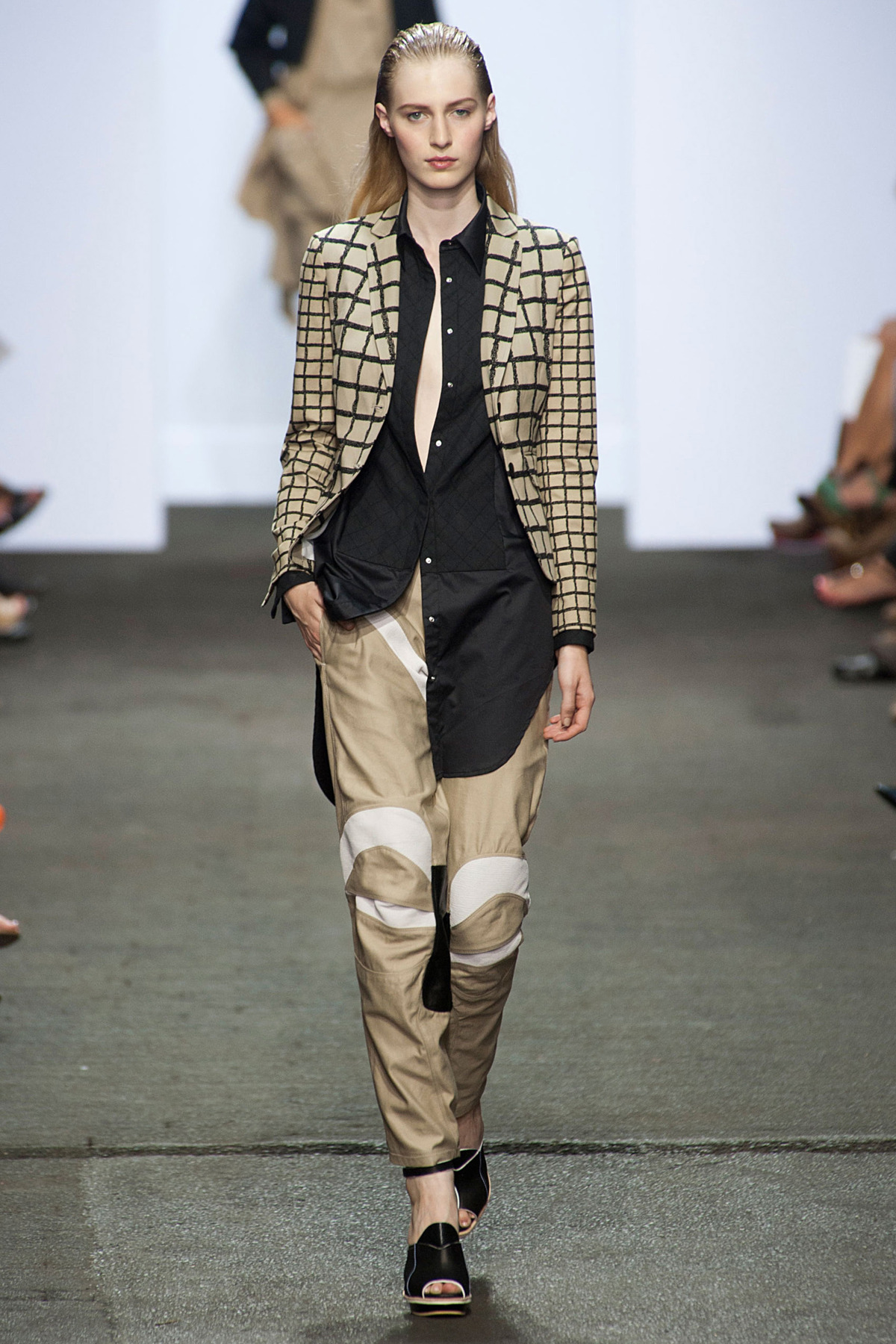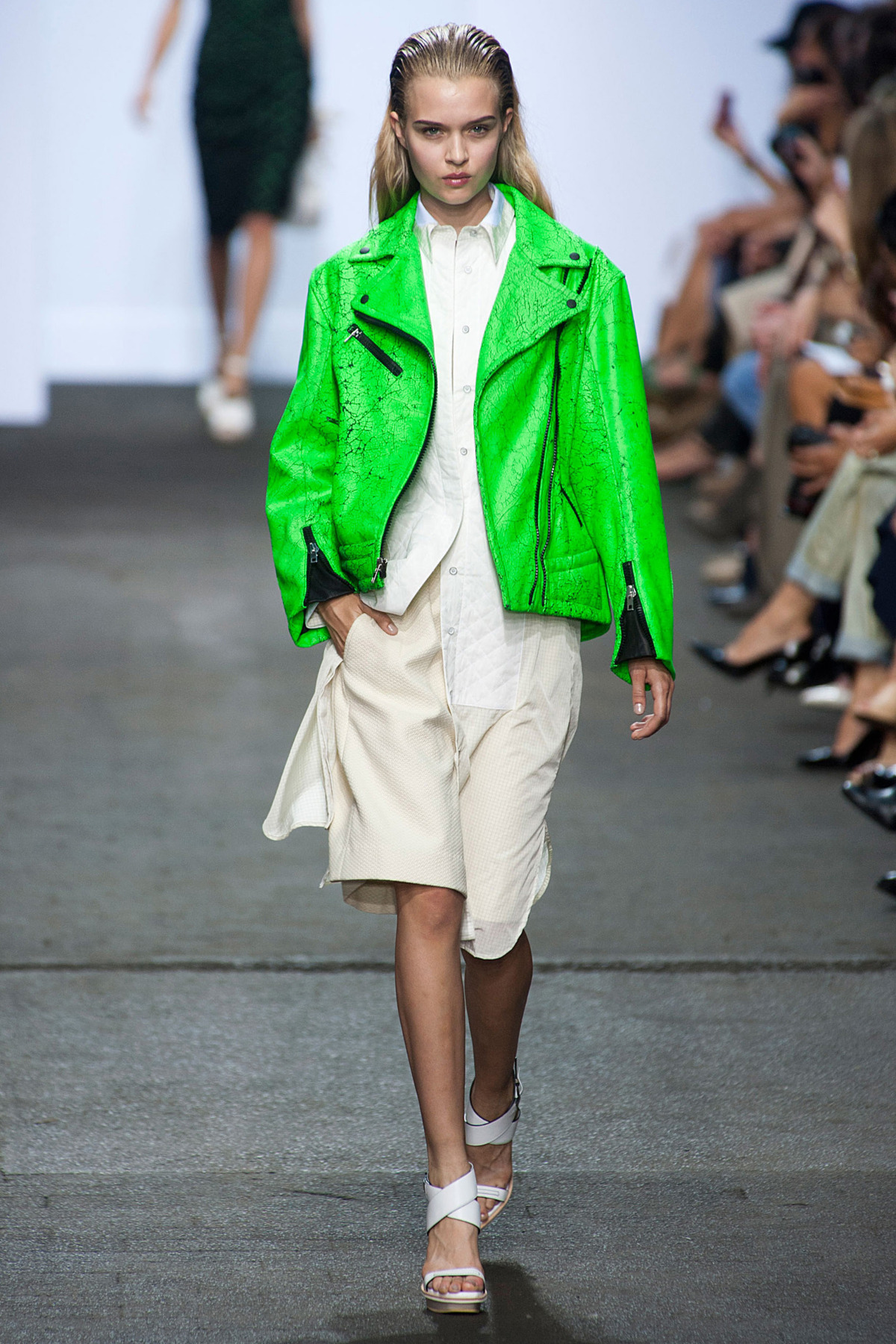 "Neville and Wainwright know how to pack a lot of look into a single outfit," cried wwd. "Robust leather biker gear was countered with light, breezy silks and cottons meant to combat the desert heat….A black shirtdress was layered over a ticking-stripe bra top and black leather oversize shorts, the whole ensemble topped off by an engineer-stripe jacket. Some of the striped pieces sported lace trim, adding a nice dose of femininity to the very sporty collection. Wainwright said they had gone to town on the proportions, with one of the strongest statements emerging in the oversize shorts, cribbed from 'a British army-North Africa thing,' as he put it. There was an emphasis on white in the quilted shirtdresses and skirts and gauzy tops, but major color — electric green leather moto jackets, and cobalt blue tailored pieces — cycled through as well."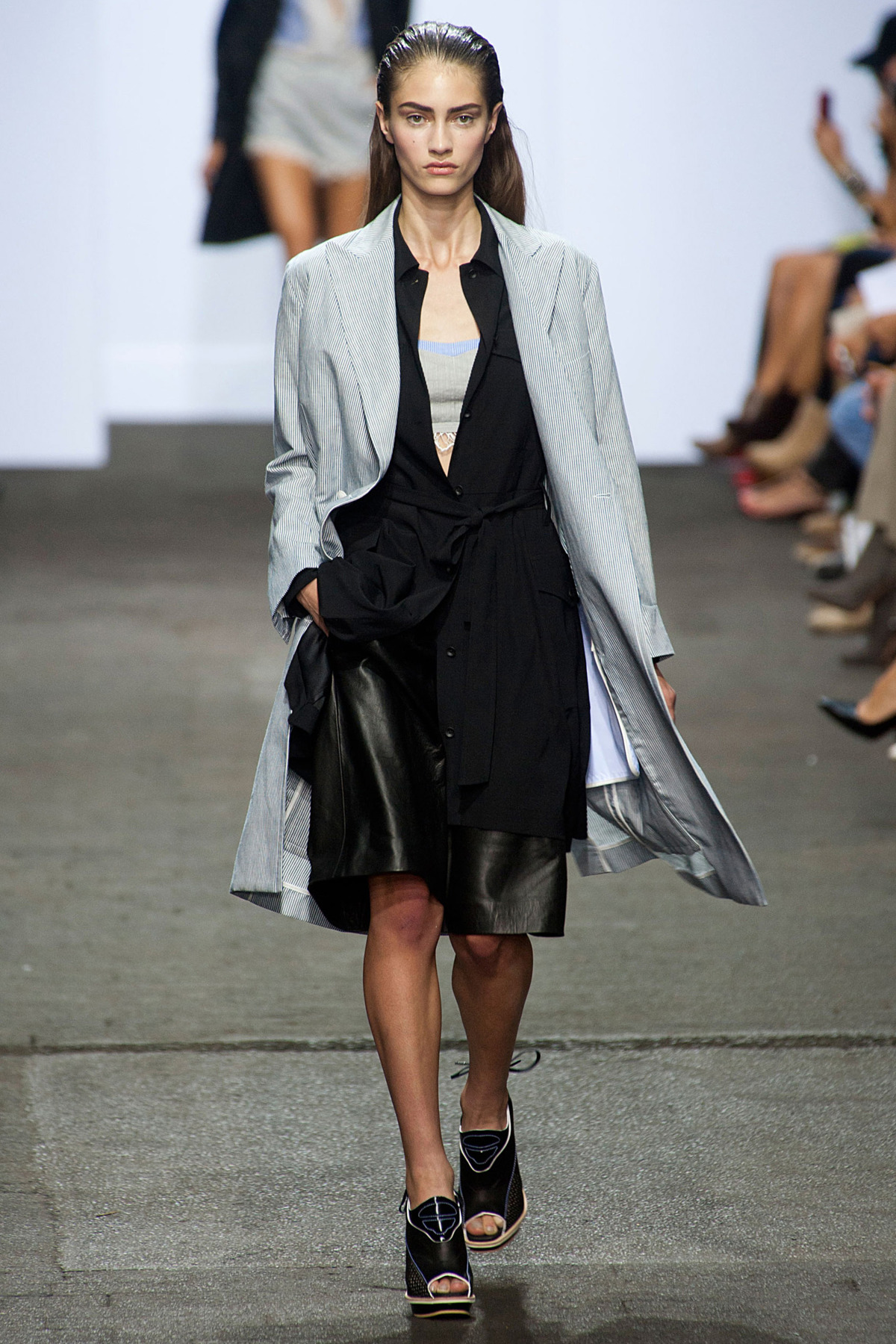 elsewhere, in-between dropping the requisite amount of celebrity names, nbc reported that the designers "cleansed the sartorial palate with a collection of Western-inspired seersucker and chambray button-ups, skirts and trousers in an array of red, green, blue and white. It was a tall drink of water for eyes still blinded by the neon skinnies of the past season.  Chambray oxfords were made edgy layered with cropped vests and extra-long trenches, but scalloped lace hemlines kept a touch of femininity to the looks. Hints of leather, nodding to the motocross trend, were spotted in extreme cropped jackets rendered in white and bright green."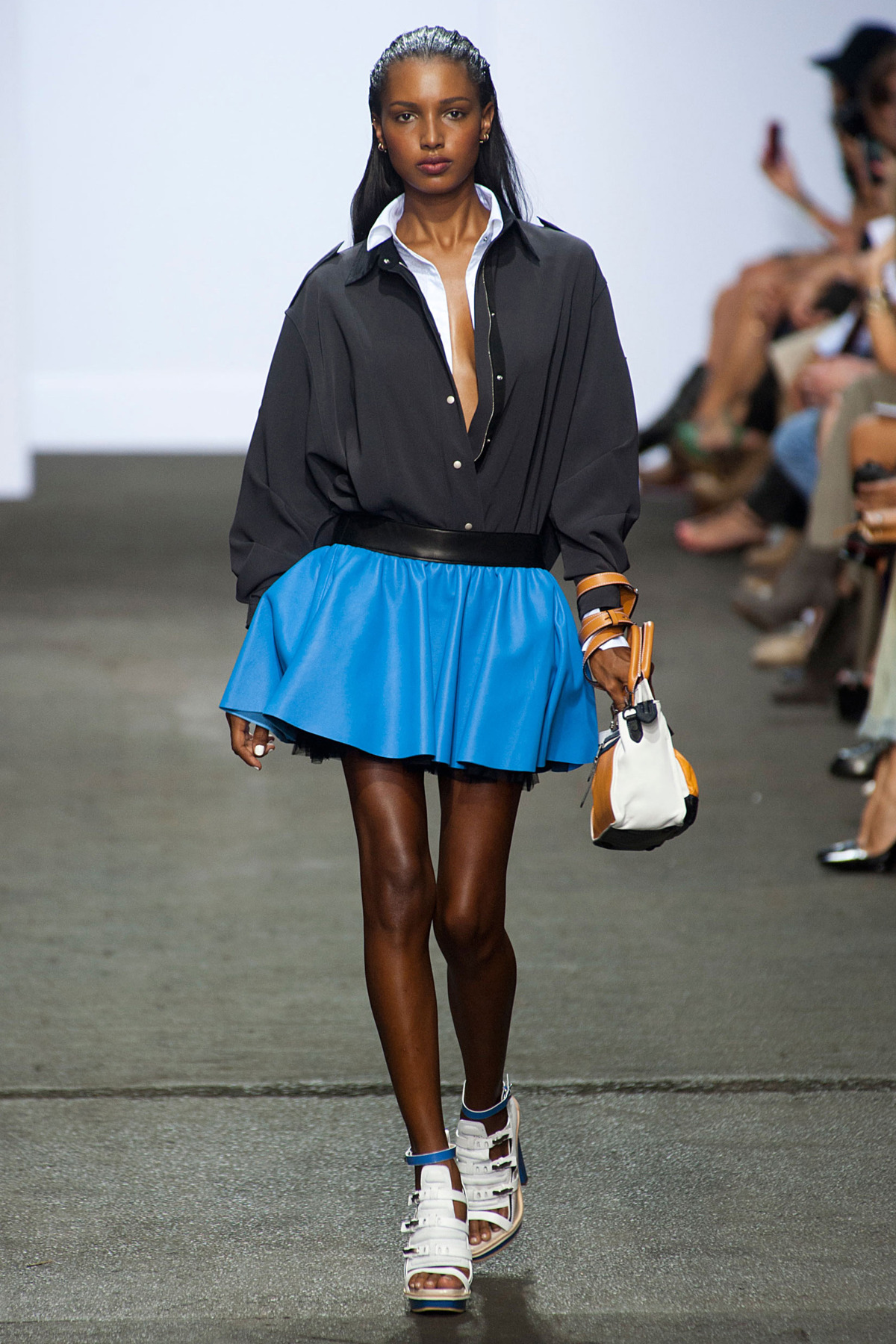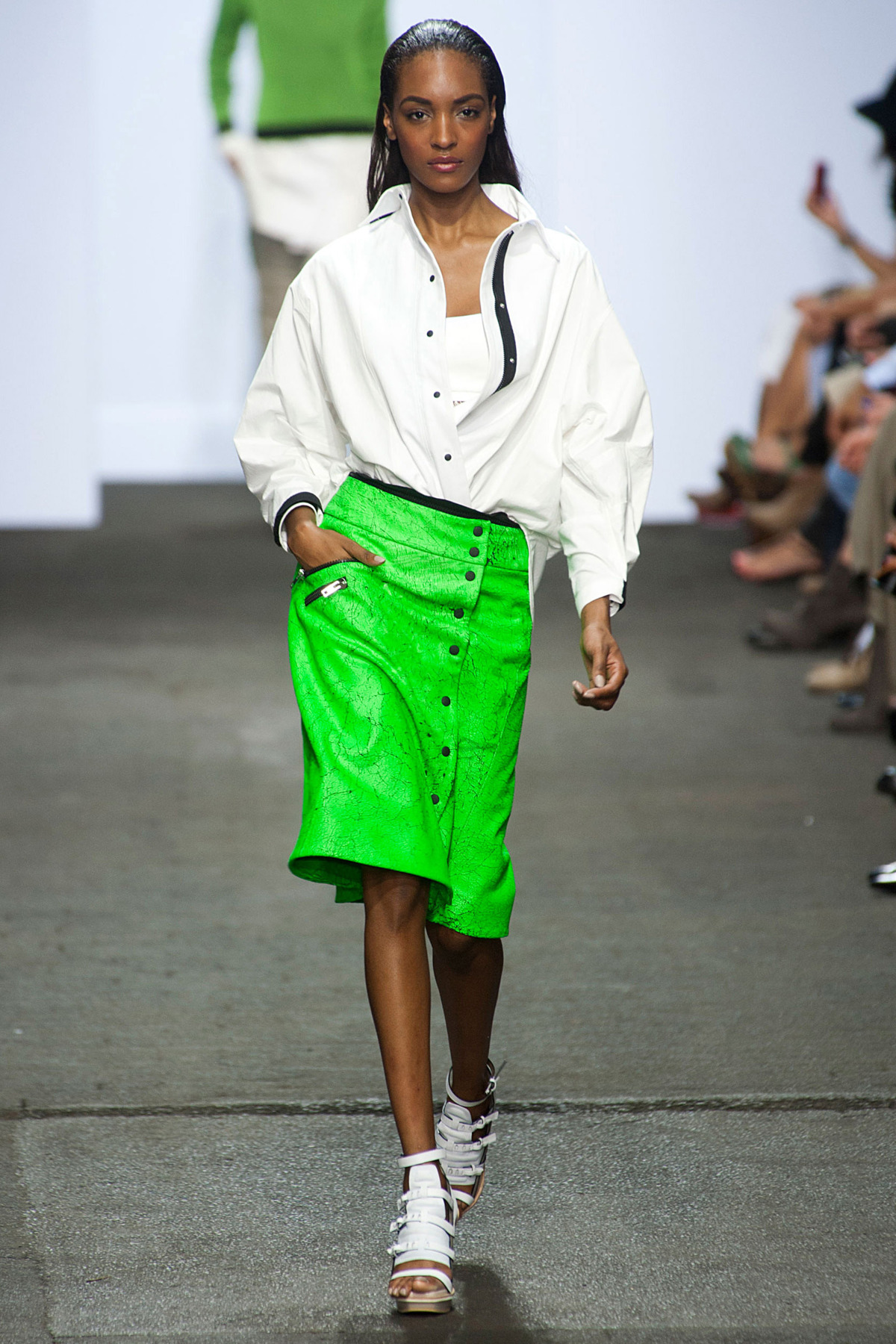 and style opined that "(s)ome of the best looks here were the most literal. Take the low-slung black leather trousers on Aymeline, finished with racing stripes, or the seriously cool moto vests and jackets made out of luxe Italian silk satin. Perforated leather clutches and the palette's hi-vis corals, greens, and blues reinforced the motocross theme. But what made the collection not just shoppable but interesting were the intuitive leaps Neville and Wainwright took. They linked the driver in the desert to the Bedouin tribe emerging out of the background heat, and connected the Bedouins' cotton headscarves and robes to the cotton nightshirts, petticoats, and baggy khakis worn by Victorians on safari."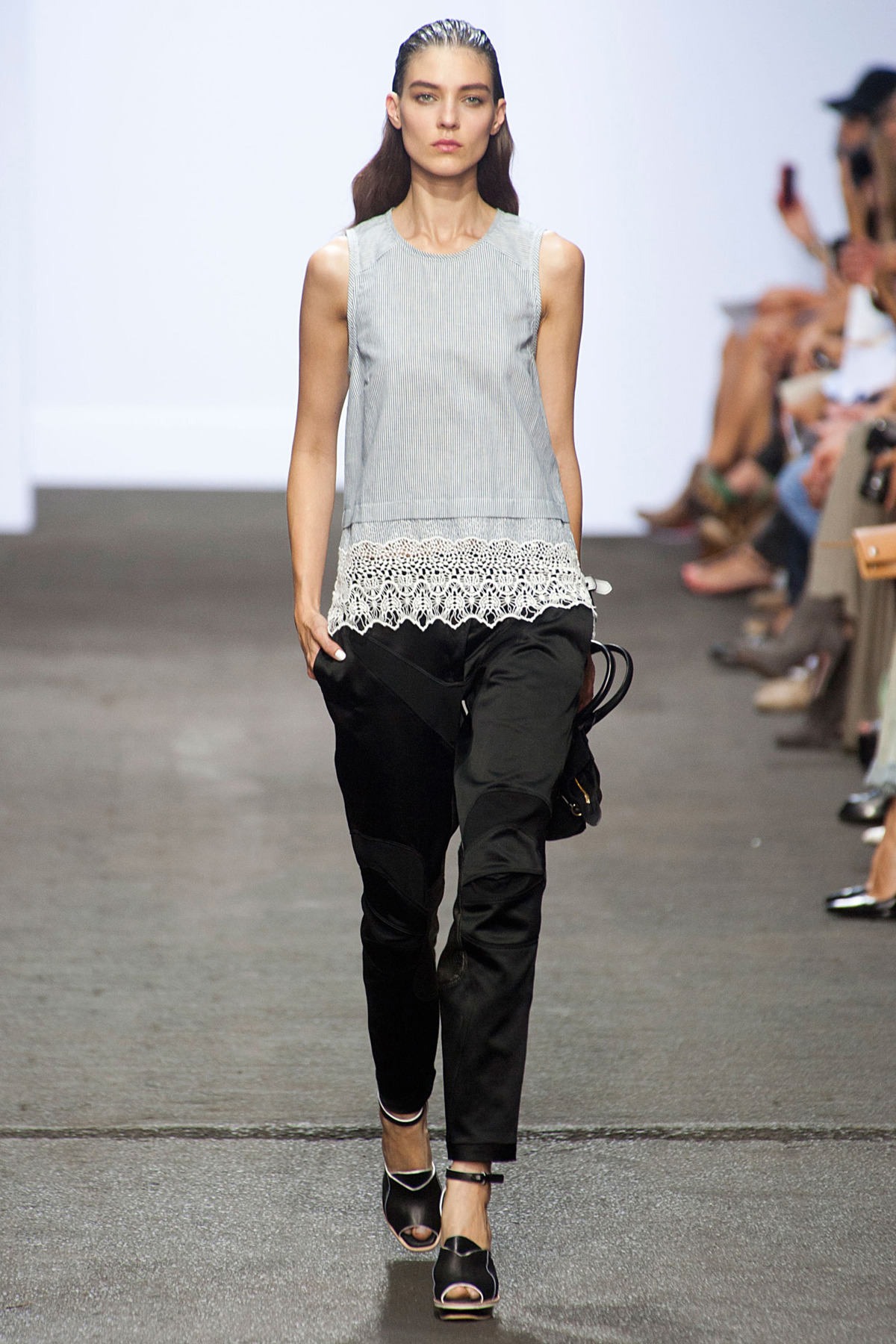 "And then, just because they could, Neville and Wainwright simultaneously updated the adventuring theme and brought it back round to motocross by doing a collaboration with Oakley," they concluded with a mandatory fashionie-snide. "The refreshing thing about today's show was its clarity. There was relatively little of the layering that the duo have tended to overdo in recent seasons. That allowed strong looks, such as the zip-away parachute dresses, to stand out alone. And what layering there was felt appropriate and specific. Overall, there was an aura of confidence here—unsurprising, given Wainwright and Neville's command of their clothes' vernacular. Let this collection be a reminder to them that all future ones pass the geek-out test."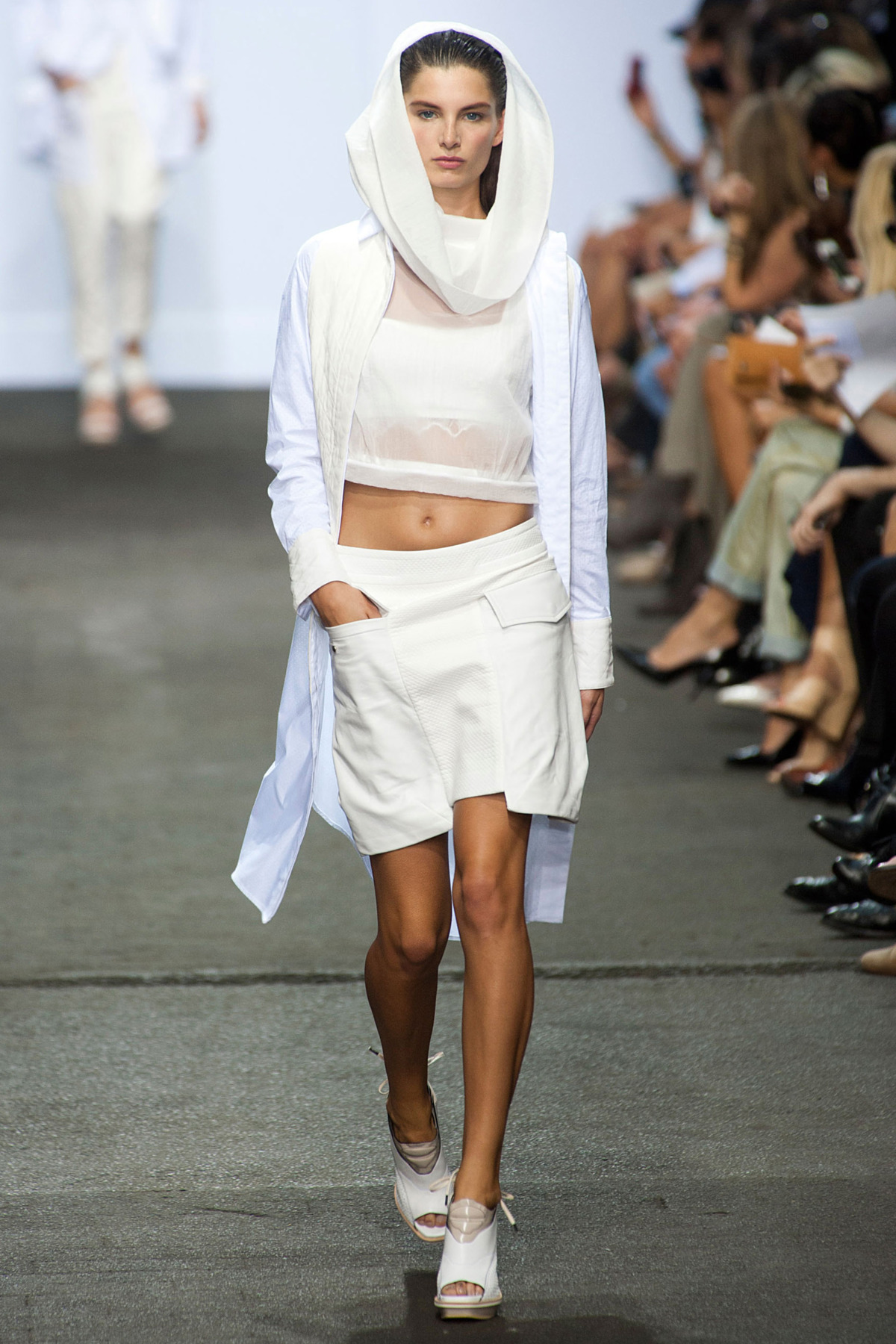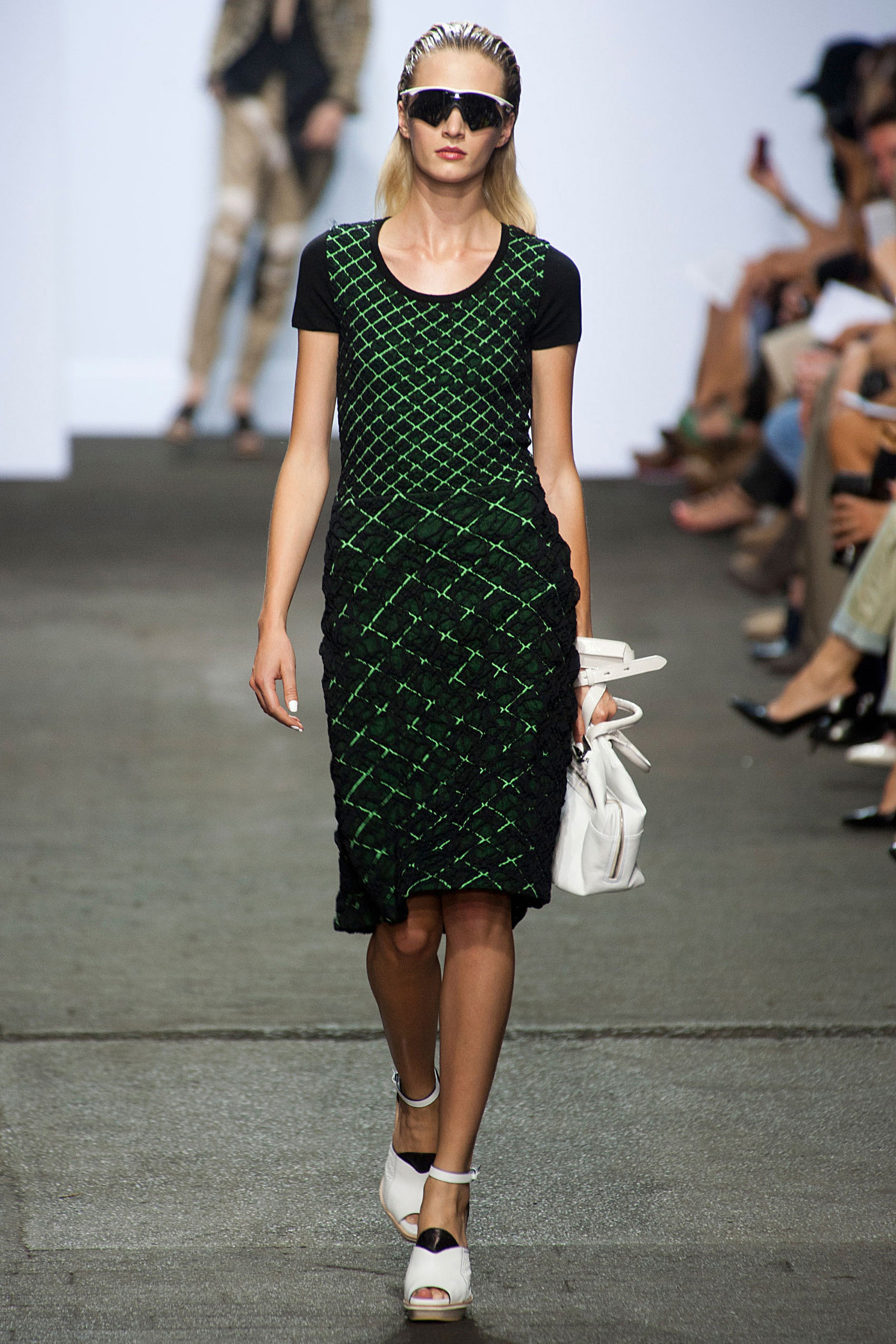 finally, us vogue commented that the show "was a great evocation of a romanticized, and Anglicized, vision of the Dakar car rally, yet which never lost the brand's usual effortless, urban edge…It combined plenty of motocross references—snap-fastening shirts, pouch-pocketed ankle-zippered pants, and cropped or oversize biker jackets galore, several in an electric-green craquelure leather—crisscrossed with artisanal work that suggested designers familiar with the contents of Lady Mary Crawley's lingerie armoire, what with the satiny or lace trim shorts and smocked skirts as delicate as old lawn petticoats. Elsewhere, there were sharp white blazers, a knockout green/black curvy/easy dress, and the latest sighting of that new hybrid double skirt (one short over one long…in the form of their utility-strapped Bedouin dress."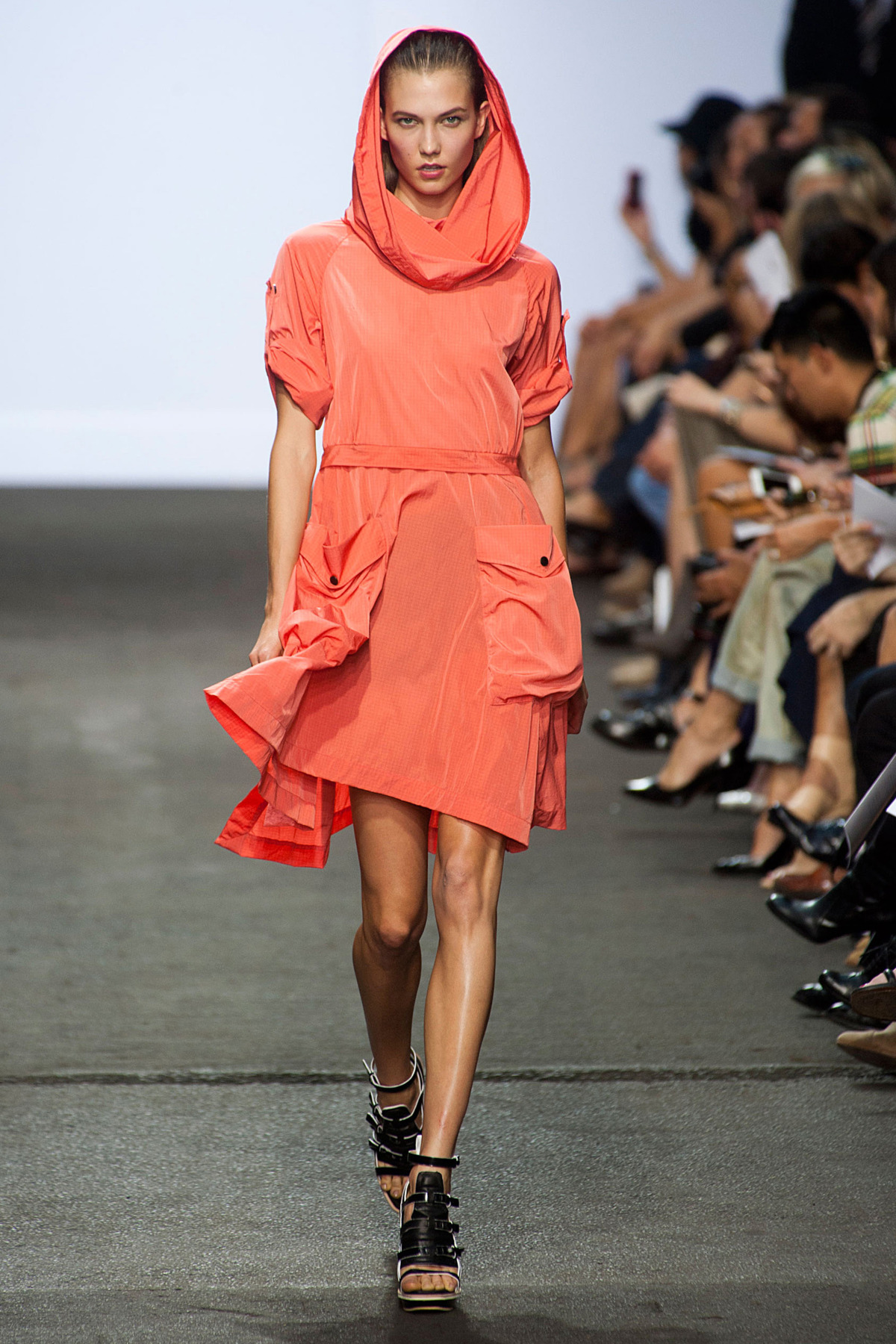 (see the collection video here)