nyfw: marc jacobs
(images via ny mag)
another day at new york fashion week, another opportunity for people to gush about where marc jacobs has taken them, and his ability to redefine american fashion yet again.  it's at these points, right now, i wonder whether any reviews are even necessary for the f/w 2011 collection, or should we just skip to the bottom line: that he's the best, the most innovative, that we're all lost without him?  or, more to the point, do critics even need to look at his shows to determine the success rate?
quite the turnaround from last season's seventies costume parade (of which opt was not particularly fond), the fall outing was all about austerity.  "I kind of like what's strict and disciplined right now. I'm tired of everything being all over the place," the designer said, adding, ""I thought about all the things I've done in the past, and perennially loved…That's my description of classic."
and classic, marc jacobs-style is what we got, with all the strictures of classic couture lines blending with his characteristic wackiness (and dots!  lots of dots!  to underscore all those dreadful puns on that word, which i blame him in advance for having to read for the next year this collection is around in every fashion blog penning the name of 'marc jacobs.'). 
the fabrics were all top-of-the-line quality: beaver fur, lace, rubber, polyester crepe, faux furs, and a lot of strange synthetics that will keep the copycats at work and the aforementioned critics gushing. 
as an aside (but relevant, i think), he once again played heavily on the plummy shade (a favourite of his, i think, for the frequency the one blend of it crops up—on many a look, including those worn by jourdan dunn & jamie bochert), and to this i must say that though purple has long been one of my top colours, he is veritably making me lose my childish enthusiasm over it.  indeed, it's a strange hue, which should be used sparingly, yet it occurs on his runway with such regularity.  for someone who likes to be unexpected, i say: just stop. 
elsewhere, we received all the trappings of what fashionies will laud as homeboy's prescient vision: berets by stephen jones, snow boots, shinyshiny bags, furry bags, dickies, spotted stockings, padded ski-like gloves…all that spot-on (see, i'm doing it too) blend of ugly/cool that keeps the hipsters coming around like flies buzzing over the carcass of the dead cat some people who lived near me in my youth left lying in their front yard, barely concealed within a small paper bag, for some weeks.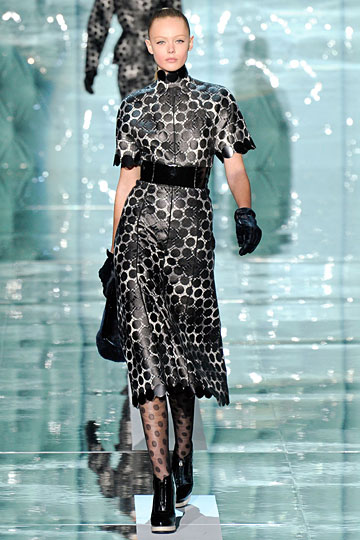 so in all my snarky banter, at the end of the day, was there anything good to this speckled mess?  yes and no.  while i both applaud and admire mr. jacobs for his ability to retain a vision that tends to rotate heavily in reference and aesthetic from season to season while still retaining a core visual value that keeps it truly his own work, i do find it hard to see the clothes underneath all the spectacle. 
let me explain. in addition to all the jacobs-friend-ado (posh spice, rachel zoe, sonic youth, winona ryder, et.al. celebs pals with the man whom have turned up at the show, causing nearly as much commotion as the clothes themselves), the which-new-models-will-he-cast? speculation, the wonder over whether he'll be late and fling mud to & fro with suzy menkes, there is the previously mentioned problem of critics fawning. 
simply put, because the show seems as much a who's who of the new york social scene, because we wonder what the runway spectacle and casting situation will be, because he has an A+ branded to his ass by the fashionie pack, because he has tattoos of sponge bob and says outrageous things in interviews, the clothes don't really seem to matter that much.  and how can they, with all the rest of that going on?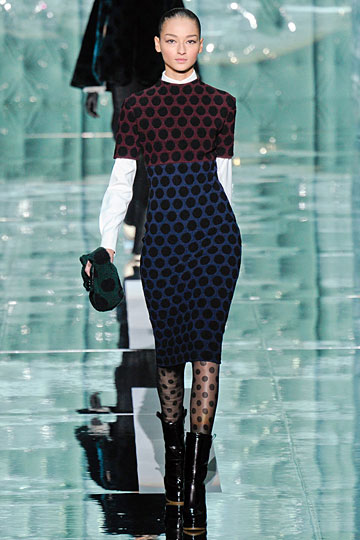 but then, when we do look at them, they feel more a marvel of styling than real design innovation.  take today, for example.  by mixing the kitsch of fabrics with dots, snow boots, metallic bags, and cute little toppers, we've got a slightly vintaged, eclecticly thrift-store look.  though similarly, karl at chanel has a lot of antics going on, at the end of the day, we have nowhere to look but the sumptuous designs themselves.  there is fluff, but it feels due to the brilliance of the clothes.  with marc, the spectacle feels a carefully-crafted decision to pull from the garments…perhaps a bit like lady g? 
at times, the man does know how to deliver a good collection, that is doubtless a fact.  but at others, the popping of flashbulbs and the bright lights getting in our eyes is not only confusing, making us wonder where to look, rubbing our eyes, but…distracting from the inferior quality of the work?  maybe i'm wrong, i'm only brainstorming here, but as i continue in this vein, my conviction on the issue gets stronger.  yes, he's certainly an influencer, a princely vision in the fashion area…but does he deserve to be, or is it all really an expertly-produced sideshow?
(watch the full show video here)