london fashion week: sass & bide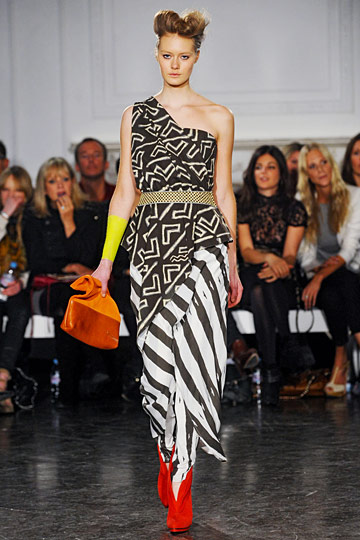 (images via ny mag)
calling their f/w 2011 woman "an elegant and ladylike urban warrior," sass & bide designers sarah-jane clark and heidi middleton offered one of the more colourful visions of the tribalism that has been going around this season—except, as they are australian, they finished their collection some months ago. 
telling the lfw people they were inspired by, "Colour, culture and energy," ms. middleton explained at the show, " "It's about different cultures, different textures, and mediums all coming together."  that meant the pieces we were treated to had all the charisma of a well-traveled fashionista, taking influences from wherever she went, with prints sourced from africa, belts woven in a basket-like style, and jewelry made with enamel and feathers.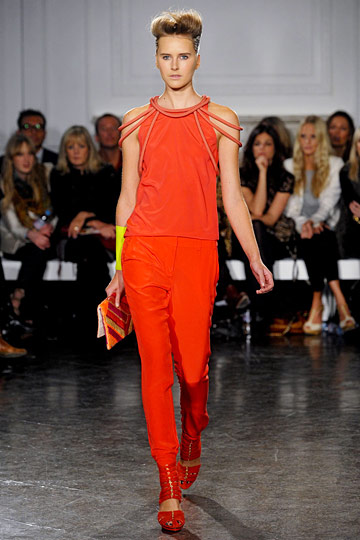 to be sure, some of the looks were a bit of a stretch—the large orange headwear-like pieces that models wore for the show's first two looks (second from top), the brilliant-hued bootie-like shoes (below), and perhaps the more challenging contrasting-paired patterns—but overall what struck was the relaxed, wearable quality of the garments, which at once boasted much of the joy of high fashion, with none of the squeezed-into discomfort.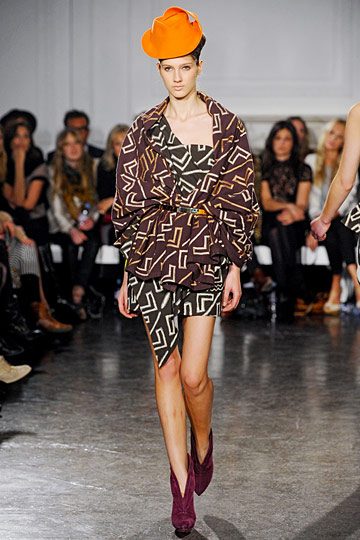 it's always a pleasure to see australian fashion to the north, where their bright colours, patterns, and soft cuts always seem both charming and a little too optimistic for europe or the us, but perhaps in the wake of a more sprightly new york season, the fashionies are open to welcoming it, the loose patterned dresses, the magenta and tangerine shades.  it would certainly be a pleasant change from all the skintight black minis and leather leggings we've had predominating for far too long. 
update: (see a short video here)