paris fashion week: balmain
(images via ny mag)
because nothing is less dull than actually discussing the clothes (i say this with a wry humour, well aware how difficult it is for opt to stay on topic), the complete and mysterious absence of balmain designer christophe decarnin at the brand's f/w 2011 show has sent hearts soaring at the possibility of another scandal; of course we know fashionies adore gossiping just as much as they profess to loathe whatever odious thing is on topic.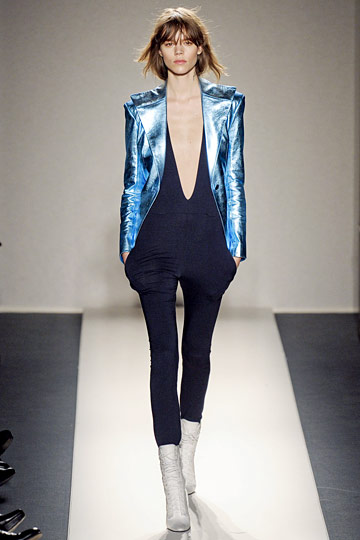 but wwd appears to know the score; "The designer was absent under doctor's orders, after having recently been released from the hospital, where he was said to have been treated for depression. A Balmain spokesman said Decarnin was involved in the design."  okay?  
in the meantime, stylist melanie ward, who took over when emmanuelle alt was promoted at vogue paris explained to the telegraph, "It's workwear-inspired…Dirty white leather."  well, i've never been issued a uniform of a jumper-like sparkling silver skirt slit all the way up to the bikini line, but perhaps that complaint is beside the point. 
on the plus side, we did see an evolution, of sorts, in the balmain aesthetic, with numerous looser fits and layers to complement the designer's strongholds of strong shoulders, shine, eighties detailing, scandalously high hemlines, structured suits, ragged hemlines, and…wait a moment, what has really changed here?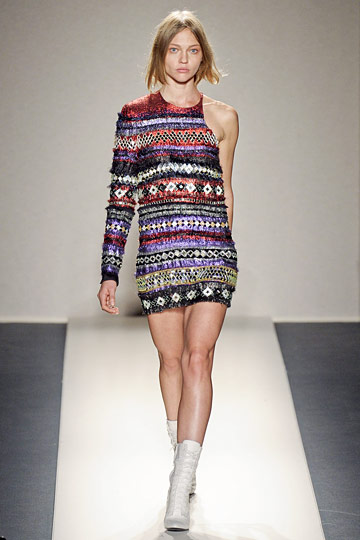 but in truth, even if it wasn't always easy to identify, there did seem to be a real sea change at the label since the past few seasons, which offered nary a piece for the girls without figures like those on the runway.  the fall show was certainly still at times questionable, but there were at least a few more relaxed (and subtle) looks, such as the downright demure (for balmain) suit karmen pedaru opened the show in (below). 
in what was perhaps the show's most interesting (and unpredictable) move, the nyt explains that, "(t)hose streamlined all-in-one pieces…(were) decorated with crystal patterns that program notes described as a juxtaposition of Inuit and Ikat graphics." 
after wrapping up the requisite fashion notes, the reviews then leaned back in towards the delicious hints of catastrophe that might be lurking behind the doors of balmain (and what does it really say about the clothes, that we can't linger on them longer than necessary?  i'll let you come up with your own answers to that).  "was the collection entirely designed by him?" the nyt asks. 
but perhaps it is ny mag's tabloid-esque 'the cut' blog which has the most salacious bits, commenting that, "Hint's blog reports that an anonymous person told them he's been in a 'mental hospital' since January."  are the clothes really that unpleasant to discuss?  or should we all take the interest as a message that fashion perhaps lacks some vital pieces needed to keep us engaged, sending us instead running after such utter bosh.  i don't know the answer.  but i do know speculating on others speculations is at the moment more interesting than beholding yet another glamtrashfest that is balmain.  (and i guess i just answered the question i posed in the preceding paragraph.)  hmm.