nyfw: marc jacobs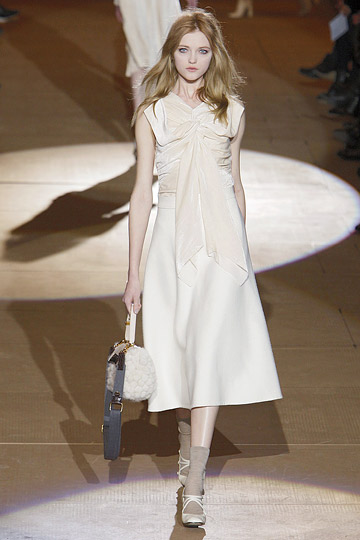 (images via ny mag)
while i know what i'm about to say is the equivalent of fashion sacrilege, i'm going to do it anyway: for me, marc jacobs can be hit-or-miss.  and, yes, i have spent enough time mingling about his clothes i can still say it with some certainty after being acquainted with them.
probably the important part is that he is always trying something new.  but while there are those times his clothes are breathtaking, there are equal times they just plain don't look good on humans.
this show was no exception to my former rule, save one thing; while i usually either strongly like or dislike a collection, i could roughly divide this one into both of those categories.  the first half, not so much, while i found the second pleasant and sweet.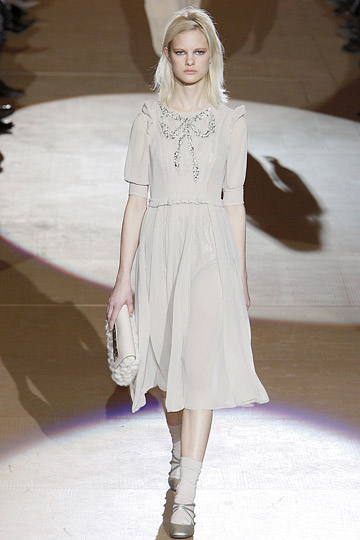 his palette for the first section was mainly composed of drab brownish grays, while later it molded into a more flattering shades of pearl or lemony-cream.  in the first bit, there were a lot of clothes that, with rough textures and generous cuts looked stiff and just plain itchy.  later, though, came many little light dresses that spoke of adorably soft-spoken girls, shyly peering around corners and hoping to fall in love.
there thick furs throughout, which extended a kind of rough unpleasantness, altogether unapproachable, and, if i may say, looking ever more dated and inappropriate in a society that has both the politics to shun it and the budget unable to afford it.
the socks with dainty shoes were marvelously charming, especially coupled with the dresses spoken of above about 3/4 of the way into the show, and gave a dreamy suggestion towards recapturing the far-youth required for such forays into the absurd notions of pairing the two.
at the very end, there were evening dresses reminiscent of thick fabrics loosely arranged as window treatments, perhaps fading in the sun and now thrown heavily onto the backs of such slender girls—i have never found the red carpet marc's strong suit.
it will turn out, of course, that everyone finds this show to be genius, because that is the way with marc jacobs.  i can't exactly agree, as i tripped along many missteps here.  but so, too, is there magic.