nyfw: rodarte
(images via ny mag)
rodarte's show was allegedly based on sleepwalkers and mexico.  although, in truth to me, sometimes their interpretations of themes feel much like their interpretations of other themes…that is to say, sometimes they bleed into one another.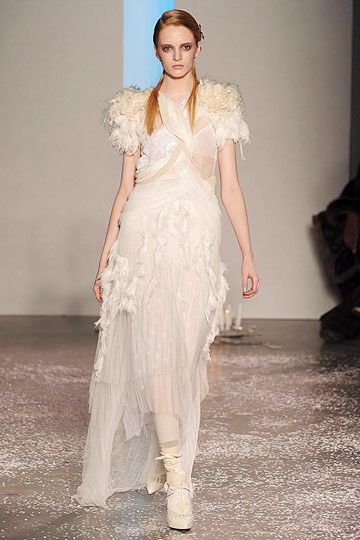 yes, these women know how to make beautiful, complex clothing that would be difficult to duplicate by h&m or forever 21, but we get it already with the criss-crossed lines, variegated layers of fabrics, and frayed-looking loose knits.  pretty, pretty, pretty, pretty, but after a while the repetition begins to wear.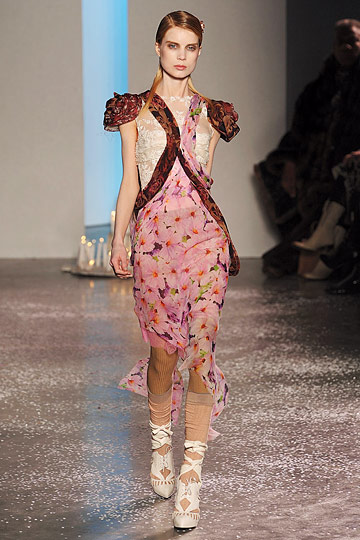 is this really worthy of staging a whole show?  rodarte to me has always felt like grappa or some fine chocolates—you don't want to shove the whole lot of it in your mouth at once.  similarly, they might be better off releasing a few images at a time, trickling them into our systems in a way we can appreciate each bit, instead of feeling like, 'how many variations of this dress do i need to see?'
as with other designers who had been championed by the critics of the industry, it is hard to imagine any real vitriol spewed their way.  and doubtless, they do have talent deserving of at least some of the championing they have received.  but it feels a case of steep ascent too quickly.  they can now bask in maintaining a look they're known for, rather than the miuccia prada-like re-inventions for a new season.