milan fashion week: dolce & gabbana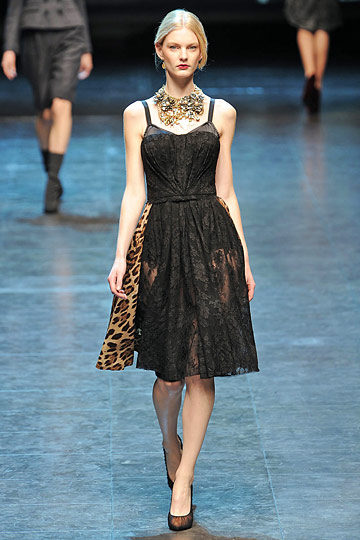 (images via ny mag)
dolce & gabbana is generally known as a sexy, fun label.  however, it is also the kind of house which each season produces impeccable classics, such as shiny black pumps and refined tailored suits.  they realize not everyone is going to want some lavish leopard-print feathered affair, even if it is what gets them attention in the first place.
this season, one could slice the cake of the collection down the middle with a very precise blade, dividing it sharply into that which did & didn't work.  for cocktail & evening, the looks were divine.  the girls wore sixties-era dresses with fitted bodices & waists, sometimes developing into a full skirt, or at others, a wrap.  there was much black lace, sometimes with a hint of animal print or bright color thrown in for a bit of cheek, as well as a few charmingly demure floral patterned dresses.
the business wear began the problem set.  though the blazers were smart as anything we'd like to sport to a board meeting or art performance alike, they were…missing pants.  say it with me: when is it appropriate, other than on the set of an adult film, to forgo having actual bottoms?
designers thought this was cute for the spring, and there are some holdouts who still do.  lady g & rihanna may have legions of zombie-like, obsessed drones fans, but no matter how much houses love them for sitting front row & inspiring cult followers fans, paying them homage with the pantslessness, some of us are still (crazily!) going to demand real ass coverage.
anyway, the closest they came was in the form of bermuda shorts, of which we have seen many a pair both this season & at couture week, so this is doubtless going to be hot, if not entirely acceptable to wear under all circumstances.  but we will take them in the face of the boyshorts, lace tap pants, & skirty-things that looked more like scrap bits of lingerie loped around the general pelvic region.
this of course, then launched into their full-on sexy wear, which was more of the same, sans the suit jackets.  rompers, corsets, & the like stormed our way.  they were sexy & pretty, i will give them that.  as underwear.  but frankly, it's hard to get particularly psyched about outfits (if one can call them that) which will cost hundreds and eerily resemble a frederick's of hollywood 'impressing the new boyfriend with a spicy night of mystery' ensemble.
it wasn't a total bust.  i suppose we each of us got what we wanted, the girls who want to stun little-seen family at a cousin's wedding in one of those vintaged lace cocktail frocks, and the girls who want to drunkenly score chlamydia in the alley behind 7-11 after the bars close. okay, okay, they're not the bad, but cheesus!  give these women a pair of pants!