milan fashion week: c'n'c costume national
(images via ny mag)
i've always found layers deliciously sexy.  heaps of clothes piled on one another, even when they overwhelm the figure with layers of fabric.  especially when they overwhelm the figure.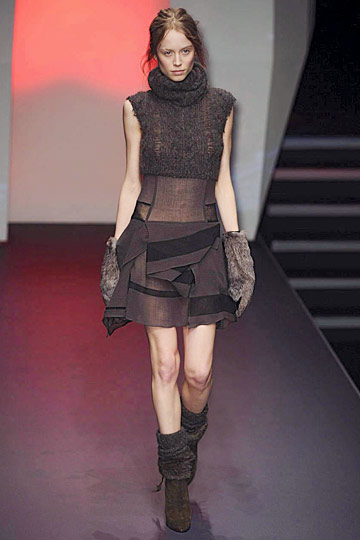 as i stand virtually alone among my acquaintances in my glee concerning this particular look, i've never been able to accurately dissect exactly what is the drawing force to it.
perhaps it's the suggestion of bohemia, an infatuation of mine which i've previously extolled at length.  all those days of living in unheated warehouses & inhabitants piling on everything they own to keep warm come flooding back with the rush of sex appeal within the life of idealism & creative freedom.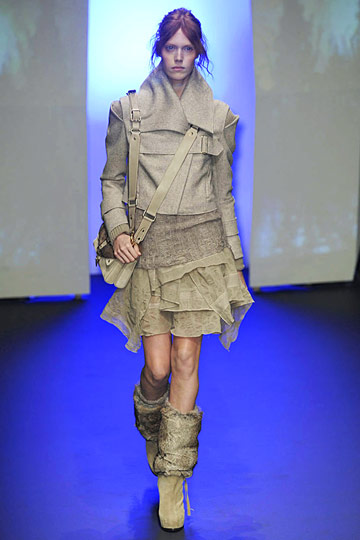 or maybe it's that i find imagining a shape totally undefined under the clothes is a pull.  there's mystery.  what does one look like underneath?  in questioning it, in the unknowing, the idea of nakedness comes up.  it hasn't already been passed out along the cafeteria lunch line.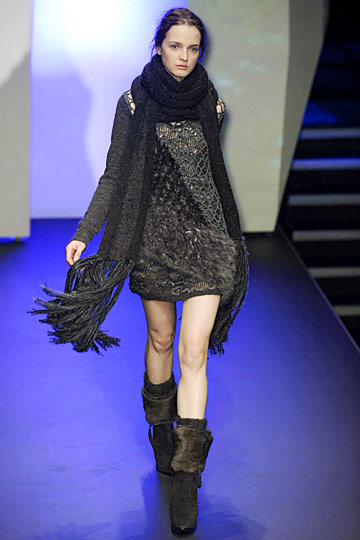 whatever my own personal fetishism for this look, apparently there are enough of us weirdos out there that people keep buying it, so designers keep making it.  (see?  i don't need to take my giant-sweatshirted self to therapy.)
c'n'c costume national's collection was awash in layers of knits in shades of charcoal & black, often stretchy or ragged as an added bonus, with each look containing multitudes of texture.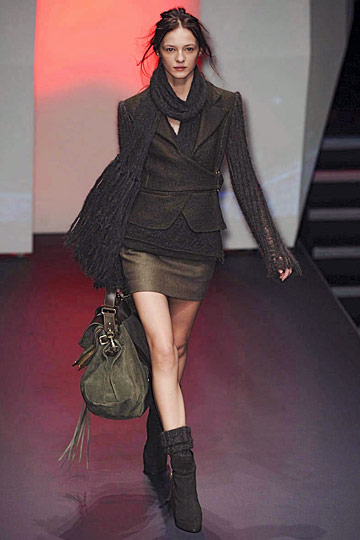 for those gasping in horror at the very idea, you ought fear not, for there were many lovely blazers, skirts, & sweaters which would look downright prim when paired with some tailored slacks, all neat & ready for a date with proper society.  the jackets with buckles in particular were standout for a variety of client's needs.
the collection also served as a nice reminder that this is fall, showing thicker coats & scarves well-suited for those in climates with actual cold weather, rather than the television representation of such where a cardigan over a tube top would suffice as protection during january in new york.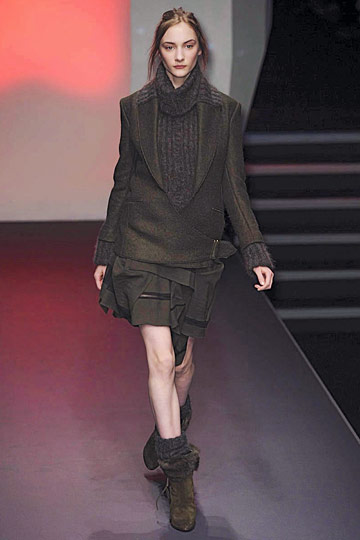 we all need to have an oversized sweater to loaf about in while complaining about stuff that happened that wasn't right.  playing pretty lady, a minimalist, or trailing several frothing dudes isn't sustainable for every day.  and it's nice to have that remembered.