stockholm fashion week: ida sjöstedt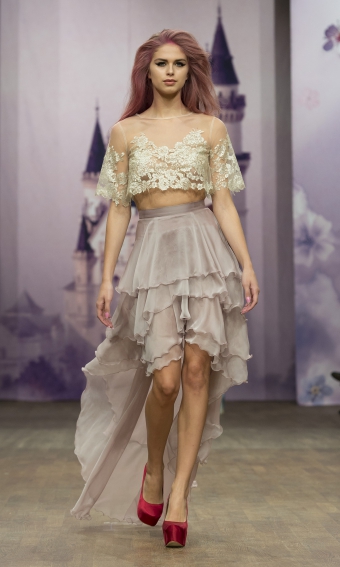 (images via damernas)
so quite honestly, i wasn't that enthused by the earlier work i saw out of swedish designer ida sjöstedt at stockholm fashion week, yet somewhere in the handful of seasons we've been discussing her thoroughly girlish wares (see s/s 2011, a/w 2011, s/s 2012), i kind of started to see the appeal, realizing that there's a certain sense of humour running amidst all the froth and lace.  and although we didn't see her work last season (i'm honestly not sure where she got to), her s/s 2013 range was one of the highlights of mbfws, and, i think, a good way to say goodbye to it (finally!).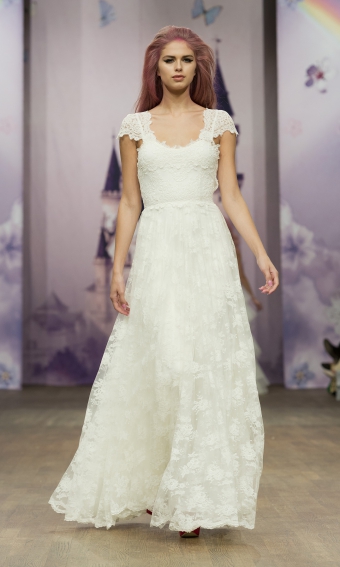 alors.  in a nice little turn, the swedish blog elin fagerberg: dare to be fabulous described the proceedings as (trans.) "as usual dramatic and dreamy. For this collection, she has been inspired by Instagram and its euphemistic filters." frankly, the only thing i'm a little surprised about is that we haven't seen more social media inspiring these designers, though it turned out surprisingly nice (and not with any kind of ridiculous face/gram/twit/book imagery, either, so we all win here!).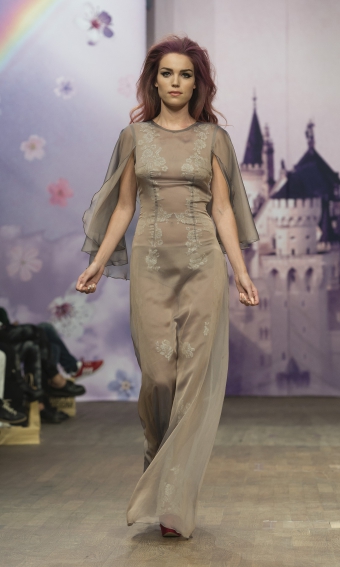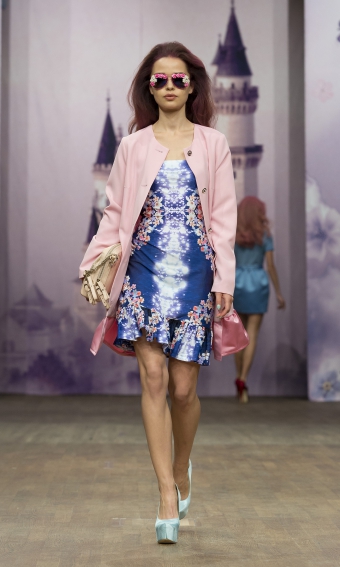 anyway, the spring collection was entitled 'dream girls,' and the swedish website damernas explained that (trans.) "(t)here were tulle dresses, transparent and sheer summer garments and pastel spring colours" in the lineup.  meanwhile, rodeo did a nice job of further breaking down the designer's inspiration, adding that (trans.) "Ida Sjöstedt recently discovered that she was totally jealous of her own life - when she saw it through Instagram. The world through rose-tinted sunglasses were therefore what her spring collection portrayed when it was presented in Bern large salon."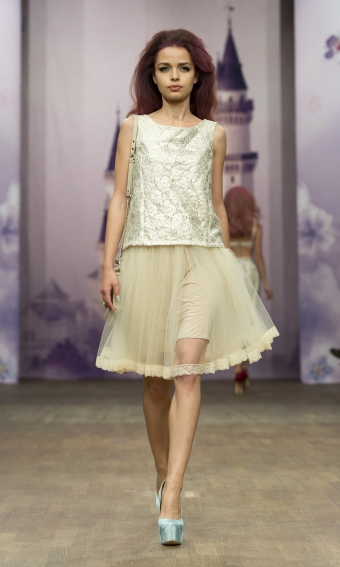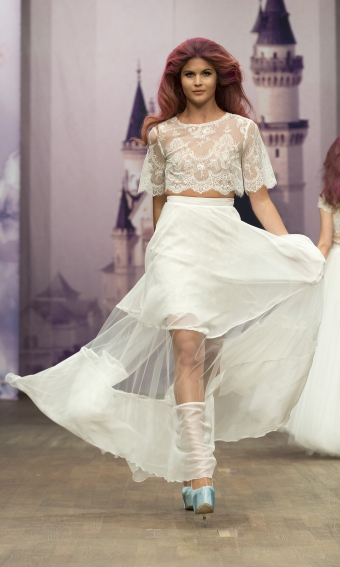 carrying on, they related that (again, trans.) "(i)t's a feminine, fairytale world in pink and blue, where the girls have pink hair, clothes in silk and lace and are married seven times - in seven different, equally dreamy, dreams of white tulle, lace and silk. My only complaint would be that I wanted to see more of this girly world that leaves out everything that is boring and ugly. It was just too short to be conclusive."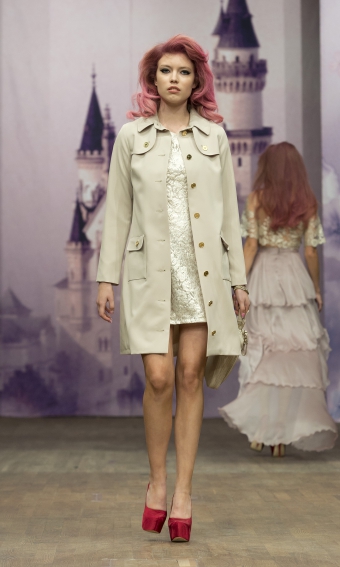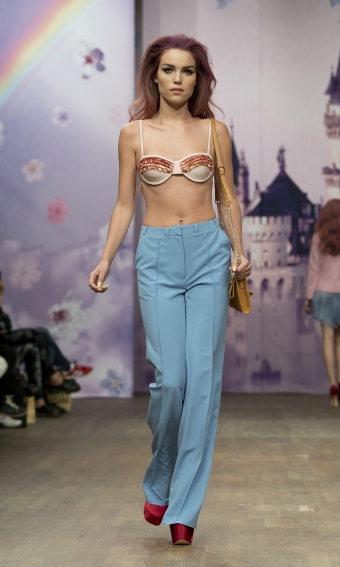 i could see their latter argument, to some extent, and i will agree that there were times we didn't really get to see enough of a particular direction—the cornflower blue, or deeper navy blue patterned pieces, for example—while of course ms. sjöstedt's major love, which came in the form of those soapy bubbled wedding-cake dresses and the billowing skirts worn with the tiny cropped tops to show off sculpted abdomens felt a little…maybe like we'd seen them before, even if they were good as ever.  but, in other words, i kind of do feel she could have cut those back in favour of expanding elsewhere.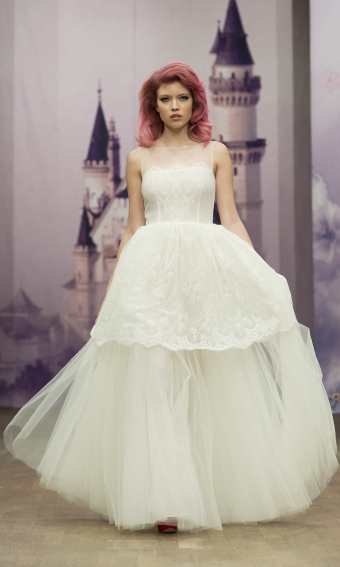 anyway, the swedish site bon did have some interesting reflections, noting that (trans.) "(t)he majority of online contemporary people devote whole days to these worlds. So is this clever camp - a contemporary analysis disguised in tulle - or is it just tacky? Both. I like sugar shock in theory, but the execution is not interesting enough to make any lasting impression. A bit like a bubble gum pop song that flutters away in the wind."  now, i'm not sure if they're fully on board with the ida sjöstedt programme, understanding just what homegirl is about, but really, i would have liked an answer as to how much satire (if any) she really intended here.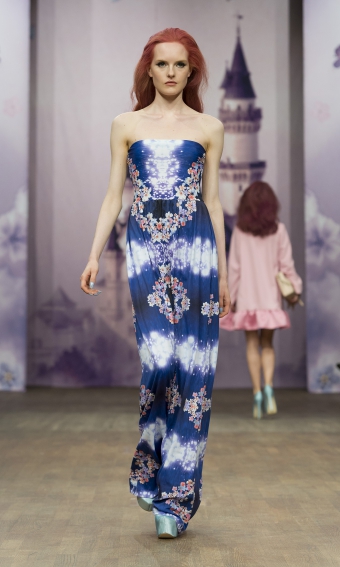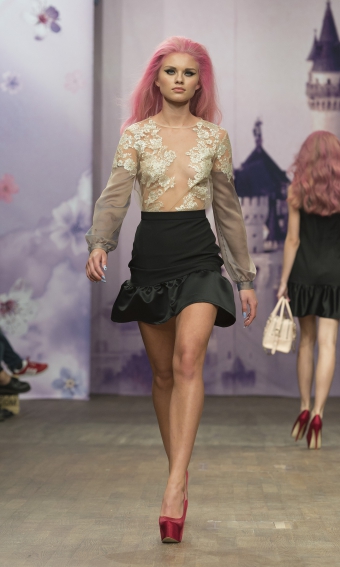 elsewhere, the swedish blog your closet cheerfully trilled that (trans.) "(t)he collection is wonderfully uplifting and it's hard not to smile when the creations movie on the catwalk, billowing beautifully. The clothes are rich in detail and the sleeveless dominate. We see wearable garments for most body shapes as both waist and straight lines appear. Ida Sjöstedt successfully really delivers amagical dream world, but we also see some garments resembling lovable favorites from previous collections in a more recent vintage. A little more thinking would have been desirable, but it is undeniably a strong recognition that Ida shows through this."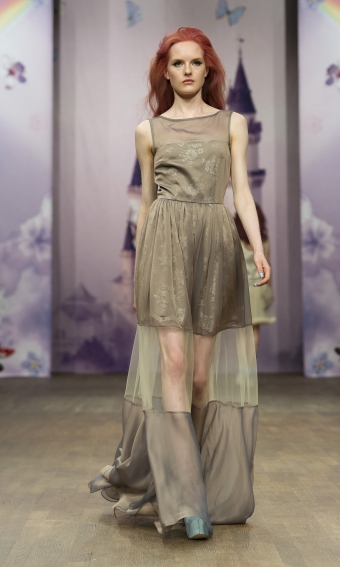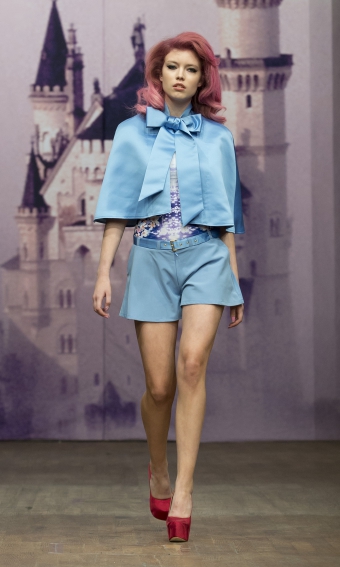 and finally, we heard from the oft-thoughtful design 4 2 day, writing that "(r)ed-pink haired figures, strutting down the catwalk on snazzy light blue and bright red satin wedge pumps, showcased a whimsical variety of frocks. Demure bon-ton mises…opened the show, followed by an intermittence of pink and cobalt blue floral prints accompanied by blossom-decorated funky eyewear bursting with teenage esprit. Then, a non-sequitur succession of bronze, gold and pearl whites glowing textures made the flowing substance of romantic evening dresses, leading to eclectic creamy gowns, conspicuous in their frills…All in all, a playfully sumptuous affair.  One exuding the very essence of what is referred to as the tasteful kitsch which has made of Ida Sjöstedt such an endearing name for the glamorous yet light-spirited young woman to which her designs are addressed."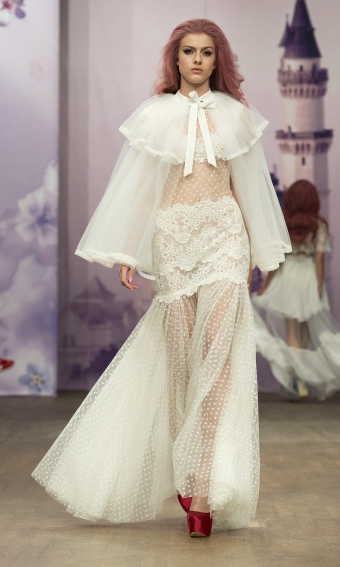 (enjoy the full show video here)